A Last Respect: The Roland Mathias Prize Anthology of Contemporary Poetry
Published Fri 25 Jun 2021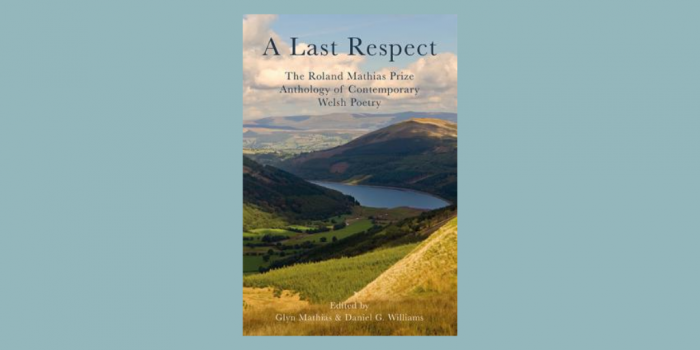 A Last Respect: The Roland Mathias Prize Anthology of Contemporary Poetry
Edited by Glyn Mathias & Daniel G. Williams
Published by Seren
A Last Respect is a must-have anthology: an irresistible selection of poems by the 11 Roland Mathias Prize winners, with informative essays about Mathias, and Welsh poetry.
A Last Respect celebrates the Roland Mathias Prize, awarded to outstanding poetry books by authors from Wales. It presents a selection of work from all eleven prize-winning books, by Dannie Abse, Tiffany Atkinson, Ruth Bidgood, Ailbhe Darcy, Rhian Edwards, Christine Evans, John Freeman, Philip Gross, Gwyneth Lewis, Robert Minhinnick, and Owen Sheers. It is a who's who of contemporary poetry which shows the form in good health in Wales.
The fifty-four poems included are wide-ranging in style and subject – relationships, nature, environmental issues, mortality, time, war, Wales, poetry itself, even the minefield of parents' evenings. They are inventive, experimental, formal, original and, as prize-winners, of the highest quality.
Two accompanying essays provide the context in which the poets work. In her Introduction, Jane Aaron writes about Roland Mathias: a poet himself, but also an influential editor and cultural commentator who did much to foster and develop poetry in Wales. A Last Respect is a continuation of his legacy. Daniel G. Williams' Afterword is an incisive discussion about poetry in Wales over the past sixty years: where it started from and how it changed.
This combination of prizewinning poems and informative commentary makes A Last Respect a must-have book of writing from Wales.
Glyn Mathias established the Roland Mathias Prize in honour of his father. He was a print and broadcast journalist with ITN and BBC Wales before becoming the Electoral Commission's Commissioner for Wales (2001-09). He was awarded an OBE in 2018 and is currently President of the Brecknock Society and Museum Friends. His autobiography, Raising an Echo, was published in 2014.
Professor Daniel G. Williams is Director of the Richard Burton Centre for the Study of Wales at Swansea University. He is the author of Wales Unchained: Literature, Politics and Identity in the American Century (2015), Black Skin, Blue Books: African Americans and Wales 1845-1945 (2012), and Ethnicity and Cultural Authority: from Arnold to Du Bois (2006). He was an adjudicator of the Roland Mathias Prize from 2009-11.
Praise for A Last Respect:
"No better way, perhaps, to salute the passionate commitment of Roland Mathias in transforming the reputation of Welsh poets writing in English than through the poetry he enabled. I, among many, have a career in literature to thank him for." – Gillian Clarke

"A fine, eclectic anthology of extraordinary work well representing the generosity, intelligence, commitment and determination of the man it celebrates. The incisive Introduction by Jane Aaron and Afterword by Daniel Williams will become required reading not only for an insight into Roland Mathias's crucial role in Welsh cultural life but for much of the course of literature in English from Wales from the last century to this." – Chris Meredith

"This book, with its range of individual poetic voices, and the critical support of leading academics, shows excitingly the continuing development of the tradition that Roland Mathias worked tirelessly to promote." – Jeremy Hooker
For review copies, features, events & interviews please contact:
Sarah Johnson sarahjohnson@serenbooks.com