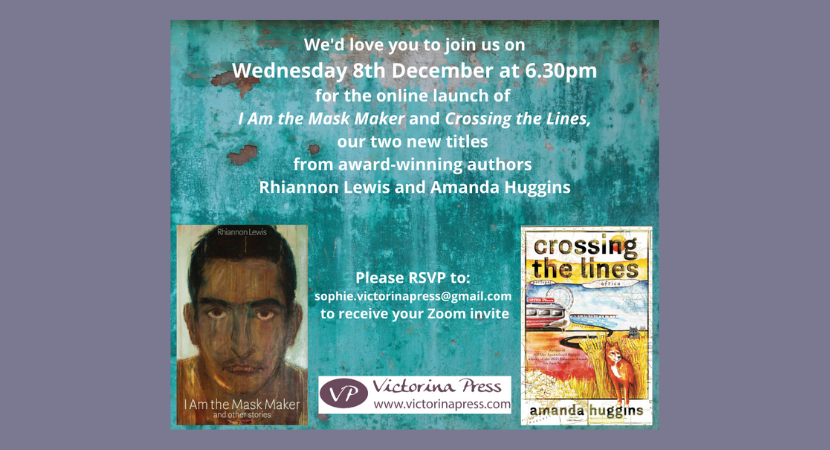 I Am the Mask Maker and Crossing the Lines
This is a joint book launch for two publications by Victorina Press: I Am the Mask Maker by Rhiannon Lewis and Crossing the Lines by Amanda Huggins.
I Am the Mask Maker and other stories brings together eleven of Rhiannon Lewis's compelling short stories. They transport us to places as varied as plague-ridden Renaissance Venice, a failing antiquarian bookshop in inner-city London, a struggling family farm in 1960s' West Wales, and a soon to be discontinued Heaven where the angels are packing up to leave. Vividly drawn, with wit and subtlety, Lewis's characters are determined not to be pawns in worlds where the odds are stacked against them; to thrive, they often come up with solutions that are unconventional and unexpected. This collection includes: The Significance of Swans, shortlisted by the Bristol Prize in 2018, The Last Flight of La Librairie d'Afrique du Nord, shortlisted by the H.G. Wells Short Story Competition in 2020, The Jugs Stay with the Dresser, winner of Frome Festival's short story competition in 2017, and Piano Solo, winner of the Adult Short Story category in the William Faulkner Literary Contest in 2020.
Rhiannon Lewis is the author of My Beautiful Imperial, which was a Walter Scott Prize Academy recommended historical novel for 2018.
Crossing the Lines by Amanda Huggins:
When Sherman Rook walks into the Jupiter diner, Mollie's mama is instantly smitten. Despite her daughter's reluctance, they leave the New Jersey shore behind and move to his isolated farmstead over a thousand miles west.
Fifteen-year-old Mollie distracts herself from Rook's cruelty by befriending a stray dog she names Hal, but when Rook crosses a final line Mollie realises that sometimes we must leave behind those we love in order to save ourselves.
With only $20 to her name, she sets out from Oakridge Farm, relying on luck and the kindness of strangers as she makes her way back home across five state lines.
"Crossing the Lines is a beautifully constructed novella, rich in empathy and atmosphere, and very moving" Alison Moore, Booker-shortlisted author of The Retreat.
Amanda Huggins is the author of the novella, All Our Squandered Beauty, which won the 2021 Saboteur Award for Best Novella. She has also published three collections of short fiction and a Saboteur award-winning poetry collection.
Over the last ten years Amanda has won numerous awards for her travel writing, short fiction and poetry, including the BGTW New Travel Writer of the Year 2014, the Colm Toibin International Short Story Award 2020 and the H E Bates Short Story Competition 2021. She was a runner-up in the Costa Short Story Award 2018 and the Fish Short Story Prize 2021, and has also been listed or placed in many other competitions including Bridport, Bath and the Alpine Fellowship Award.