Radial Pedagogy Reflecting on LUMIN's Syllabus 'Recovering Our Collective Awareness'
Published Tue 16 Mar 2021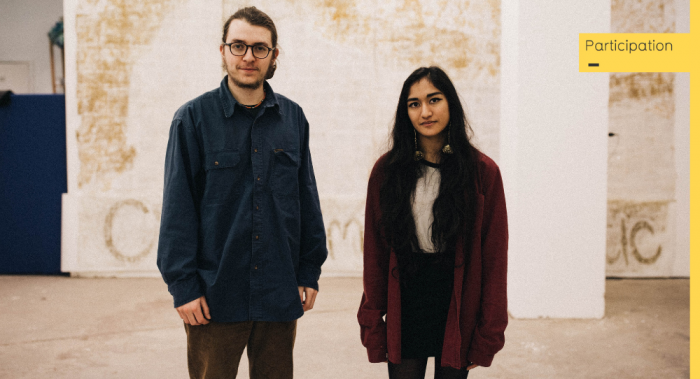 Beau W. Beakhouse and Sadia Pineda Hameed are responsible for running LUMIN, an arts collective and small press seeking to platform, create dialogues and collaborate with diverse and marginalised creative voices from Wales and wider. As a part of Literature Wales' Literature for Well-being initiative, Lumin ran creative writing workshops to explore collective self-expression of the past and present, titled 'Recovering Our Collective Awarness'. Discover more about the project here.
Bell hooks writes, in Teaching Community: A Pedagogy of Hope, 'colleges and universities are structured in ways that dehumanize, that lead them away from the spirit of community in which they long to live their lives.'[1] Rather than a competitive education that 'rends' and 'tears' causing 'disconnection and fragmentation', hooks works 'to recover our collective awareness of the spirit of community that is always present when we are truly teaching and learning.'[2] This way of learning can exist inside-outside-beyond formal educational settings. Often it exists through subterfuge or resistance, in spite of attempts to suppress it. It also reframes what we consider to be 'learning'. As Raymond Williams describes of the term 'educated', 'there is a strong class sense in this use, and the level indicated by 'educated' has been continually adjusted to leave the majority of people who have received an education below it.'[3]
LUMIN's syllabus 'Recovering Our Collective Awareness', supported through Literature Wales' Literature For Well-Being scheme, is not really a course or an act of teaching in the conventional sense. It was ongoing, discovered in the process of. Each week we sent themed reading materials through the post to creatively respond to, with a zine-binding kit sent out at the end. Forming the final reader became a process of aligning, reflecting, imagining, cutting and finally binding into a completed whole.
'The university, then, is not the opposite of the prison, since they are both involved in their way with the reduction and command of the social individual.'[4] Hierarchical models of education were not what we used for this syllabus. Instead we were drawn by 'the gathering content, of a cadence, and the uncanny that one can sense in cooperation, the secret once called solidarity.'[5] Our approach is a collective pedagogy, an attempt at learning together. It is actually an act of avoidance and maneuver, a movement outwards, away from a centre, in many different directions. As Paulo Freire describes, 'the solution is not to "integrate" them into the structure of oppression, but to transform that structure so that they can become "beings for themselves"'.[6]  The methods of relation that we tried to instigate and begin during this syllabus were to support what is already occurring, to provide outlets, new tones or facets, and, at times, to elucidate the ways that education has actually been a barrier or a boundary.
The 'we' imagined when working together is both individual and collective. It is the preservation of difference in a collaborative environment. The aim being to make space for 'the subject as transversal, transindividual, trans-species, trans-sexes. In short, it is a subject in movement'.[7] Assembling reading material with this as context was not about providing an overview of an entire subject but tracing interconnections and associations, making links between ideas and between people. In particular we looked at archives and texts (alternative readings, deconstruction, listening, restaging). We looked at methods of working together (mutual aid, pedagogy, art, community projects, new ways of living), at potential futures (concrete, imaginary, liminal) and we looked reflexively at this attempt to connect (language, text, experimental print, care, well-being). Creative avenues of response are integral to reading and interacting with other texts and so those responses formed the final week. This syllabus formed one innovative way that literature can be used to support well-being, a 'garden for mutual and collective caring'. [8]
The final syllabus, a new reader, embodies our format and approach. Rather than being an authoritative distributor of knowledge haunted by institutional governance, it draws attention to the medium of the text and act of reading itself, 'a multi-dimensional space in which a variety of writings, none of them original, blend and clash. The text is a tissue of quotations drawn from the innumerable centres of culture.'[9]
Beau W Beakhouse, LUMIN
[1] bell hooks, Teaching Community, A Pedagogy of Hope, (London: Routledge, 2003), p.48
[2] hooks, Teaching Community, p.xv
[3] Raymond Williams, Keywords, (London: Fontana Press, 1988), p.112
[4] Stefano Harney, Fred Moten, The Undercommons: Fugitive Planning & Black Study, (New York: Minor Compositions, 2013), p.42
[5] Harney, Moten, p.42
[6] Paulo Freire, Pedagogy of the Oppressed, (London: Penguin, 2017), p.47
[7] Rosi Braidotti, Posthuman Knowledge, (Cambridge: Polity, 2019), p.72
[8] KUNCI Study Forum & Collective, Letters: The classroom is burning, let's dream about a School of Improper Education, (New York: Ugly Duckling Presse, 2020), p.24
[9] Roland Barthes, Image Music Text, sixth edn (London: Fontana Press, 1977), p.146.