Between Tŷ Newydd's four walls – a day on the 2020 Mentoring Course
Published Tue 5 May 2020
Back in January, we announced the names of the writers who are recipients of our 2020 Writers' Bursaries and Mentoring Scheme.
At the beginning of March 2020, Literature Wales hosted a bespoke course for the cohort of the Mentoring Scheme at Tŷ Newydd Writing Centre. Read on to discover what happened between Tŷ Newydd's four walls…
The Mentoring Course was led by tutors Llwyd Owen and Katharine Stansfield. During the week we welcomed guest readers from the literary field in Wales, including Angharad Price, Dan Berry, Alys Conran, Elin Haf Gruffydd Jones, Gary Raymond and R. Arwel Jones.
All 10 writers on the 2020 Mentoring Scheme were present, as well as Marek Maj who's on the Emerging Translator Scheme with The National Writing Centre. A new partnership between Literature Wales, National Centre for Writing and Wales Literature Exchange led to an exchange of literary translators; Susan Walton attended a NCW course at Norwich and we had the opportunity to welcome Marek Maj to Wales.
'It was a tremendous pleasure to work with the recipients of the Literature Wales Mentoring awards and the New Writers' Bursaries. All of these writers are hugely talented with important things to say about Wales and the world. These are names to watch.'

Katherine Stansfield
"Ty Newydd is a wonderful, warm and welcoming place to listen to stories being told and inspire you to write your own."

Faye Latham
The Writers' Bursaries and Mentoring Schemes are key activities under Literature Wales' Writer Development Activity Pillar, where Wales' writers are offered a number of opportunities to hone and diversify their skills, developing their creative and professional potential.
To read more about Literature Wales' Writer Development opportunities, visit: https://www.literaturewales.org/writer-development/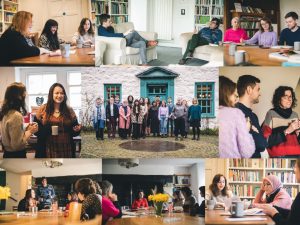 To find more photos of the course, visit our Facebook page here: www.facebook.co.uk