Writers' Bursaries Recipients 2019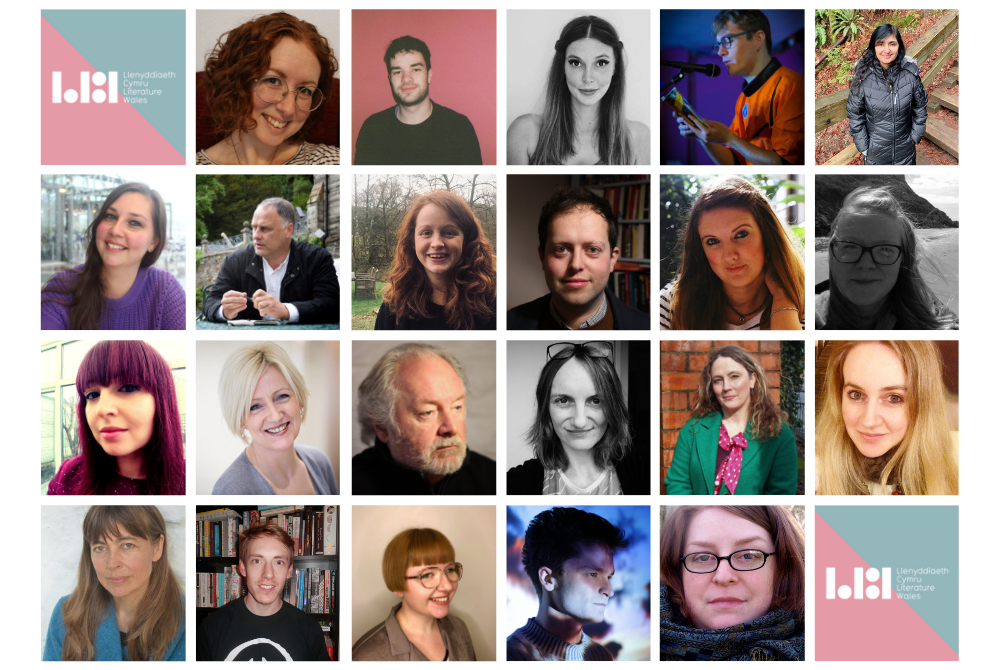 Janine Barnett-Phillips
Janine Barnett-Phillips has been an English teacher for 25 years and is director of Writers' Cwtch, a company which delivers writing for well-being workshops. She is lead tutor at Rewise Learning for Beats Not Blades – an anti-knife crime project with a focus on song writing. As part of her PhD she is researching YA fiction and its positive impact on emotional well-being. Janine's novel, Asterix Clementine, was shortlisted for the Times/Chicken House Children's Fiction Competition and she's now represented by the Blair Partnership Literary Agency. The Writer's Bursary will enable her to complete The Sunshiners, a YA novel about teenagers with special educational needs.
Twitter: @WritersCwtch
Lucy Corbett
Lucy Corbett is a writer, poet, performer and film-maker, based in Cardiff. Her poetry films and short films have been screened at film festivals in the USA and Europe, and she has performed at poetry slams and fringe festivals across Britain, including the Camden Fringe festival in 2010, 2011 and 2015. Lucy wrote and performed a solo poetry/theatre show, 'Stories About My Weird Friends', in Wales and England in 2015 and 2016. Critics described the show as "lyrical and poetic" and "hilarious". Lucy shares stories, films and poems on her website www.lucycorbettwrites.com.
lucycorbettwrites.com  /  Twitter: @lucycorbett
Ailbhe Darcy
Ailbhe Darcy's most recent collection of poetry, Insistence (Bloodaxe Books, 2018), was shortlisted for the T.S. Eliot Prize. She has published two other books of poetry, Subcritical Tests (Gorse Editions, 2017) in collaboration with S.J. Fowler, and Imaginary Menagerie (Bloodaxe Books, 2011), which was shortlisted for a DLR-Strong Award. Ailbhe lives in Cardiff and is a Lecturer in Creative Writing at Cardiff University. The Writer's Bursary will enable her to research and work on her collection of lyric essays, provisionally entitled Darkening Skies: The work of the poet in the world under threat.
Twitter: @AilbheDarcy
Jon Doyle
Jon Doyle is a writer currently finishing his PhD at Swansea University, where his research focuses on the contemporary reaction to postmodernism. His writing has appeared in Critique: Studies in Contemporary Fiction, 3AM Magazine, Cardiff Review amongst others, and he is also the founder and editor of the arts website, Various Small Flames.
jon-doyle.co.uk  /  Twitter: @Jon_Doyle
Chris Tally Evans
Chris Tally Evans is a performance / media artist, writer and equalities activist. As well as broadcasting on BBC 2Wales, BBC Wales, ITV, BBC Radio Wales, BBC Radio 4, and BBC Radio 3 Chris's work has been shown in Wales, the UK, the USA, Canada, New Zealand, Qatar, Poland and Finland. He received a Major Creative Wales Award and a major commission for the London 2012 Festival. Since becoming disabled in 1990 Chris has specialised in working with disabled and inclusive groups, and aims to give people whose voices are not often heard a platform.
christallyevans.com
Jennifer Evans
Jennifer Evans grew up in Pontypridd and moved to the USA in 2013 to study English and Creative Writing at Dartmouth College. For her final thesis, she completed a novella for which she won the Sydney Cox Memorial Prize in Creative Writing. Alongside her fiction writing, she has created short films for the Hopkins Center for the Arts, written multiple short plays, and performed with the Dartmouth College Gospel Choir. After graduating in 2017, she spent a year in Los Angeles working for an LGBTQ+ civil rights organisation, and is currently back in her hometown where she plans to focus on writing.
Twitter: @foreignandextra  /  Instagram: @foreignandextra
JL George
Jessica George (writing as JL George) lives in Pontypool and writes weird and speculative fiction. Her work has appeared in anthologies including the recent Resist Fascism (Crossed Genres) and volume four of The Black Room Manuscripts (Sinister Horror Company). She has previously been mentored as part of the Literature Wales Mentoring Scheme. When not writing, she is a library assistant and academic interested in weird fiction and the Gothic.
Twitter: @jlgeorgewrites
Jay Griffiths
Jay Griffiths' first book, Pip Pip: A Sideways Look at Time (Flamingo), won the Discover award for the best new work of non-fiction published in the USA. Her second book, Wild: An Elemental Journey (Hamish Hamilton), was shortlisted for both the Orwell Prize and for the World Book Day award and won the inaugural Orion Book Award in 2007. She has written for the Royal Shakespeare Company and reviewed for the Times Literary Supplement, and her journalism has been published across the world. Her most recent books include Kith: The Riddle of the Childscape (Hamish Hamilton) and Tristimania: A Diary of Manic Depression (Hamish Hamilton).
She covered all aspects of crime reporting before switching sides as a press officer for South Wales Police, dealing with the media in criminal investigations, security operations and emergency planning.
Now a freelance writer she channels these experiences of 'true crime,' and the murkier side of human nature, into her dark, psychological thrillers, set in and around south Wales.
Halfway, due out in 2018, follows the release of Where She Went (Constable) in 2017.
bevjoneswriting.co.uk
Twitter @bevjoneswriting
Rhiannon Hooson
Rhiannon Hooson has won major accolades for her poetry, including an Eric Gregory Award from the Society of Authors, and has performed at literature festivals across Wales and the UK. Her work has been featured in The Guardian, Magma, and Poetry Wales among others. Her first book, The Other City (Seren, 2016) was shortlisted for the Wales Book of the Year award, and her first foray into prose won the PENfro Festival First Chapter Prize.
She now lives in the Welsh marches after time spent living and working in Ulaanbaatar, Mongolia, and plans to spend the Bursary year working on a novel.
rhiannonhooson.com  /  Instagram: @rhiannon.hooson
Mei Mac
Meirion MacIntyre Huws (Mei Mac) hails from Caernarfon, and now lives in Clynnogfawr. He graduated from the University of Wales, Cardiff, where he studied Civil Engineering. After winning the Chair at the National Eisteddfod in 1993, he changed direction and became a poet and full-time illustrator.
Mei was Bardd Plant Cymru (Children's Poet Laureate) in 2001, and has travelled extensively around Wales and Europe, discussing his work and teaching the craft of cynghanedd. He has also toured Wales as part of a performance poetry group.
Three collections of Mei's work have been published: Y Llong Wen (Gwasg Carreg Gwalch) yn 1996, Rhedeg Ras Dan Awyr'Las (Hughes 2001), and Melyn (Gwasg Carreg Gwalch, 2004).
When not at his desk he is busy running the guesthouse where he and his wife Karen also live, aptly and coincidentally titled Bryn Eisteddfod (since 1890!). He is the father of four children, Mabon, Deio, Nanw and Cybi.
Philip Jones
Philip Jones is a writer and musician who was born in Birmingham, was a teenager in Pembrokeshire and now lives in Cardiff. He has a Creative Writing MA from Cardiff University, is a Hay Festival Writer at Work and won third place in the inaugural New Welsh Writing Awards. Also a musician, his debut album Hawaii was released in 2017 under the name Dusty Cut. Phil's writing focuses on our relationships with landscapes, masculinity and family.
Twitter: @DustyCutPhil  /  Instagram: @DustyCutMusic
Dyfan Lewis
Dyfan Lewis was raised in Craig-cefn-parc, Swansea. He went to Cardiff University to study Welsh, and he now shares his time between the village and the city. Dyfan aims to develop a series of essays based on his time in South-east Asia, discussing his experiences there, and 'travelling' as a phenomenon amongst his generation.
Twitter: @dyfanlewis
Llŷr Gwyn Lewis
Raised in Caernarfon, north Wales, Llŷr Gwyn Lewis studied at Cardiff and Oxford, before completing a doctorate on the work of T. Gwynn Jones and W.B. Yeats. Following periods as a lecturer in Welsh at universities in Swansea and Cardiff, he now works as resource editor at the Welsh Joint Education Committee in Cardiff.
He has published poetry, fiction and articles in periodicals including Ysgrifau Beirniadol, Poetry Wales, Taliesin and O'r Pedwar Gwynt.
His first prose work, Rhyw Flodau Rhyfel  (Y Lolfa, 2014), won the Creative Non-Fiction category in the 2015 Wales Book of the Year award. No stranger to Wales Book of the Year, his debut poetry collection, Storm ar Wyneb Haul (Barddas, 2014), was shortlisted in the Poetry Category, and his first short story collection, Fabula (Y Lolfa, 2017), was shortlisted in the Fiction Category in 2018.
Twitter: @llyrgwyn
Llio Maddocks
Llio Maddocks, who hails from Llan Ffestiniog, has spent a year travelling through Asia with her backpack.
Llio won the Crown in the Urdd Eisteddfod in 2014, and since then has published a number of short stories in anthologies such as Galar a Fi and Byd Crwn (Y Lolfa), and Haf o Hyd? (Gwasg y Bwthyn). She translated and adapted Welsh language versions of a series of books for children Mali Awyr (Gwasg Gomer) and is a regular contributor to Y Stamp magazine. In summer 2018 Llio established a monthly Welsh-language newsletter Menywod Cŵl Cymru (Cool Women of Wales), which features interviews with inspirational women.
A Writer's Bursary will enable Llio to concentrate on writing her new novel for young adults.
Twitter: @llioelain  /  Instagram: @llioelain
Lloyd Markham
Lloyd Markham was born in Johannesburg, South Africa, moving to and settling in Bridgend, south Wales when he was thirteen. He spent the rest of his teen years having bad and strange nights out before undertaking a BA in Writing at the University of Glamorgan (now USW) followed by an MPhil. His debut novel Bad Ideas\Chemicals was published by Parthian Books in 2017 and in 2018 it was short listed for Wales Book of The Year and won a Betty Trask Award. He enjoys Japanese animation and operates synthesisers in a band called Deep Hum. He has less bad nights out these days.
Twitter: @lloyd_markham
clare e. potter
clare e. potter, bilingual poet and performer is currently directing her first BBC It's My Shout documentary. She spent a decade in the Deep South of the USA and received Arts Council of Wales funding for a poetry/jazz collaboration about Hurricane Katrina. clare won the John Tripp Award for Spoken Poetry, was a Hay Festival Writer at Work, and her recent TEDx Talk reflected on how her grandmother inspired her. Poetry residencies include the Landmark Trust, Moravian Academy, Pennsylvania, and the Wales Arts Review.
The Writer's Bursary will enable clare to reflect on her observation of the creative processes of craftspeople. This research will inform a new approach to writing poetry, as she works on her next collection.
clareawenydd.com  /  Twitter: @clare_potter
Sara Hawys Roberts
Sara Hawys Roberts graduated with a Creative and Professional Writing Degree from the University of Glamorgan in 2011. She has written plays which have been performed at the Sherman Theatre and Chapter Arts Centre in Cardiff. Her first book, Withdrawn Traces, about the missing Manic Street Preacher Richey Edwards will be published by Penguin, Random House in early 2019. Sara loves spending time with her 3 rescue dogs and 8 rescue cats.
Nasia Sarwar-Skuse
Nasia Sarwar-Skuse is a solicitor and writer. As a bilingual Urdu and English speaker, working with words has been integral to the articulation and creation of her work.
She became interested in creative writing 13 years ago, following the birth of her son.
Nasia is interested in the presence of authenticity in literature by ethnic voices and its intersections with diaspora, gender and memory.
Nasia has commenced an MA in Creative Writing and is writing her first novel. The Writer's Bursary awarded by Literature Wales will allow Nasia time to both research and focus on her writing.
She lives in Cardiff with her partner, two children and a black cat called Cwtch.
Jo Thomas
Jo Thomas grew up near Caerleon and now lives in Abergavenny. After studying English at Nottingham, she tried out all sorts of jobs in lots of different places, but in 2009 she decided to give her dream a go and gained an MA in Professional Writing from Falmouth University. Since then Jo has worked as a freelance copywriter and editor and focused her creative writing on stories for children. She's been published in short story anthologies and performed at Port Eliot Literary Festival. Her first book helped her hook a literary agent and the Writer's Bursary will enable her to fit working on her second book around freelancing and looking after her toddler.
Twitter: @jotwriting
Marged Tudur
Marged Tudur was raised in the Llŷn Peninsula, but now lives in Caernarfon. She graduated from Aberystwyth University with a degree in Welsh in 2014, before studying for an MA in Creative Writing. At present she is completing her PhD thesis on reading Welsh-language pop lyrics from the past 50 years as literature. She is a trainee editor at Y Lolfa publishers.  A Writer's Bursary will enable Marged to develop her first poetry collection.
Twitter: @MargedTudur
Emily Vanderploeg
Emily Vanderploeg holds an MA and PhD in Creative Writing from Swansea University and teaches at Queen's University, Canada, and with the Young Writers' Squad in Swansea. She is a Hay Festival Writer at Work and her writing has been published in both the UK and Canada, shortlisted for the Impress Prize, and longlisted for The Poetry School's 'Primers' series and the inaugural Women Poets' Prize.  She has recently completed a collection of poetry and is working on a novel for young people. Originally from Aurora, Ontario, Canada, she lives in Swansea.
Twitter: @dippy_dumpling
Georgia Carys Williams
Georgia Carys Williams is a part-time Creative Writing tutor at Swansea University. Her short story collection Second-hand Rain (Parthian, 2014), was short-listed for the Sabotage Short Story Award, long-listed for the Edge Hill Prize and long-listed for the Frank O' Connor International Prize. She won third prize at the Terry Hetherington Award 2012 and 2014, and highly commended for The South Wales Short Story Competition. She featured in Wales Arts Review's fictional map of Wales series, was shortlisted for New Welsh Review's Flash in the Pen competition, and appeared in Parthian's Rarebit Anthology (2014). Her debut novel was long-listed for the Mslexia Novel Competition 2018.
Twitter: @VeryEglantine