The Dragon Awakes: Stories for the new Metro
To cel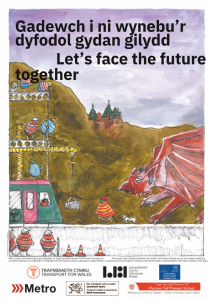 ebrate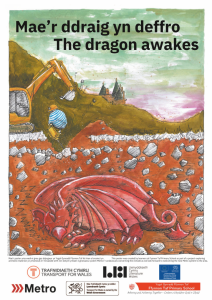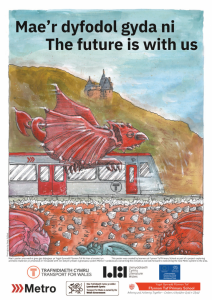 the new Metro Transport System currently being installed, Literature Wales and Transport for Wales collaborated on this unique project to inspire young people in a primary school in Taff's Well, Rhondda Cynon Taf.
The South Wales Metro will be an integrated network of bus, rail and active travel (walking and cycling) that will improve connectivity and make sustainable travel easier across south Wales.
This project encouraged children to creatively explore their local area, and the potential impact of the new travel system on their environment. Climate Emergency is a key strategic priority for Literature Wales, with particular focus on encouraging younger generations to articulate their concerns and anxieties about the future of our planet, improve their connection to their local areas, and take positive action.
During Autumn 2022, year 4 pupils at Ffynnon Taf Primary School enjoyed creative writing and illustration workshops with poet Mike Church and illustrator Osian Grifford. They learnt how to craft a story, explored the characters and stories of Taff's Well, and collected ideas for their own story.
"The children were engaged from the very start and I was amazed how enthusiastic they were with putting pen to paper! Mike has shown how imagination is key to writing! We thoroughly enjoyed the project and didn't want it to end."

Mrs Howells, teacher at Ffynnon Taf Primary School
Their fantastic tale about the Metro and the dragon who lives in the thermal spring was turned into a collection of zines and poster poems (see above) which are on display in the school and at the local train station.