The New Welsh Writing Awards 2021: Shortlist Announced
Published Wed 5 May 2021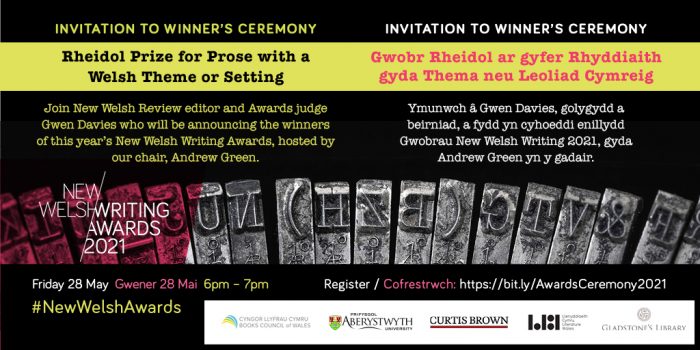 The New Welsh Review have announced the shortlisted and highly commended entries for the New Welsh Writing Awards 2021: Rheidol Prize for Prose with a Welsh Theme or Setting.
It was a record-breaking year for the number of entries received for the Rheidol Prize, a writer development opportunity made possible by the support of long-term subscriber Richard Powell.
Both the shortlist and the highly commended list contain an equal balance of nonfiction and fiction, and are again dominated by women. This year, they had introduced an 18–25 category for the first time. Promising 18-year-old Penny Lewis from west Wales is highly commended for her novella The Lovespoons, about ageing, belonging and romance. She is joined by up-and-coming writer Kathryn Tann, 24, with Return to Water. Kathryn lives in Huddersfield but is originally from the Vale of Glamorgan.
The three shortlisted writers Jasmine Donahaye, Jack Harris and João Morais hail from Lledrod, London and Cardiff respectively (Jack is originally from Builth Wells).
Reading the Signs by Jasmine Donahaye treads the tightrope between inner and outer landscapes in a funny yet tragic, honest and angry piece which looks at the writer's own situation within the exclusive world of nature writing.
Jack Harris' The Rebeccas is a Welsh queer novella about history and male identity, which is engaging, fun and redolent of Christopher Meredith's work.
João Morais' crime novella Festival of the Ghost is a diverse and compelling high-concept caper set in Cardiff. It is tightly plotted and has a superb sense of urban space, exploring themes including violence, religion, OCD, grief and ritual.
On the highly commended list, we hear again from Lincolnshire-based Elizabeth Griffiths, who also made the longlist in 2019. This year, she makes the cut with her memoir Landmark, which is written in the author's distinctive, measured voice and imbues a rich blend of archaeology, history, sense of place and family biography. Presteigne's Rhiannon Hooson joins Elizabeth with Archipelago, a superb nature nonfiction piece on border country and learning Welsh as an adult, which manages to be poignant without a trace of the maudlin. Finally, Welsh expat Sybilla Harvey, who now lives in Brooklyn, is on the highly commended list for The Kaiser and the River. Set in Abergavenny, this well-crafted and empathetic novella has a long, global historical perspective and a memorable voice.
Three writers are now in the running for the top prize of £1,000 – an advance against e-publication by New Welsh Review – and a positive critique by literary agent Cathryn Summerhayes of Curtis Brown. Five writers are on the highly commended list.
Rheidol Prize for Prose with a Welsh Theme or Setting – shortlist (in alphabetical order)
Jasmine Donahaye (Lledrod, Wales)                         Reading the Signs (nonfiction – memoir)
Jack Harris (London/Builth Wells)                             The Rebeccas (queer novella)
João Morais (Cardiff, Wales)                                      Festival of the Ghost (crime novella)
Rheidol Prize for Prose with a Welsh Theme or Setting – highly commended (in alphabetical order)
Elizabeth Griffiths (Lincolnshire, England)                Landmark (family biography)
Sybilla Harvey (Brooklyn, US)                                    The Kaiser and the River (novella)
Rhiannon Hooson (Presteigne, Wales)                      Archipelago (nonfiction – nature writing)
Penny Lewis* (Aberarth, Wales)                               The Lovespoons (novella)
Kathryn Tann* (Huddersfield/Bridgend, Wales)       Return to Water (nonfiction – memoir)
*Kathryn Tann and Penny Lewis are also joint winners of the 18–25-year-old category, a new category for this year's awards.
New Welsh Review editor Gwen Davies judged the awards for the seventh consecutive year. Gwen says:
"I am particularly delighted to welcome two young female writers to the fold of New Welsh Review and congratulate them on their nominations. Their work was easily good enough to be highly commended in the main prize and they are deserving joint winners of our new 18–25 year category. Return to Water by Kathryn Tann is a clear, calm and positive nonfiction blended memoir about a young woman's struggle with acne and the recovery of her physical confidence and body image through swimming. It is particularly exciting that Penny Lewis, at just eighteen, took the opportunity of lockdown's educational disruption to write an engaging and quirky novella set on the main road bisecting her own village of Llanarth, near Aberaeron."
The awards were set up in 2015 to champion the best short-form writing (under 30,000 words). Last year, the winner of the Rheidol Prize for Prose with a Welsh Theme or Setting was Susan Karen Burton for The Transplantable Roots of Catharine Huws Nagashima, which New Welsh Review will publish in 2022. JL George, who won the Dystopian Novella category in 2019 with The Word, will be published on 28 October 2021.
This year's winner will be announced at a free online ceremony at 6pm on Friday 28 May 2021, hosted by New Welsh Review chair Andrew Green. Everyone is welcome to attend: https://bit.ly/AwardsCeremony2021
The Awards are open to all writers based in the UK and Ireland, including those who live overseas, who have been educated in Wales.
The 2021 awards are sponsored by subscriber Richard Powell and are run in partnership with Curtis Brown, Gladstone's Library, and Literature Wales' Tŷ Newydd Writing Centre. New Welsh Review is supported through core funding by the Books Council of Wales and is hosted by Aberystwyth University.
Discover more on the New Welsh Review website.