Reinventing the Protagonist: Opportunity for Deaf and/or Disabled Writers to join a virtual creative writing course
Published Wed 23 Aug 2023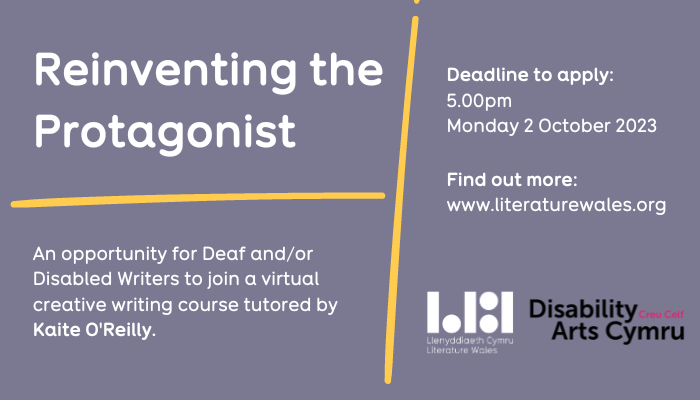 Literature Wales, in partnership with Disability Arts Cymru, is
glad
to invite Deaf and/or Disabled writers based in Wales to apply for a
p
lace
on our
Reinventing the Protagonist
virtual
creative writing
course
during
winter 2023 – spring 2024.
Deadline to apply: 5.00pm, Monday 2 October 2023
Course dates: 8th, 15th, 22nd, 29th November 2023, 6.00 – 8.00pm with one-to-one tutorials and the final session taking place in January 2024
The course will be delivered as a series of 5 online meetings and bespoke one-to-one tutorials led by the internationally renowned playwright and writer Kaite O'Reilly.  
Who is the course for? 
Literature Wales and Disability Arts Cymru are welcoming applications from Deaf and/or Disabled writers based in Wales. The course is suitable for emerging writers looking to expand their writing toolkit, and more experienced writers looking to reinvent their protagonists. The course is relevant for writers of all genres, including poetry, prose, non-fiction and scriptwriting.  
What will the course include? 
Using the best examples of poetry, fiction, and plays written by disabled and Deaf writers, the workshops will look to challenge the stereotypes, consider new narratives, reinvented protagonists, surprising endings, offering a refreshed language for the participants' work.  
A brief example of what to expect in each session can be viewed here. 
 

I began writing my 'Atypical Plays for Atypical Actors' and The 'd' Monologues twenty years ago, as I was frustrated by the limited and stereotypical representation of disabled and Deaf characters in plays from the Western theatrical canon. I wanted to 'answer back' to these problematic figures, and wanted to write characters who were the protagonists of their own lives, never victims, and who reflected the sparky, complex people in my community. 

  

It's one of my passions to encourage the vital and fresh perspectives disabled and Deaf creatives can bring. This course offers an introduction to some of the exciting and innovative work by disabled and Deaf poets, novelists, essayists and playwrights writing today, and encourages those of the future…. You.  It's a pleasure and a privilege to be part of this- apply!
-Kaite O'Riley 
Accessibility 
This course will be run on the video platform Zoom. Each session will last 2 hours, with a comfort break in the middle. If required for access purposes, sessions can be recorded for the participants to watch back in their own time, to digest the workshop at their own pace.  
Literature Wales will issue Access Riders to all successful applicants, asking for access requirements, to ensure  that adequate support is provided where needed. For example, a live captioner or a BSL interpreter could  be present during the sessions. Literature Wales staff will also be available to answer any questions or hold any  discussions prior to the course. Our aim is to ensure that the course is as accessible, comfortable, and enjoyable as possible for each individual.  
How can I apply for this course? 
To apply for a space on this course, we ask you to: 
Read the FAQs  
Fill out this application form which will ask you for your details.  

Tell us in your own words why you want to take part in this course. We will also invite you to upload a short extract (1,000 words or up to 5 poems) of your original creative work. This can be poetry, prose, non-fiction or a script.  
To help you prepare your application, you can download the application form below to read through the questions beforehand. Dyslexia Friendly and a Large Print Version are also available below. If you would rather fill out one of these forms rather than the application form on SurveyMonkey, please return your form to post@literaturewales.org 
If you would like to chat to a member of staff before applying, please email Literature Wales on post@literaturewales.org or call us for a chat: 01766 522 811 (Tŷ Newydd Office) or 02920 472266 (Cardiff Office).  
Literature Wales and Disability Arts Cymru staff will also be available to answer your questions during two informal virtual drop-in sessions. 
Register for the session by clicking on the dates below: 
Tuesday, 12 September at 12.00pm-1.00pm 
Tuesday, 26 September at 6.00pm-7.00pm 
Further information about the tutor, accessibility, course content, FAQs and application process can be viewed on the Reinventing the Protagonist project page on the Literature Wales website. 
Literature Wales is glad to work in partnership with Disability Arts Cymru on this course and is grateful for their support.