National Trust Cymru launches #BlossomWatch at the Senedd with a new poem by Children's Laureate Wales
Published Fri 18 Mar 2022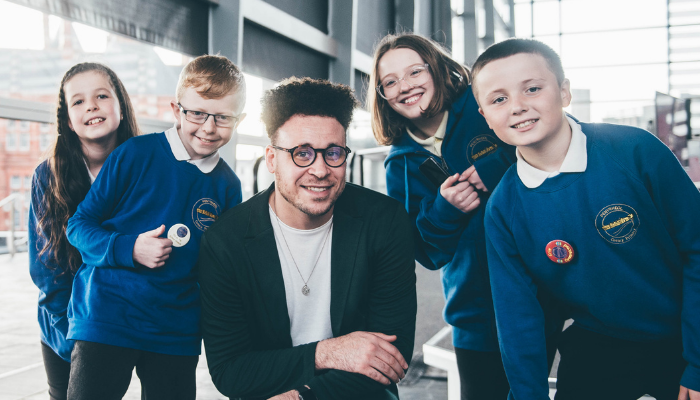 National Trust Cymru launched this year's #BlossomWatch campaign in Wales at an event at the Senedd on Wednesday 16 March. The campaign encourages people to share the joy of blossom this spring and celebrate this key moment in nature's calendar.
The conservation charity launched #BlossomWatch in 2020, seeking to emulate Hanami — Japan's annual celebration of blossom, associated with the arrival of spring.
Each spring since 2020, thousands of people capture and share images of blossom trees in bloom across social media using #BlossomWatch or #GwleddyGwanwyn.
As part of #BlossomWatch, National Trust Cymru is also connecting more people to nature by working with partners and local representatives to plant blossom trees in the places the Trust cares for and beyond, including in local schools, health centres, and urban areas across Wales.
In the last few months, blossom trees have been planted in the Stackpole Quay orchard, Pembrokeshire, where the fruit will be used in the tea-room and the trees will be seen by thousands of visitors en route to Barafundle Bay. Blossom trees and bulbs were planted across two housing estates in Llanedeyrn, Cardiff, where they will be looked after by the local community, and a tree was established in Ysbyty Penrhos Stanley, Holyhead for patients and key workers to enjoy.
To celebrate the 2022 launch of #BlossomWatch in Wales, Children's Laureate Wales, Connor Allan, has composed a new poem titled 'In these times'.
The Children's Laureate Wales is a national ambassadorial role which aims to inspire and empower children and young people across Wales through literature. The project is committed to expanding children and young people's access to literature, and empowering children and young people through creativity. Connor's role includes penning official poems to mark special occasions and campaigns which are of interest to children and young people. One of the project's priorities for the 2021-23 period is the climate emergency.
The poem is inspired by a workshop with students at Penyrheol Primary School, in Gorseinon, Swansea. Four of the young pupils attended the Senedd event to hear the premiere reading of the poem and had a conversation with Connor and Sian Lloyd about their experience of the poetry workshop and being involved in planting blossom trees. Penyrheol Primary School was the first place National Trust Cymru teamed up with a local Member of the Senedd to plant blossom trees as part of #BlossomWatch last year. The Welsh translation is composed by National Poet of Wales, Ifor ap Glyn. The poem was initiated through a partnership between National Trust Cymru and Literature Wales.
Rebecca Williams, Assistant Director, National Trust Cymru, says:
"Everyone deserves to have access to nature and beauty. Creating space for nature to thrive and for people to have places for hope and reflection is central to our work at National Trust Cymru. That's why we are so pleased to be working with our partners to bring the joy of blossom to people right across Wales, whether that's by planting blossom trees in towns, cities, and the places that we care for, or by encouraging people to share pictures of blossom in bloom on social media."
Lleucu Siencyn, Chief Executive, Literature Wales, says:
"Celebrating the link between literature and well-being is at the heart of what we do, as well as encouraging creative advocacy for climate action. Joining up these goals through working in collaboration with National Trust has been an absolute pleasure. The Children's Laureate Wales initiative aims to empower children to express themselves creatively about what it means to be a young person in Wales today. In turn, addressing the climate emergency and giving a voice to young people's eco-anxiety is an integral element of the initiative. We hope the poem will encourage everyone, of all ages, to enjoy, appreciate, and protect the nature around them."