Llên mewn Lle | Lit in Place: Exploring the climate and nature emergency through literature
Published Tue 18 Oct 2022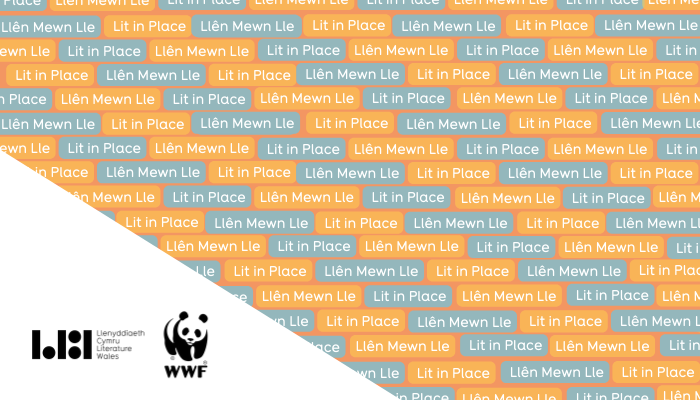 We are thrilled to announce three new literature-based pilot projects, in partnership with WWF Cymru.
Wales' literature is deeply embedded in the landscape, and we believe that creativity can be used to educate, explore, and challenge big subjects such as the climate and nature emergency. In August 2022, Literature Wales invited a range of artists to develop creative writing projects exploring the climate and nature emergency with a community of their choice. The projects have been devised with the aim of developing resilient communities by exploring and understanding their local eco-systems. The projects will also contribute to wider discussions on finding practical solutions to the effects of the climate and nature emergency.
The Projects
The Fruits of our Fire:
Artist Siôn Tomos Owen will work with participants of Welcome to the Woods' Woodland Therapy Group in Treherbert to create an illustrated diary documenting how the group connects with nature. Woodland Therapy offers a weekly opportunity for participants to combat mental health issues through different activities engaging with nature.
Siôn will run regular storytelling, creative writing and illustrating sessions with the group, working towards the creation of this illustrated diary, which will explore the positive effect the environment can have on mental health, and supporting the participants to convey their ideas and thoughts which may have previously been ignored.
The LUMIN Syllabus:
Run by Sadia Pineda Hameed and Beau W Beakhouse, and in partnership with Ways of Working, The LUMIN Syllabus aims to explore the links with the climate and nature emergency and colonialism. The LUMIN Syllabus will support people of colour and those from low-income in the Swansea area to create and publish responses to the climate and nature emergency from the past, present, and future. Participants will take the lead in forming solutions at a localised level. Workshops will take place in local community gardens, cafes, and galleries.
Gwledda:
Artist and creative Iola Ynyr will run a workshop series entitled Gwledda (meaning 'to feast'). Working with the wider community of the Rhosgadfan school in Gwynedd, the project will aim to nourish participants using creative writing activities and teaching practical gardening and growing skills. They will meet in the grounds of Ysgol Rhosgadfan, beyond the school itself in the working shed, vegetable garden, orchard and wild garden, and draw inspiration from the changes in the natural world.
Together, they will work towards creating a pamphlet of anonymous creative writing, and the project will culminate with a 'feast' in the school hall featuring readings of the creative work and a meal using produce from the land.
Gwledda aims to increase participants' self-worth, build confidence to take creative risks and promote well-being rooted in the land.
To read more about the projects, and facilitators, visit the Llên mewn Lle | Lit in Place project page.