Literature Wales begins its search for the next Children's Laureate Wales and Bardd Plant Cymru (2023-2025)
Published Fri 20 Jan 2023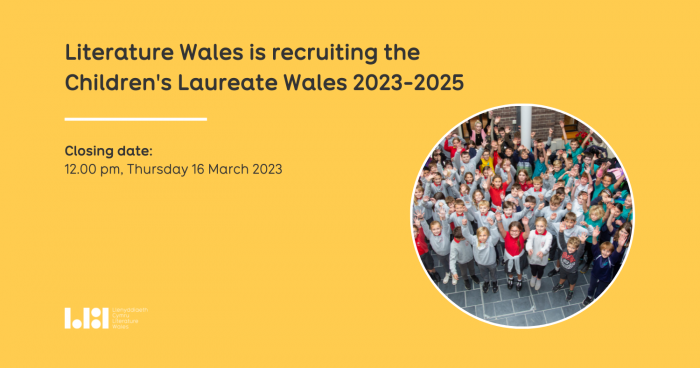 Are you a poet or a writer who loves to work with children? Do you believe in the power of literature to inspire,
improve
and brighten lives – especially the lives of young people? Are you passionate in celebrating and representing the rights and aspirations of
Wales'
youth – and willing to take that passion to national platforms? Then we want to hear from you.
Literature Wales is looking for the new Children's Laureate Wales for 2023-2025, to inspire and ignite the creativity of Wales' children. 
Through a variety of activities including workshops, festival appearances and resources, the Children's Laureate aims to develop the confidence and creative communications skills of participating children, empower future generations to write about the things that are important to them, and foster a love of creative writing and reading. 
We are also recruiting for the next Bardd Plant Cymru, the Welsh-language sister project of the Children's Laureate Wales. Find out more on our Bardd Plant Cymru page.  
Who we're looking for: 
We're inviting applications from passionate individuals with a clear vision for the roles. We welcome applications from individuals from a range of diverse backgrounds and lived experiences, and we'll consider both experienced and more emerging writers.  
We are looking for writers who share our values of equality and representation, who will be a strong ambassador for children's rights to be creative, to express their views, to get their voices heard and of course, to have fun with words. 
Key dates
:
The deadline for applications is 12.00 midday, Thursday 16 March 2023. 
Interviews and pilot workshops for the Children's Laureate Wales role will take place during the week beginning 17 April 2023, and the finalist will be announced at a special event at Hay Festival on Friday 2 June.
For more information on these roles and how to apply, head over to our Children's Laureate Wales page.