Join our Creative Conversations: a new series of public events for writers and workshop leaders
Published Tue 1 Feb 2022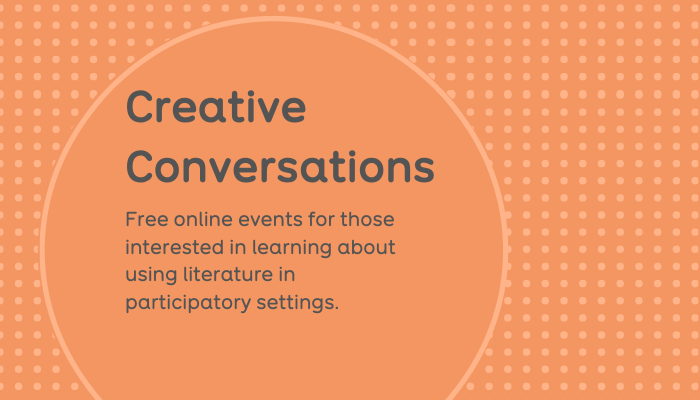 Literature Wales is pleased to announce a brand-new programme of free events to inspire the writers and creatives of Wales.
Creative Conversations is a new series of six short events, offering open and accessible opportunities to learn about using literature in participatory settings. They are also an opportunity to meet likeminded writers, exchange ideas, share best practice, resources and contacts, and enjoy creative conversations with each other. This programme has been developed in response to feedback and consultation sessions we led with writers across Wales throughout 2021.  
Engaging with arts activity, including with creative writing and reading, is shown to be beneficial to people's well-being, both physical and mental. It can help people cope better with stress, increase general well-being and reduce anxiety and loneliness. It can also make people happier, increase self-confidence and contribute to better connected and more cohesive communities. Each of our Creative Conversations sessions aim to build the skills and develop the confidence needed to run participatory workshops which use literary activities to benefit the health and well-being of participants. The programme also aims to contribute to building a supportive professional network of writers in Wales who already work within community settings or who want to start exploring work in this area.  
Each 90-minute lunchtime session will be free to attend. Participant numbers will be limited to 20 to allow everyone to take an active part in the discussion. The sessions will be delivered through the video platform Zoom, with live captioning and/or BSL for Deaf/hard of hearing participants provided in selected sessions. We will try to meet additional access requirements wherever possible, please get in touch with specific access requirements, concerns or requests. 
Programme details 
Those interested in working with communities using literature to improve health and well-being outcomes, or those who are interested to find out more about this work, will benefit from the expertise of the experienced workshop providers

Mel Perry

and

Kerry Steed,

who will lead a session to

learn, share, and nurture practice. 

 
Iola Ynyr

and

Mari Elen Jones

will reflect and share insights from their successful

Ar y Dibyn project,

which was set up as an opportunity for individuals affected by addiction to come together and share their stories in a creative way through the medium of Welsh. 

 

You can learn more about creating inclusive online workshops and spaces with

Kittie Belltree

and

Sara Beer.

They will

share

some practical suggestions for anyone delivering online writing workshops to help make these as inclusive and welcoming as possible for neurodivergent participants. 

 

Join

Connor Allen

, Children's Laureate Wales 2021-23, for a discussion on how to develop and deliver inclusive creative writing workshops for children and young people.

 

Siw Jones

will lead a Welsh-language session looking at how we can re-introduce the teaching of

cynghanedd

(a celebrated form of strict-metre poetry in Welsh)

 

in schools.

 

Ellie Carr

, from The Reader organisation will run a session on the benefits of shared reading programmes and working with volunteers to support a community or readers.

 
To find out more about each session and the talented tutors, please click here. 
You can also book your space today. Spaces are limited, so please book your place(s) early to avoid disappointment. Bookings can be made via Tocyn. 
If you have any questions about these sessions before booking your place, please contact: post@literaturewales.org