Jan Morris 1926 – 2020
Published Mon 23 Nov 2020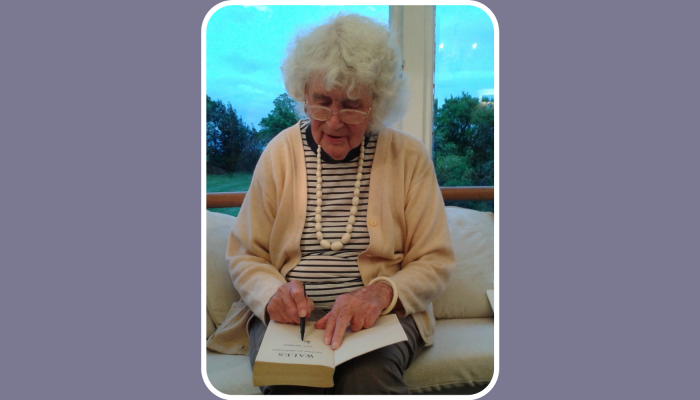 It is with profound sadness that Literature Wales notes the death of author and journalist Jan Morris, a highly influential figure, and an inspiration for generations of writers and readers in Wales and further afield. 
Many colleagues at Literature Wales had the privilege of getting to know her personally, and she was a much loved and generous neighbour to colleagues working at Tŷ Newydd. Literature Wales' Deputy Chair, Elizabeth George, is one of those who knew her well:  
"I had the pleasure of knowing Jan Morris throughout my life as she and Elizabeth were close friends of my parents. I have a clear memory of them both joining us for supper at Garthcelyn in the early seventies and having to rush home after dessert (and a very lively game of ping pong!) to watch the BBC's The British Empire series, as Jan was writing the notable Pax Britannica trilogy at the time. As a ten-year-old girl, little did I know at the time that I had been witnessing a glimpse of Heaven's Command: An Imperial Progress in the making!

Over the years I have been a regular visitor at Trefan Morys, and Tŷ Newydd Writing Centre – just down the road – is also a place close to my heart because of family connections and as a Literature Wales Director. Jan Morris has been a kind and faithful friend to Tŷ Newydd over the years, and very few years went past without her contributing or participating in the centre's activities.

At Trefan Morys, the welcome was always warm and the conversations exactly like her collection of diary pieces, In My Mind's Eye and Thinking Again, moving from one place to another and touching on various themes and topics. Visiting and chatting, surrounded by her wonderful library collection and exceptional artefacts from her travels, was always a pleasure. One of my favourite volumes by Jan is A Writers House in Wales; it is sad to think of Trefan Morys without its writer. She will be terribly missed. My thoughts and condolences are with Elizabeth, Twm and the whole family."
Kate North, Chair of Literature Wales, added:  
"With the passing of Jan Morris, we have lost a pioneer and one of our most respected writers.  She bore witness, made history, and lived with a powerful authenticity.  Wales has received a most beautiful and rich literary inheritance in Jan's writing, the impact of which is vast."
Literature Wales extends its sincerest sympathy to Elizabeth, Twm and the whole family.  
Tributes have been paid by many during recent days, including the following: