Immediate action that puts people most harmed by the climate and nature emergencies at the centre of policy-making is crucial to stop inequalities from worsening, according to the Future Generations Commissioner, Sophie Howe.
Published Thu 4 Nov 2021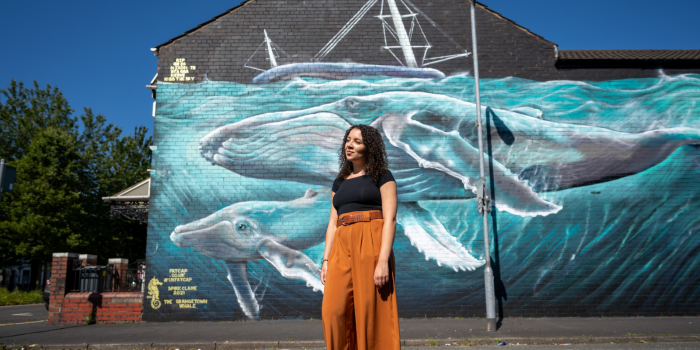 People impacted by climate change, such as communities affected by flooding, should be involved as a priority in plans to get Wales to net zero, finds a new report, Inequality in a Future Wales, which examines the impact on equality of future trends including climate change. 
An estimated 245,000 properties in Wales are at risk of flooding – a result of climate change caused by rising carbon emissions. Recent analysis has found Black, Asian and Minority Ethnic people across the UK are more vulnerable to flooding and have less access to green spaces which can reduce the resilience. 
The commissioner is asking public bodies and decision makers to work with the Well-being of Future Generations Act's goal for a more equal Wales to address the 'overlooked' link between climate change and inequality. Launching the report, she encouraged Welsh Government's Race Equality Action Plan to take these disadvantages into consideration. 
The new report, jointly published by the commissioner and Public Health Wales, and aligned to research at Cardiff University, is accompanied by voices from a Welsh community devastated by floods and comes as world leaders gather at COP26 – the major United Nations climate change conference. 
Warning action is needed now to minimise socio-economic inequalities and prevent them from continuing, it's published on the day the commissioner travels by train to the event to urge all nations to follow Wales and put protecting future generations into law. 
It also states that the poorest and most marginalised populations are least responsible for climate change, yet are most likely to be exposed to its negative effects and have the least resources to respond, cope and recover. This, says the commissioner, has been seen in North Wales in places like Llanrwst and Fairbourne, and also in Pontypridd which has been seriously affected by flooding.  
And a "business as usual" approach to policy development risks making inequality worse. 
To coincide with the report, Taylor Edmonds, Future Generations Commissioner for Wales' Poet in Residence, collaborated with people in Llanrwst in the Conwy Valley, which has suffered extensive flooding over the past few years. 
In the poem, Emerging from Winter, members of Llanrwst Flood Action Group speak of being 'dragged from our beds at 3am to fill sandbags' and question what kind of future their great grandchildren face. 
Local schoolchildren at Ysgol Bro Gwydir recorded readings of the poem for this poignant video. Taylor, 26, will be reading the poem at a march through Cardiff this Saturday (November 6) organised by COP 26 Cardiff Coalition. 
Action on the report's findings should include decision-makers   integrating equality into policy development across the board, as is set out in the Well-being of Future Generations Act, say its authors. 
People who have experienced the results of climate change, should be involved, via ways such as citizens' assemblies. 
Scottish Government has just announced a Climate Justice Fund will provide £1m to support a partnership with the Climate Resilience Fund to help some of the world's most vulnerable communities recover from and build resilience against climate change.
On the day the report is launched, the commissioner said the industries that will help us tackle the climate and nature emergencies, in science, technology and green jobs and skills, must also be accessible to everyone in Wales and targeted at those furthest underrepresented, including women, disabled people and Black, Asian and Minority Ethnic people. 
Sophie Howe, Future Generations Commissioner for Wales, said: "Climate change is an equality issue and this report finds that the link has so far been overlooked in Wales – we must reinvent policies to address the disadvantages to those who are most vulnerable. 

"People in our poorest communities, many of those who've been hit hardest by Covid-19, are least able to afford insurance and the cost of putting things right after floods and that's drastically unfair, as is the fact that if you're Black, Asian or Minority Ethnic, you're more likely to be at risk here and in other parts of the world. You're also less likely to be in positions to take advantage of the new high-quality jobs that we will need to address climate change and we need to put that right. 

"With flooding occurring more and more often, we need a plan to ensure the financial burden doesn't fall on those least able to pay – and an agreed Wales-wide approach to ensuring public services are able to respond in the right way. 

"The Well-being of Future Generations Act says that by law, the way we get to net zero has to improve well-being as a whole, for everyone. 

"Public bodies and decision-makers must take action now to stop those affected by the devastating effects of climate change being disadvantaged for generations." 

Sumina Azam, Consultant in Policy and International Health at Public Health Wales, said: 

"To create the future Wales we want, no one can be left behind. This means recognising that many of the future challenges we face raise issues for equality but that by making good choices we can create a more equal Wales. 

We know that those hardest hit by climate change are those who are already the most vulnerable. As we prepare for and respond to climate change, we must always be thinking about how our decisions impact on everyone in society in the short and long-term as well as future generations. 

Good health and well-being for everyone in Wales is a future we can create if we work together. We hope this report motivates us all to think beyond a 'business as usual' approach as we tackle the coming changes to our population, climate and world of work." 
Read the full report, in Welsh, here, and English, here. 
You can watch Emerging from Winter, a poem by the Llanrwst Flood Action Group, edited by Taylor Edmonds, Poet in Residence for the Future Generations Commissioner for Wales and read by children at Ysgol Bro Gwydir, Llanrwst, here. 
My story: Indo Zwingina, Treforest.
Indo Zwingina saw the results of the climate crisis in her home city of Abuja, the capital of Nigeria and is now experiencing the impact in her new home of Treforest, South Wales. 
RCT has been seriously affected by flooding recently. The impacts of Storm Dennis in 2020, which caused rivers to reach record levels and people being evacuated from their homes, are still being felt. This month, people in areas like Pontypridd saw possessions ruined as water again filled their homes and the costs of recent flooding in RCT could amount to £180 million. 
''The floods have affected everyone. Many people lost businesses, and treasured belongings that insurance cannot replace," said the mum-of-three children aged eight, 10 and 12, who moved to Treforest in January this year to study management at the University of South Wales. 
Indo, 40, takes part in community activities set up in response to the floods, to create awareness of increasingly unsettled weather's links to the climate and nature emergencies, the effects of our activities on the environment, and the benefits of engaging with nature for our well-being. 
Indo is an active member of the Meadow Street Community in Treforest, a project run by Pontypridd Town Council which has seen a patch of disused, flood damaged land brought back to life as a vibrant garden and community hub. The project is run by a community of volunteers, of which Indo and her family are at the heart of. 
"When I arrived, you could see trails of how the water came – huge containers in the community garden still had the marks of the water level, up in the hedges and the trees," she said. 

"Every week, volunteers are still collecting rubbish left the floods left behind. There's a damaged footbridge near my home which still hasn't been repaired – meaning everyone's walk into town takes longer.  

"Flood water brought knotweed to the community garden where I volunteer – it's a lasting memory of when the water came".  
As a young person on the National Youth Service in Nigeria, Indo learned how gas flaring (when oil companies disposed of gas they didn't need) was harming the environment – witnessing the burnt trees and tasting the crude oil in fish from the market and seeing car tyres thrown away instead of being recycled. 
"I knew we needed to make a change, for the environment and for people," said Indo, who is passionate about taking action on climate change and wants to use her degree to help change the way we live for the better. 

''I started to recycle, and upcycle things instead of throwing them away, and to talk to my friends about climate change. 

"I want to learn business skills so I can be part of making a change in the way we do things. 

''Politicians need to listen to people in order to tackle climate change – we can only make the changes we need if they engage people and understand their lives and the reality for them, they can't force ideas on people, it needs to be about what communities need and can do.'' 
In Treforest, Indo and the community spend time talking with each other about climate change and what all of us can do about it.  
They grow vegetables together on the land that flooded by the riverbank, including pumpkins for Halloween.  
"It's been such a positive thing to do. We talk about how we can prepare for more floods. 

"We can't stop it but we can work together to help make sure the impact is minimal.'' 
My story: Sharon Williams, Llanrwst
Sharon Williams witnessed at first hand the catastrophic impact of climate change in her home town of Llanrwst following Storm Ciara in February 2020. Many parts of the town were left underwater following devastating flooding. 
"It started flooding from one side of the town to the other and when the river burst that was it. We hadn't seen water come up the street like that for years," the 58-year old mum of two said. 

"There's an estate opposite us here 100 yards up the road and 90 per cent of the houses were flooded and the residents evacuated. 

"I went into one house and a lady took me around and she had literally lost everything. It was heart-breaking. Of course, it affects insurance then as well." 
Sharon works at extra care scheme for independent living, Hafan Gwydir, in the town and after discussing with colleagues, decided to set up a soup kitchen to help the flood victims. 
"In Llanrwst there is a good community that people do rally around. When we found out that they were evacuating people from their homes and couldn't go back, all the staff here put their heads together and we tried to come up with a way we could help them. 

"When people got to hear what we were doing we were having phone calls from businesses all the time. All the food was donated. The local bakers down the road delivered bread, the farms delivered food and our local food and vegetable supplier were providing vegetables so we could make different soups. 

"We also ran a raffle to raise money for the victims. We made a massive hamper with all the tenants and staff placing items in and then we passed the money we raised towards the group for the flood victims." 
The setting up of the soup kitchen also gave an opportunity for existing tenants to interact with the evacuees. 
"The occupying tenants were listening to the stories of those that had been evacuated as they had been through such a lot. In a way it was nice as our tenants were interacting with those from the outside and consoling them. It was an eye-opener." 
For the people of Llanrwst, the threat of further flooding is very real but Sharon feels it's important decision-makers learn from their experience. 
"It's like walking on eggshells – every time we have heavy rain we are thinking is this going to happen again?" she said. 

"It was an experience and makes you thankful for what you've got. I felt so sorry for these people to see what they have lost and it wasn't the first time we have been flooded. Some of these people have been victims of flooding two or three times now. 

"It's important that the people making decisions about flooding speak to those like us who have been affected by it in the past to understand the impact."