Eloise Williams releases her fourth novel
Published Fri 1 May 2020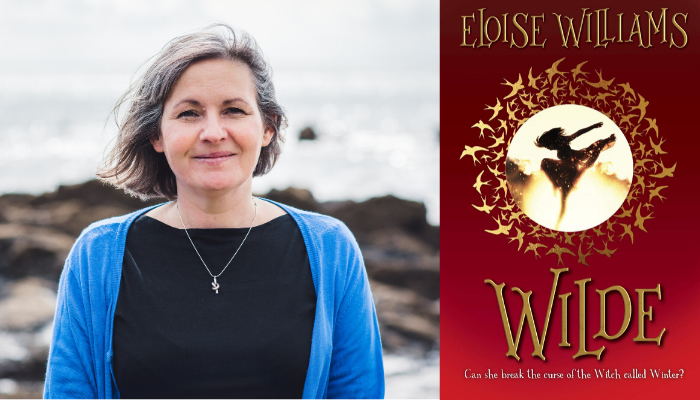 Children's Laureate Wales, Eloise Williams, today releases her fourth novel for children, Wilde.
The novel is published by Firefly Press and is a spooky contemporary adventure of witches and curses, and at its heart a beautiful tale of how we all deserve to belong. The novel is aimed at children aged 9-12 and is Eloise's first publication since becoming the inaugural Children's Laureate Wales in September 2019, a post she will hold until August 2021.
A live launch event will be held at 6pm tonight (1 May) on the @MrEPrimary Twitter account, hosted by Scott Evans, The Reader Teacher. Children are encouraged to send questions via Twitter for Eloise to answer, using the hashtags #WildeLaunch and #IAmAWitch.
All of the staff at Literature Wales would like to wish Eloise the very best with the launch.
Praise for Wilde
Fiona Noble, The Bookseller:
"I loved this contemporary adventure of witches, curses, identity and belonging, from Wales' children's laureate."
Scott Evans, the Reader Teacher:
"An eerie, enchanting & empowering read. It's no wonder that Williams is our inaugural Children's Laureate Wales with writing & world-building like this. Thrilling throughout … her best yet."
South Wales Evening Post:
"A spookily good adventure that will hold children spellbound. Bewitching."
Amy Wilson, writer:
"Completely gripped by Wilde's fight to find acceptance and friendship, from within herself as well as from others. Full of courage and kindness, and rich with the power of nature, loved it."
Kat Ellis, writer:
"Packed with chills and thrills, but is also full of heart. I loved it!"
Zillah Bethel, writer:
"A truly brave and beautiful book! … Utterly beguiling."