Children's Laureate Wales encouraging children to rediscover the joy of libraries
Published Thu 21 Apr 2022
Children's Laureate Wales teams up with Ceredigion libraries to run a series of creative reading and writing workshops for Year 7 pupils from the local area
Children's Laureate Wales, Connor Allen led a week-long series of workshops across Ceredigion as a way of getting students to re-discover and re-engage with their local library. The Children's Laureate Wales is a national ambassadorial role which is awarded every two years to a talented and visionary Wales-based writer who is passionate about ensuring more children and young people discover the joy and well-being benefits of engaging with literature. 
During the workshops, Connor encouraged the students to explore the space, select their favourite books, write their own poems in response to his Knock Knock poem, and consider how they might build a brighter future within their community. The workshops were the first events to be held in the libraries after almost two years of being closed to the public due to the COVID-19 pandemic.
Delyth Huws, from Ceredigion's Library Service said,
"It was so nice to be able to hold something again in our libraries, and this was the perfect start!"
Ensuring that Year 7 pupils stay engaged is a key aim for Ceredigion libraries, as well as highlighting the health and well-being benefits that reading and writing can have on young people.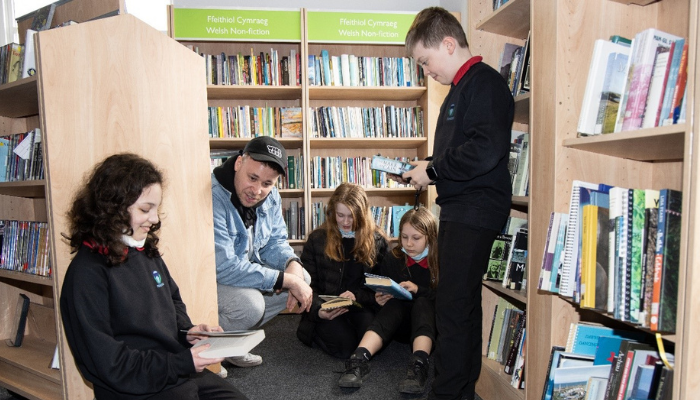 The workshops feature as a key part of Connor's mission to empower and inspire the children of Wales through literature, and he will continue to visit schools and libraries over the coming year.
You can find out more about Connor and the Children's Laureate Wales project here.
If you have any project or collaboration proposals, please email childrenslaureate@literaturewales.org or phone 029 2047 2266.