Bàrd, File, Bardd: Three-nation poetry collaboration celebrating the cultural connections of Wales, Ireland and Scotland
Published Fri 18 Sep 2020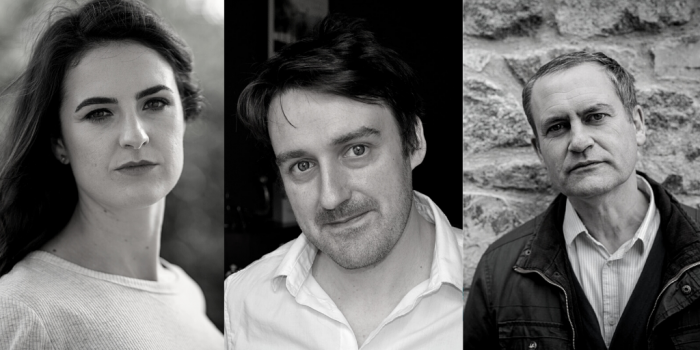 "Language underpins our intangible heritage"
The three literary and arts organisations, Cultúrlann McAdam Ó Fiaich, Scottish Poetry Library and Literature Wales have this week launched a new digital poetry collaboration Bàrd, File, Bardd. The project brings together poets from Scotland, Wales and Northern Ireland to share and explore the links and dynamics of the Welsh, Irish and Scottish Gaelic languages. The title combines the word for 'poet' in the three featured languages.
The fruit of the collaboration is a collection of nine new video poems exploring contemporary themes written and performed by three poets, one from each country.
The poets collaborating on the project are National Poet of Wales Ifor ap Glyn, Dublin City University Writer in Residence and Ambassador for Áras na Scríbhneoirí Ciara Ní É, and the writer, broadcaster and lecturer at University of St Andrews Pàdraig Mac Aoidh.  During their collaboration, the three poets have explored the different perspectives of the Welsh and Irish and Scottish Gaelic languages. Their work also explores identities and how these languages continue to evolve and adapt to the modern world.
Ahead of the launch, the poets held a series of digital workshops, supported by the Belfast based cultural and language centre, Cultúrlann McAdam Ó Fiaich.  The workshops focused on the idea of "mother tongues", and what this means to people from various language communities, particularly within a bilingual context. The poets were commissioned to write three poems each following the workshops, and have worked with award-winning multi-media director Ian Rowlands, video editor and composer Jason Lye-Phillips and animator Pól Maguire to create the videos.
The video poems – three in Irish, three in Scottish Gaelic and three in Welsh – will be premiered with English subtitles on Cultúrlann McAdam Ó Fiaich's YouTube and Facebook channels on Friday 18 September at 8.30pm as part of Oíche Chultúr (annual Cultural Evening).
From 1 October, which is the official National Poetry Day, each of the nine poems will be released individually with a choice of Irish, Scottish Gaelic, Welsh, Scots and English subtitles.
Inspired by last year's UNESCO Year of Indigenous Languages, the project was originally developed as a live show with the intention of touring venues and festivals at the respective countries, but took a digital dimension due to the Covid 19 pandemic.
Bàrd, File, Bardd is funded by Arts Council of Wales, Wales Arts International, Arts Council of Northern Ireland, British Council Wales, the National Lottery and Scottish Poetry Library. The project is led by Cultúrlann McAdam Ó Fiaich in association with Literature Wales and Scottish Poetry Library, and in collaboration with Yr Egin and Poetry Ireland.
Brónagh Fusco, Cultúrlann McAdam Ó Fiaich said:
"As Celts, it is not only wonderful to look at our own mother tongue, her importance and what it means to us through the medium of poetry, but those mother tongues of our Welsh and Scottish cousins. Now is the time for further co-ordinated conversations among stakeholders and communities and we look forward to their continuation. We are keen to play our part."
Asif Khan, Scottish Poetry Library said:
"Language underpins our intangible heritage. Oral traditions and expressions are used to pass on knowledge, cultural and social values and collective memory. Minority languages as ciphers for collective memory are increasingly under attack as the shared values that underpin them are railed against for political motives of othering and alienating. That is why it is important that the indigenous minority languages of the British isles are nurtured and provided with new platforms for sharing creative activity."
Lleucu Siencyn, Literature Wales said:
"The shared roots of our languages, histories and cultures offer fertile ground from which to strengthen, celebrate and develop the connections and collaborations with our closest Celtic neighbours, which is more essential than ever during this time of global change."