Announcing the Welsh-language Shortlist for the Wales Book of the Year Award 2022
Published Mon 20 Jun 2022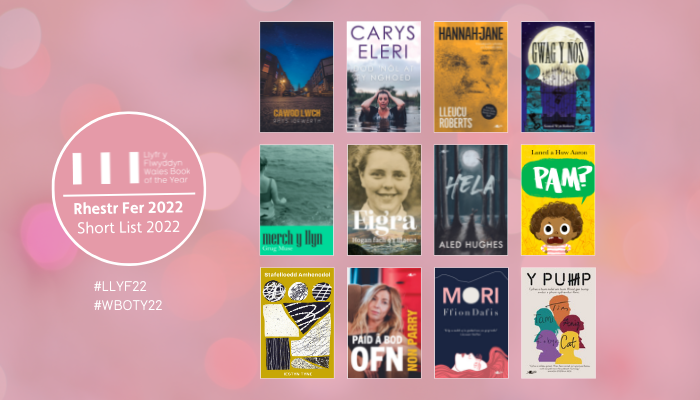 Tonight, Monday 20 June, the titles of the Welsh-language books that have reached the Wales Book of the Year Shortlist 2022 were announced during a special edition of
Stiwdio
on BBC Radio Cymru.
Awarding over four categories in both Welsh and English – Poetry, Fiction, Creative Non-fiction and Children & Young People – Wales book of he Year celebrates some of the best literary works in the previous calendar year.   
Over 70 books were submitted, and after months of reading and deliberating, the judges have named the following as their Shortlist:  
Welsh-language Shortlist 2022
Poetry Award 
Cawod Lwch, Rhys Iorwerth (Gwasg Carreg Gwalch) 
Merch y llyn, Grug Muse (Cyhoeddiadau'r Stamp) 
Stafelloedd Amhenodol, Iestyn Tyne (Cyhoeddiadau'r Stamp) 
Creative Non-Fiction Award 
Dod Nôl at fy Nghoed, Carys Eleri (Y Lolfa) 
Eigra: Hogan Fach o'r Blaena, Eigra Lewis Roberts (Gwasg y Bwthyn) 
Paid â Bod Ofn , Non Parry (Y Lolfa) 
Welsh@BangorUni Fiction Award 
Hannah-Jane, Lleucu Roberts (Y Lolfa) 
Hela, Aled Hughes (Y Lolfa) 
Mori,  Ffion Dafis (Y Lolfa) 
Children and Young People Award 
Gwag y Nos, Sioned Wyn Roberts (Atebol) 
Pam?, Luned Aaron a Huw Aaron (Y Lolfa) 
Y Pump (Y Lolfa) 
Tim – Elgan Rhys with Tomos Jones 
Tami – Mared Roberts with Ceri-Anne Gatehouse 
Aniq – Marged Elen Wiliam with Mahum Umer 
Robyn – Iestyn Tyne with Leo Drayton 
Cat – Megan Angharad Hunter with Maisie Awen 
For further information about each writer and their books, head over to the Wales Book of the Year page.
This year's Welsh-language awards are judged by broadcaster Mirain Iwerydd, presenter and columnist Melanie Owen, the academic, writer and editor Siwan Rosser, and director, poet and author Gwion Hallam. 
On behalf of the Judging Panel, Melanie Owen said: "It is a huge privilege to be a member of the judging panel this year. I love to read and to write, so having the opportunity to enjoy the works of some of Wales' best writers was a dream. It's fair to say that the panel's discussions have been vibrant and impassioned – with so much talent in front of us, this isn't surprising. The standard amongst the submissions was so high, and made our decisions difficult, but it has been a fantastic opportunity to celebrate Welsh literature." 
A note about Eligibility
In 2021, the Wales Book of the Year criteria was enhanced, which was to make collaborations by two writers eligible. This decision was made following feedback and requests from writers, former judges and readers, and some collaborative works have reached the shortlist this year. Pam? By Luned and Huw Aaron is on of the titles on the Children and Young People Shortlist, as is the Y Pump collection. Originally, the 5 books in the collection were submitted individually, but the judges are of the opinion that the titles are inherently connected, and that the characters all feature throughout, and therefore felt unable to separate them. To this end, the judges have decided to include them as one title on the Shortlist, and should it go on to win any of this year's awards, the ten co-writers would share the accolade and the prize as opposed to receiving individual awards.  
Wales Book of the Year has been run by Literature Wales since 2004, and over the years, some of Wales' most prominent, long-standing writers, as well as new and emerging talents have dazzled the judges. The Wales Book of the Year Award is an essential part of Literature Wales' programme of activity, and help fulfil our aim of celebrating and representing Wales' writers, heritage and rich literary culture.  
Leusa Llewelyn, Literature Wales' Joint Interim CEO – Creative Lead said: "Alongside the literature prizes at our Eisteddfodau and the Hay Festival, Wales Book of the Year is an annual highlight for the literature-lovers of Wales. It's a vibrant period on social media, where we discuss our favourite books, guess who's made it onto the shortlist, celebrate successes – and perhaps bemoan the near-misses! But most importantly, it's an opportunity to show our gratitude to our talented writers – we thank them for entertaining us, and for the escapism their work offers us. This is even more pertinent after two challenging years, and as such or gratitude is stronger than ever."   
What happens next?
The English-language shortlist will be announced on Friday 1 July. This year's English-language judging panel includes poet and writer Krystal Lowe, journalist and broadcaster Andy Welch, author and presenter Matt Brown, and poet and recipient of a 2020 Rising Star Award Taylor Edmonds. 
The Welsh-language award winners will be announced during a series of broadcasts on BBC Radio Cymru between the 19- 21 July. All the English-language winners will be announced on BBC Radio Wales on the 29 July. Literature Wales is glad to continue our partnership with BBC Cymru Wales this year, and look forward to sharing all the announcements with you during these special broadcasts.  
Presenter Nia Roberts will welcome members of the judging panel, representatives of Literature Wales, as well as passionate readers to discuss the books during the announcements, and there will be an opportunity to reflect on all of the Welsh-language winners during a special broadcast of Stiwdio on BBC Radio Cymru on 25 July.  
A total prize fund of £14,000 will be distributed to the winning writers. Each category winner will receive a prize of £1,000 and the main award winners will receive a further £3,000. Each winner will also receive an iconic Wales Book of the Year trophy designed by the installation artist and blacksmith Angharad Pearce Jones. 
Readers will have the opportunity to have their say as the shortlisted titles compete to be win the People's Choice Awards hosted independently by our partners Wales Arts Review and Golwg360  
Literature Wales is grateful for the support of the award's sponsors and partners: Bangor University, The Rhys Davies Trust, Books Council of Wales and BBC Cymru Wales, and our funders Arts Council of Wales and the Welsh Government.  
Further information about sponsors and partners is available here.