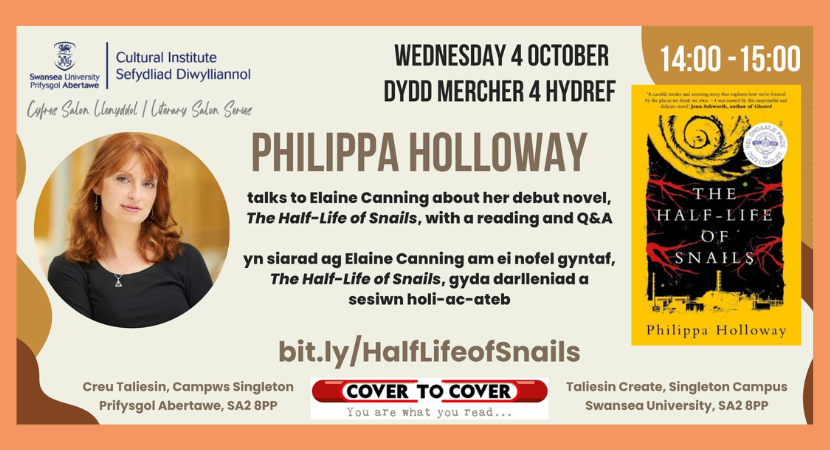 Category / Talk / Lecture
The Half-life of Snails – Philippa Holloway talking to Elaine Canning, with a reading and Q&A
Philippa Holloway's debut novel explores survivalism and the legacy of Chernobyl in a narrative split between North Wales and Ukraine during the Euro Maidan crisis.
"Two sisters, two nuclear power stations, one child caught in the middle…
When Helen, a self-taught prepper and single mother, leaves her young son Jack with her sister for a few days so she can visit Chernobyl's Exclusion Zone, they both know the situation will be tense. Helen opposes plans for a new power station on the coast of Ynys Môn that will take over the family's farmland, and Jennifer works for the nuclear industry and welcomes the plans for the good of the economy.
And Jack isn't like other five-year olds… as they will both discover with devastating consequences."
'Shimmers with compassion…a tale that will linger longer than the half-life of many books you will read this year.' Alex Lockwood, author of The Chernobyl Privileges
'A transformative read in a time of heightened complexity and division.' Wales Art Review
Philippa Holloway is an author and academic, teaching Creative Writing at Staffordshire University. Her debut novel, The Half-life of Snails (ParthianBooks) was longlisted for the 2023 RSL Ondaatje prize for 'a distinguished work evoking the spirit of place,' and was featured in an international podcast and serialized in a national newspaper.
Her prize-winning short fiction/non-fiction is published internationally in literary magazines and prize anthologies, and as chapbooks with Nightjar Press (2018) and Broken Sleep Books (2023).
She co-curates the global writing project, 100 Words of Solitude, and co-edited 100 Words of Solitude: Global Voices in Lockdown 2020 (Rare Swan Press).
BOOK FREE TICKETS HERE: bit.ly/HalfLifeofSnails