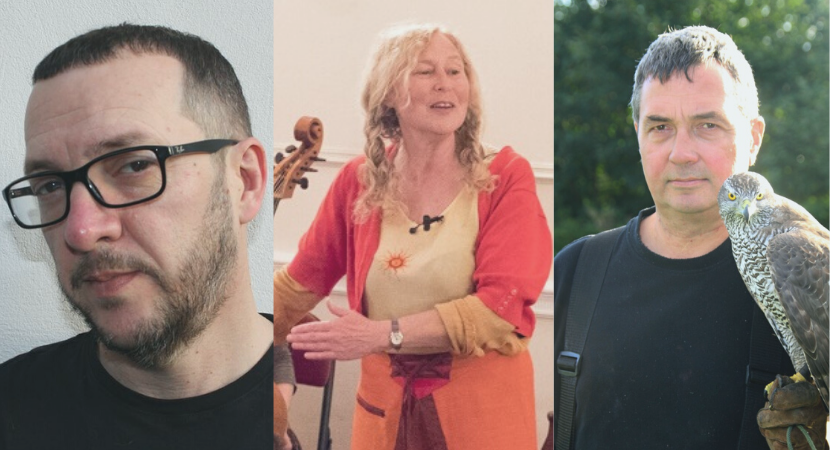 The Edge Festival – Literature Tent
A three-day festival of arts, music, food, literature and outdoors.
Set on the 'Edge', overlooking the sea and the Pembrokeshire Coast Path in the beautiful village of Solva
Morning:
Deb Winter of Fishguard Storytellers
Late Morning:
Euron Griffith, Seren-published author – reading and Q&A.
Daniel Butler, Seren-published author – reading/images and Q&A
Deb Winter
Performance storyteller Deb Winter has delighted audiences across Wales and the UK with a huge range of shows. Deb has a winning mixture of warmth, high energy, irrepressible humour and a certain something that quivers between originality and downright eccentricity.  She tailors her tales to the event and makes a warm connection with audiences. Deb has worked for a diverse range of clients, including Cheltenham Science Festival, Tenby Arts Festival, Llangollen Fringe Festival, Priddy Folk Festival, End of the Road Festival, Swansea Fringe, the National Trust, Pembrokeshire Coast, fforest, Felin Uchaf and Fishguard's Theatr Gwaun.
Euron Griffith
Miriam Daniel and Me, the first novel in English by author Euron Griffith (to be published by Seren in April 2020), is a gripping story of relationships and simmering political unrest in 1960s Gwynedd – driven by love, jealousy and vendetta. Born in Bangor, Euron has a Creative Writing MA from the University of Glamorgan. Between 2011 and 2016, he published three novels in Welsh. His English-language short-story collection, The Beatles in Tonypandy, appeared in 2017 from Dean Street Press. Griffith lives in Cardiff, where he works as a radio and TV producer and plays in a band.
Daniel Butler
Daniel Butler has been passionate about birds and wildlife from a young age, and has built a successful career as a wildlife writer and journalist on the back of this obsession. From his smallholding in the Cambrian Mountains, he trains hawks and forages in the surrounding countryside. But over the years his rural farmhouse has become home to an altogether different kind of wild bird; a pair of nesting barn owls. In his new book, The Owl House (published by Seren in October 2019), he records the lives of these two birds in extraordinary detail, leading to an exploration of the changing landscape around his rural home, and the effect of physical change on our native wildlife.