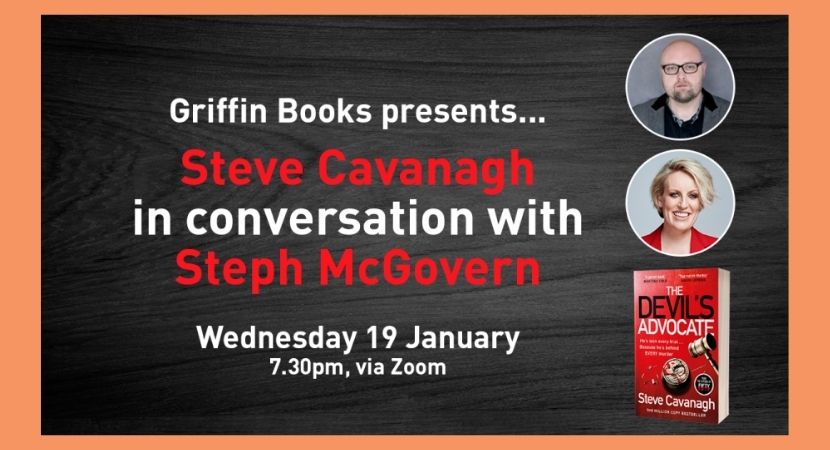 Category / Talk / Lecture
Steve Cavanagh in Conversation with Steph McGovern
Join bestselling crime author Steve Cavanagh as he discusses his latest book The Devil's Advocate with journalist and broadcaster Steph McGovern.
***
He's won every trial. Because he's behind every murder. 
Ambitious District Attorney Randal Korn lives to watch prisoners executed. Even if they are not guilty.
An innocent man, Andy Dubois, faces the death penalty for the murder of young girl. Korn has already fixed things to make sure he wins a fast conviction. The one thing Korn didn't count on was Eddie Flynn.
Slick, street smart and cunning, the former con artist turned New York lawyer has only seven days to save an innocent man against a corrupt system and find the real killer. In a week the Judge will read the verdict, but will Eddie be alive to hear it? 
***
Steve Cavanagh is an Irish author from Belfast and at the age eighteen he studied law by mistake. He is now the international award-winning author of the Eddie Flynn novels. His debut novel, The Defense, was nominated for the Ian Fleming Steel Dagger Award for Thriller of the Year, and The Plea won the Prix Polar Award for Best International Novel.
Steph McGovern is a British journalist and television presenter. She currently hosts Steph's Packed Lunch on Channel 4. She worked for the BBC as the main business presenter for BBC Breakfast, often co-hosting the entire programme.
***
Online Via Zoom
Virtual waiting room opens at 7.20pm
Tickets: £5.00 OR £10.00 including a SIGNED (bookplate) PB copy of The Devil's Advocate (RRP: £8.99)