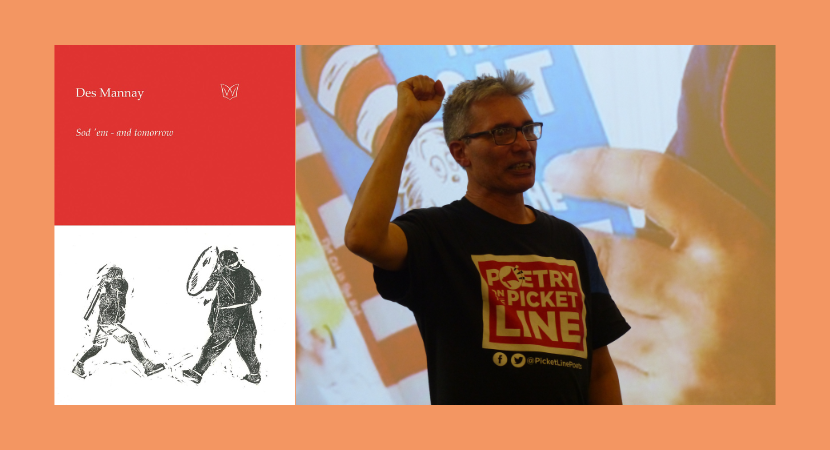 Category / Book Launch
"Sod 'em and Tomorrow" – the book launch re-loaded
April 3rd 2020 The Cwtsh centre, Newport, would have launched Des Mannay's poetry book, "Sod 'em and tomorrow", as the official Newport launch; part of a 20 date book tour. 2 dates in the tour was cancelled due to the Covid 19 pandemic. There has never been an official launch in Newport. Until now.
Des recently performed at Morecambe Poetry Festival, alongside what sounds like a who's who of the contemporary poetry scene – Roger McGough, former Poet Laureate Carol Anne Duffy, Jackie Kay, Henry Normal, John Hegley, Atilla The Stockbroker, Brian Bilston, Pete The Temp, and Clare Ferguson-Walker; to name but a few. At Nozstock festival, he was on the same line up as Grandmaster Flash, and Bob Marley's band, The Wailers. "It's been a really busy year", said Des. "At one point I did 3 festivals in 3 weeks – that's 5 gigs on the bounce. This is probably the last festival of the year for me – so it's nice to be bringing it all back home…."
The Venue:
The Cwtsh was set up after Newport City Council closed Stow Hill branch library in March, 2013 and a committed band of people have organised to re-open it. Together they formed the Handpost Community Library Association (Cwtsh's original registered name), held an Auction to raise funds and also organised regular Open Mics at the Murenger House, Newport, to raise money to help run the old library building. The space is now used for classes, presentations and art exhibitions; and has active links with local Primary Schools especially for the display Children's Artwork.
The Festival
Art on the Hill Newport is a weekend of art and creativity on the west side of Newport. It is organised purely by volunteers working with local organisations and artists in Newport to showcase arts & culture from across the city. It has won 2 awards for volunteering to support culture in Newport – in 2023 Gavo Newport and in 2020 Creative Lives. These organisations champion & celebrate volunteering across Gwent and the UK
Other writers on Des Mannay's book:
"Des pulls no punches. It's a real read, a hard read… A different Cardiff, a differentWales… where the earliest Black immigrants found work, love and a future. Des's heritage. 'On the death of Muhammad Ali' is heartbreakingly brilliant: past, present and future combine, as they do in so many here". (Attila the Stockbroker)
"Performative, funny, passionate… an important voice – from police racism to the death of Muhammad Ali. In this thrilling collection, Mannay speaks eloquently of experiences that need to be shared, need to be yelled about". (Jonathan Edwards, winner of the Costa Book Award for Poetry, 2014. Former editor of Poetry Wales).
"Loud when it comes to racial stereotyping, police brutality, literary decapitation…Mannay's work speaks of the simple things in life, made complicated by the greed of humanity". (Eric Ngalle Charles – Hiraeth-Erzolirzoli: Wales-Cameroon anthology).
"Des Mannay goes some distance in dismantling power structures, abusers, criminals to the body and spirit: 'You are no longer/scary, all/powerful – I/am no longer/in your grasp.'Yes! To this". (Clare E Potter, winner of the John Tripp Award).
(Donations to Cwtsh after event. Opens 7pm, contact number for event is Des) Saturday, November 25th, 7.30pm @ The Cwtsh art centre 226 Stow Hill, Handpost, Newport, NP20 4HA