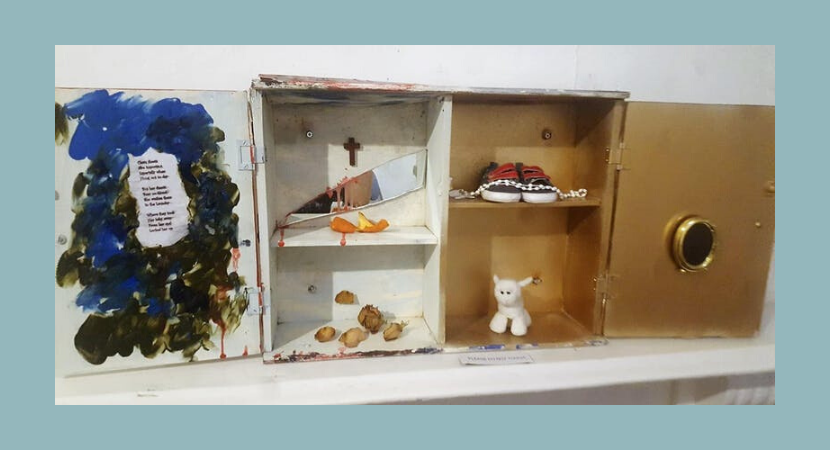 Category / Event
Saints, Sinners and Stories – The Magdalene Laundries in Wales
Who were the saints? And who were the sinners?
Find out what happened to women who fell pregnant out of wedlock in South Wales – hear some stories and poems around the topic, see some of the work created by artist Alix Edwards in response to her research, share your own stories and try some workhouse food! Bring your family and friends – everyone welcome!
The event is generously hosted by SHOUT! Cardiff Women's Aid Cardiff Women's Library and sponsored by Cyngor Celfyddydau Cymru | Arts Council of Wales
Alix Edwards combines photography, painting, text, installation, spoken word to give a voice to disempowered women. Her work explores untold histories, domestic violence, resilience, loss and shame. She has an MA in Creative Writing from Goldsmiths, University of London and graduated with an MA in photography from Central Saint Martin's in 2016.
Alix' work has been exhibited in England and Wales including 198 Gallery, Sutton House, g39, Bath Fringe, Bloomsbury Festival, Cwtsh Gallery, Cardiff Made, Truman Brewery, Angus Hughes, The Gas Club, Oxford House, The Laundry, The Gate, The Russian Club and The Overlay Project. She has also recently exhibited work about attitudes towards women and sexuality at Sexology in Los Angeles.
Her images are published in Lucent Dreaming, The Loss Project, Blink-Ink, The London Reader, and the write time.
Her writing has been published in the write time, Marble Magazine, Roath Writer's anthology, Diaspora, Beyond Words, write spark, Penny Thoughts and alchemy magazine.
She founded and hosts Company of Words Open Mic and Guest literary events in Cardiff, where she lives with her two daughters, and runs community art projects for women including for SHOUT! at Cardiff Women's Centre.
To find out more, visit:
www.alixedwardsartography.com
Instagram: artography_alixedwards
twitter: artographyalix
FB @alixedwardsartography @companyofwords
https://www.eftychiamag.com/post/alix-edwards-a-beacon-of-resilience-empowering-the-community-through-creative-arts
Cardiff Women's Aid are a specialist agency which works to end violence against women, domestic abuse and sexual violence and supports those who have experienced it. We provide crisis support, emergency accommodation, group work, 1:1 support, aftercare and recovery support for women and young people, as well as preventative interventions and education. We run a Women's Resource and Recovery Centre, as well as working with specialist agencies to provide holistic, person-centred support to all those we work with. We believe that to eradicate violence against women, we need a whole-society approach, so we welcome all community members in getting involved to change our world for the better, whether through volunteering, donating, or simply challenging harmful ideas in their personal lives.