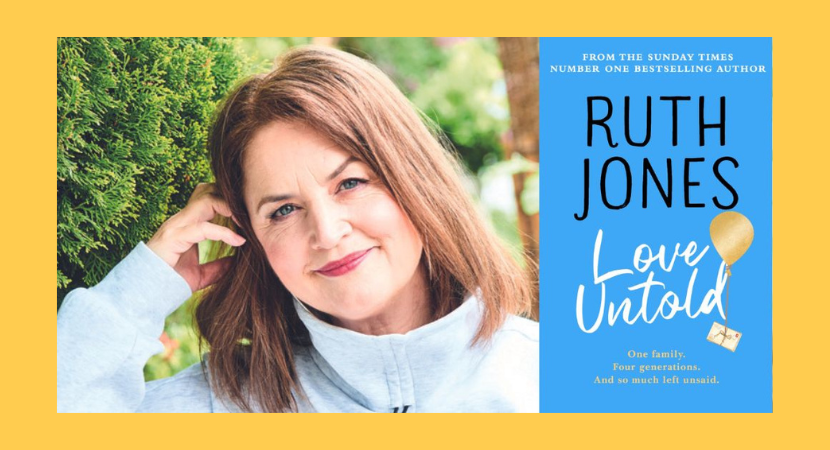 Category / Book Launch
Ruth Jones: 'Love Untold' UK LAUNCH EVENT
Griffin Books are delighted to be hosting the launch event for Love Untold the funny, moving and uplifting new novel from No.1 bestselling author Ruth Jones. Ruth will be interviewed by her friend and fellow actor Suzanne Packer.
Love Untold:
Grace is about to turn ninety. She doesn't want parties or presents or fuss. She just wants to heal the family rift that's been breaking her heart for decades. But to do that she must find her daughter Alys – the only person who can help to put things right. If she does – she risks betraying granddaughter Elin – who is far less forgiving of the past, with its hurts and secrets and lies. Meanwhile Grace's great-grand-daughter Beca is oblivious to all these worries, too busy navigating the highs and lows of teenage life and keeping secrets of her own.
All families have their problems. And most of them get resolved. But Grace's problem is thirty years old. And she doesn't have time on her side. Is it too late for her to make peace? Or is reconciliation still within reach?
Love Untold is a story about mothers and daughters and the complex bond between them. It's about the heartache that comes from leaving things unsaid and the power of true forgiveness. It is a joy-filled, life-affirming, sob-inducing novel – with characters you'll come to know and love – from no.1 bestselling author Ruth Jones.
***
RUTH JONES is best known for her outstanding and award-winning television writing, most notably BBC One's Gavin and Stacey, which she co-wrote with James Corden and in which she played the incorrigible Nessa Jenkins. The most recent Christmas Day special of Gavin and Stacey gained national critical acclaim, drawing an audience of over 18 million and winning a BAFTA for TV moment of the year. Ruth also created and co-wrote Sky One's Stella, which ran for six series.
Her debut novel Never Greener has now sold over a quarter of a million copies. It was chosen as WHSmith Fiction Book of the Year 2018, was a Zoe Ball Book Club pick, and was a Sunday Times bestseller for fifteen weeks, with three weeks at number one. Ruth's second novel, Us Three, was an instant Sunday Times bestseller in hardback and paperback.
Tickets are limited, book early to avoid disappointment!
***
Tuesday 27 September
7.30 pm (doors open 6.45 pm)
Richard Burton Theatre, The Royal Welsh College of Music and Drama, North Road, Cardiff, CF10 3ER
Tickets: £25.00 including a SIGNED hardback copy of Love Untold (RRP: £20.00)