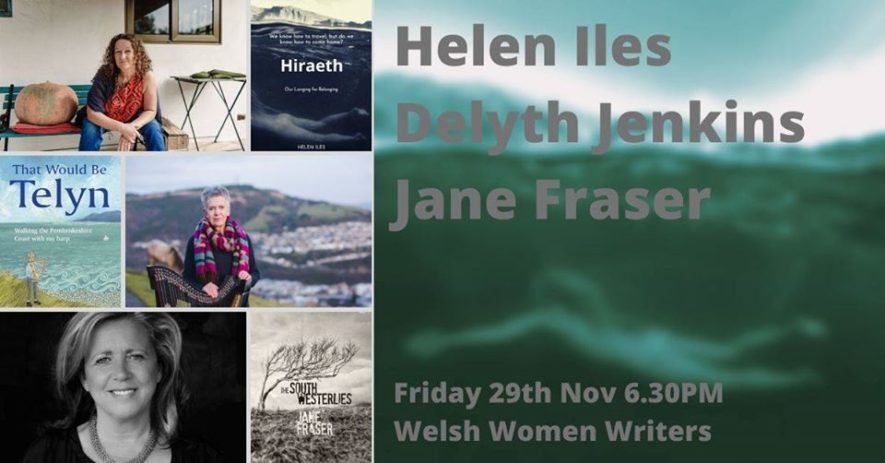 Meet the Author – Helen Iles, Delyth Jenkins, and Jane Fraser
Come and share an hour or two with some Welsh women and their words. Delyth Jenkins, Jane Fraser and Helen Iles read from their recent works and answer questions about their experience of writing about the land they love.
Helen's family have lived at least four generations in Swansea and Gower. In 2012, she reluctantly uprooted and moved with her new husband to Australia, then to Spain. Hiraeth reflects on the nature of home and community and how we, in a fractured world, might re-connect – to ourselves, to the land and to each other.
In the summer of 2012 Delyth Jenkins walked the 186 miles of the Pembrokeshire Coast Path. She carried her small harp with her, giving a series of impromptu path-side concerts. Structured around the 17 days of the walk, her book – That Would Be Telyn – is an account of her adventures and the people she met and played for along the way.
Jane's The South Westerlies is an attempt to know place (Gower) through the creation of a collection of short stories. Place is not a cosmetic backdrop, but an affecting agent in the lives of a wide cast of fictional characters. The collection is unified by the tone of the prevalent dank south-westerly wind that blows across the peninsula, the UK's first designated area of outstanding natural beauty. However, the author chooses to let her gaze fall on the downsides of a much vaunted tourism destination and a place that is too beautiful, perhaps, for its own good.
Expect harp music, wine, welsh cakes and books!