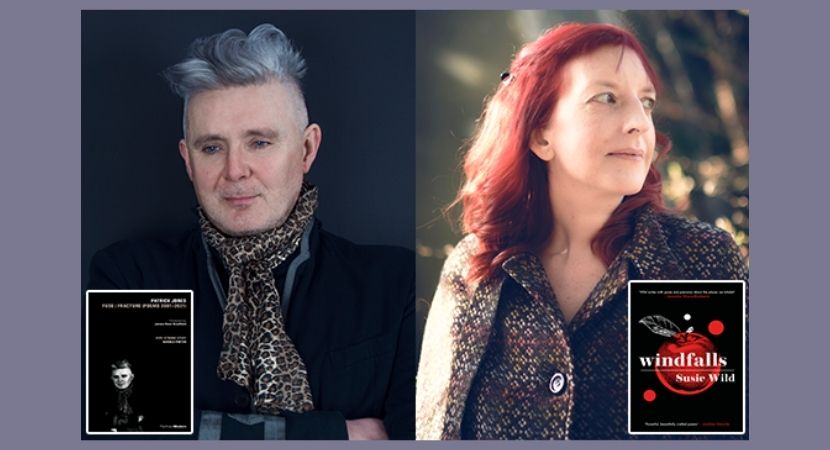 Category / Poetry
Literary Salon Series: Patrick Jones and Susie Wild
Join Swansea alumni poets Patrick Jones and Susie Wild as they read from their latest collections 'Fuse/Fracture (Poems 2001-2021) and 'Windfalls'
Followed by a Q&A with the audience.
Patrick Jones is author of six plays, three spoken word albums, nine books of poetry and lyricist on the Even in Exile album (James Dean Bradfield). He is currently Writer in Residence with The Royal College of Psychiatrists in Wales and adapting his 2016 play, Before I Leave, into a film. He was born in Tredegar, Wales. His latest book is a special 20th anniversary edition Fuse/Fracture (Poems 2001-2021). He has four children and two cats and lives at the foot of a mountain. www.patrick-jones.info twitter: @heretic101
FUSE / FRACTURE (POEMS 2001-2021):A 20th anniversary edition with a foreword by James Dean Bradfield. These are elegies, protest songs and battle cries as Jones speaks to and for the disaffected, bearing witness to contemporary and political concerns. 28 new poems also turn their gaze to the personal; haunted by ghosts of both the living and the dead. An inventory of scars where love once lived.
Susie Wild is author of the poetry collections Windfalls and Better Houses, the short story collection The Art of Contraception listed for the Edge Hill Prize, and the novella Arrivals. Her work has recently featured in Poetry Wales, Carol Ann Duffy's pandemic project Write Where We Are Now, The Atlanta Review and Ink, Sweat & Tears. She is also Publishing Editor at Parthian Books specialising in poetry and fiction. She currently lives in a garret on a leafy avenue in Cardiff.
WINDFALLS:In Windfalls, Wild writes of fruit blown down by the wind, of unexpected and unearned gains which renew the beauty and joy of life. These are also stories of heroines who fall or jump from pedestals, taking risks in a world that is often dangerous for women, but refusing to settle for the conventional. Wild continues to bring us her refreshingly slant world view, whether unpicking the domestic, the political or the environmental.