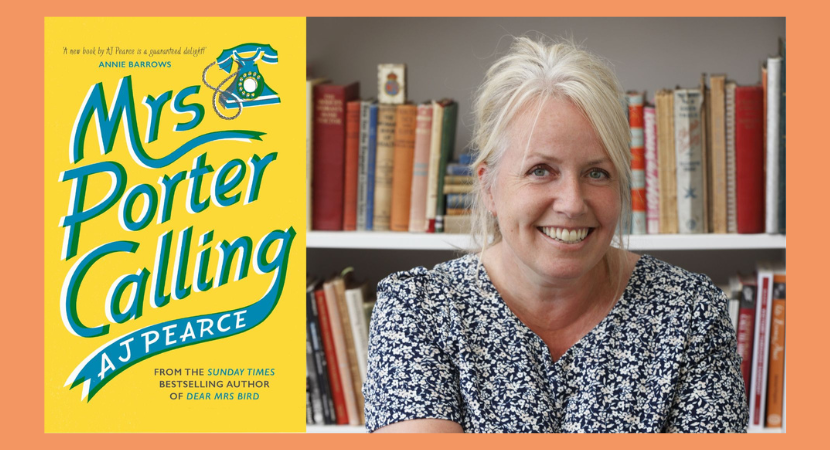 Category / Talk / Lecture
Cream Tea with AJ Pearce: Mrs Porter Calling
Join Griffin Books for a very special cream tea with international bestselling author AJ Pearce, to celebrate the publication of her delightful new novel, Mrs Porter Calling.
Mrs Porter Calling is the third book in AJ's bestselling Emmy Lake series, which began with her acclaimed and much-loved debut novel, Dear Mrs Bird.
Mrs Porter Calling:
London, April 1943. Emmy Lake is the agony aunt at Woman's Friend magazine, doing all she can to help readers as they face the challenges of life on the Home Front. Her column is a huge success with postbags overflowing – and with more than a little help from her editor, Guy Collins, best friend Bunty and her team of friends, Emmy is putting her heart and soul into 'Doing Her Bit'.
But Emmy's world is soon turned on its head when the magazine's glamourous new owner, The Honourable Mrs Cressida Porter arrives accompanied by 'Small Winston' – her very small, spoilt dog – and a wardrobe of tiny hats. Emmy soon realises that despite her sugar-sweet charm, Mrs Porter plans to destroy everything Woman's Friend represents, and worst of all, force them to abandon the community of readers they've always served. Can Emmy and her friends save Woman's Friend before it's too late? And will the readers still be there if they do?
AJ Pearce was a 1970s child, happily growing up in the era of Angel Delight and the Bay City Rollers. She embarked upon a career in marketing, and it wasn't until she hit her 40s that she started thinking about writing. However, it was a chance bargain buy that really changed her life. Browsing on eBay, she spotted a 1939 copy of Woman magazine for sale. It was like opening a window onto another era, but through the kind of magazines she had always loved. In particular, the 'agony aunt' advice columns were rich with the stories of real women living through the challenges of the home-front. The idea for her international bestselling debut novel, Dear Mrs Bird was born.
Dear Mrs Bird was published in April 2020, to both critical and commercial acclaim. Translated into 15 languages and one of the biggest selling debuts of the year, it was shortlisted for Debut of the Year at the 2019 British Book Awards, for the Historical Writers' Association Debut Crown, and in the USA's Library Reads Favourites of Favourites. Her second novel, the Times bestselling sequel Yours Cheerfully, was published in 2020. Mrs Porter Calling is the third novel in the Emmy Lake series. AJ lives in Hampshire. She is the owner of two dogs and one very elderly horse. Her favourite things include vintage magazines, garden fetes, painting and the theatre.
***
Wednesday 31 May
3.30 pm (doors open 3.00 pm)
All Saints Church, Victoria Square, Penarth
Tickets: £18.00 including cream tea, plus a signed hardback copy of Mrs Porter Calling / £10.00 cream tea only