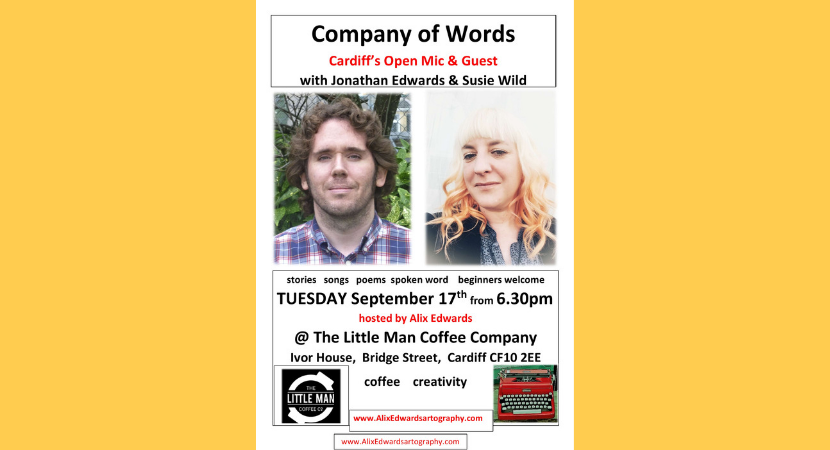 Company of Words with Jonathan Edwards and Susie Wild
Fabulous poet Susie Wild and Costa prize winner Jonathan Edwards with our usual open mic spots of course!!
Tuesday September 17th 2019 @ The Little Man Coffee Company hosted by Alix Edwards
Open from 6.30pm-9pm in Cardiff's finest coffee house.
Read your work in a supportive and friendly environment or just come and watch!! Bring your family and friends – everyone welcome!
This is an open mic where you're welcome to try out your latest poetry, prose and song in a very chill, fun and supportive environment or come and watch!
If you're reading.performing sign-ups are from 6pm (for 6.30pm start) – please arrive early to avoid disappointment!
Little Man Coffee (http://www.littlemancoffee.co.uk/) company is a small local business so please support them by buying a drink (they do beer and wine as well as coffee!!!) – we hope to have some special offers for the night – so watch this space
PLEASE BRING:
Yourself! Your work – if you're performing!Your friends!! and maybe a pen and paper in case you want to write something impromptu on the night or want to note down anything interesting extra kudos for bringing your phone/camera – we love pics!!! and all pics will be posted to the Facebook Page https://www.facebook.com/CompanyofWords/ with credit to you of course and links to website
We ask for a £4 contribution to cover guest poets/performers and the venue.
SUSIE WILD
'The world shifts and transforms itself in these subtly disconcerting poems: words into bees, surgical stitches into mascaraed eyelashes, a fossil oyster into a lover's toenails. The effect can be darkly sinister or exuberantly witty, but it's always new and refreshing. This is an exciting and assured poetic debut.' – Matthew Francis
Susie Wild's debut poetry collection Better Houses was released by Parthian. Her other books are the short story collection The Art of Contraception, listed for the Edge Hill Prize, and the novella Arrivals. She has performed her words at Glastonbury Festival, Hay Festival, Green Man Festival, the Dylan Weekend and many more. She was longlisted for the Mslexia Women's Poetry Prize. She'll be sharing new poetry and, perhaps, a little prose.
'These poems are spells whose words bewitch the ordinary and transform the objects and routines of our human world with their word-magic.' – Gillian Clarke
To find out more about SUSIE
Better Houses
JONATHAN EDWARDS was born and brought up in Crosskeys, south Wales. He has an MA in Writing from the University of Warwick, has written speeches for the Welsh Assembly Government and journalism for The Big Issue Cymru, and currently works as an English teacher. He won the Terry Hetherington Award in 2010, was awarded a Literature Wales new writer's bursary in 2011, and in 2012 won prizes in the Cardiff International Poetry Competition and the Basil Bunting Award. His work has appeared in a wide range of magazines, including Poetry Review, The North, Poetry Wales and New Welsh Review. His poetry collection, My Family and Other Superheroes, was published in 2014 and was the winner of that year's Costa Poetry Award. He was also on the shortlist for this year's Welsh writer of the Year award and won The Wales Arts Review People's Choice Prize 2019
To find out more about JOHNATHAN :https://www.serenbooks.com/author/jonathan-edwards