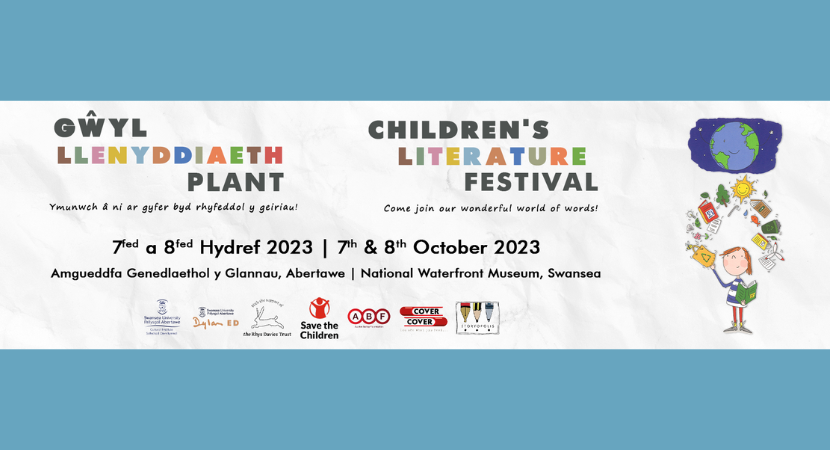 Category / Children / Young People, Festival
Children's Literature Festival 2023
A fantastic line-up of authors taking part in the first of its kind free Children's Literary Festival held at the National Waterfront Museum, Swansea during the weekend of 7-8 October has been announced.
More than thirty renowned children's authors from Wales and across the UK will be participating in this free event of storytelling, magic, music and drama with sessions held in both English and Welsh.
Author names include Hannah Gold, winner of the Waterstones Children's Book Prize 2022 for Last Bear, prolific writer and winner of this year's Carnegie Medal, Manon Steffan Ros, Alex Wharton, 2023-2025 Children's Laureate Wales, Nia Morais Bardd Plant Cymru 2023-25, multiple award-winner and patron of the Children's Bookshow Owen Sheers and multiple-winner of the Literature Wales Book of the Year award Caryl Lewis.
Added to the list of award-winning and prolific children's authors are Liz Hyder, Catherine Fisher, Casia Wiliam, Rebecca F.John, Ivor Baddiel, Robin Bennett, Lee Newbery, Lesley Parr, Stephanie Burgis, E.L. Norry, Helen and Thomas Docherty and many more.
The Children's Literature festival is organised by Swansea University's Cultural Institute and DylanED programme in partnership with Save the Children Cymru, the Rhys Davies Trust, Storyopolis, Cover to Cover and Austin Bailey Foundation.
The aim of this free event is to enable children of all ages to access the wonderful world of words so that they can reach their full potential. For some children this is not always possible, especially with nearly 1 in 4 children currently living in poverty in Wales.  Save the Children, Swansea University's DylanEd programme and Storyopolis have a range of innovative educational programmes in Swansea and South Wales which focus on reducing inequality and improving the outcomes for all children.