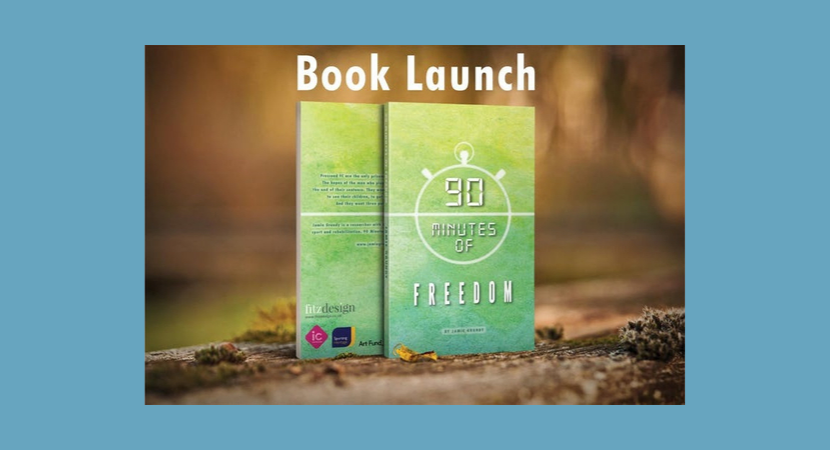 Category / Book Launch, Event, Non-fiction
Book Launch: 90 Minutes of Freedom
90 Minutes of Freedom is the self-published debut book by Jamie Grundy, which tells the unique story of HMP Prescoed FC, the only prisoner football team in Wales.
The hopes of the men who play are like those of all prisoners at the end of their sentence. They want a future when they get out: to see their children, to get a job, to not go back to jail.
With a Foreword by Neville Southall (the former Wales International Goalkeeper) 90 Minutes of Freedom explains what it's like to play for your local team on a Saturday with your mates. Except your local team is a prisoner football team and you and your mates are all serving prisoners.
Over a year in the making, Jamie spent every training session and every Saturday afternoon with the team sharing the highs and lows with this unique group of footballers. "It didn't matter who I was or what that what the men had done previously, we were all in this together. Every goal and every win was celebrated with them. As much as I could be, I was part of the team," he explains.
A full season in the making, the book includes candid and frank interviews with each of the serving prisoners who played for HMP Prescoed FC during the 2018/19 season. "All your freedom is taken away, but football, they can't really take that away from you," explains 'Tom' serving a seven year sentence. Their individual stories explain how football helped them to control their behaviour and develop anger management skills. They follow the rules of the prison, the instructions of the PE staff and the laws of the game if they want to play on a Saturday.
For many of the players being a part of a team was the first time in their lives they'd ever had to think about working with others. Football gave them a glimpse of their life before jail, a return to normality, a kick about with friends, plus the desire to get out of jail and play football with their kids. It helped with the stress of coping with prison life where, because of your crime, you are taken away from everything you previously cared about. But for those ninety minutes, the men feel like they are not in prison anymore. Football was more than just a game to these players.
This free event is an opportunity to meet the author, hear a reading from the book, watch an interview with Jamie by Russell Todd of Podcast Pel-droed, purchase a discounted copy and ask questions.
For more information and to register for the event, visit: https://www.eventbrite.co.uk/e/90-minutes-of-freedom-newport-book-launch-tickets-73984905845?aff=ebdssbdestsearch