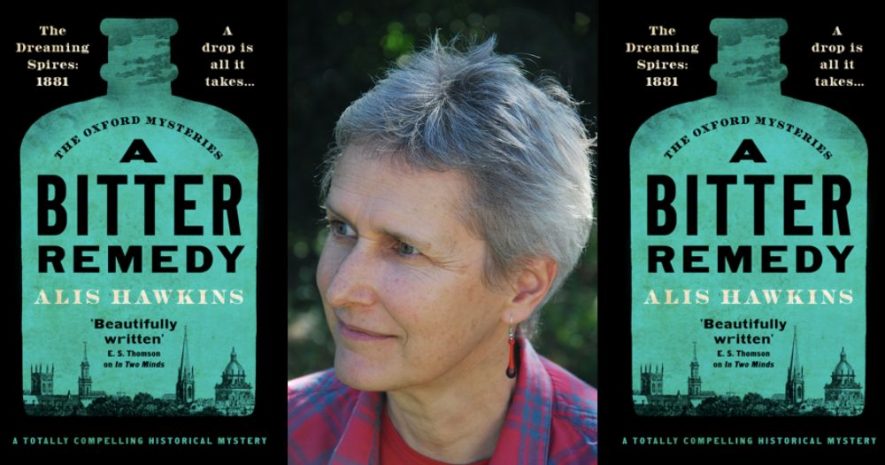 Category / Book Launch
Alis Hawkins: A Bitter Remedy – LAUNCH EVENT
'Thoughtful, complex and engrossing', Alis Hawkins new novel 'A Bitter Remedy' masterfully tackles the misogyny, homophobia and sexual politics of late 19th Century Oxford University.
Alis is interviewed by fellow Welsh author Chris Lloyd.
***
Amongst the scholars, secrets and soporifics of Victorian Oxford, the truth can be a bitter pill to swallow…
Jesus College, Oxford, 1881. An undergraduate is found dead at his lodgings and the medical examination reveals some shocking findings. When the young man's guardian blames the college for his death and threatens a scandal, Basil Rice, a Jesus college fellow with a secret to hide, is forced to act and finds himself drawn into Sidney Parker's sad life.
The mystery soon attracts the attention of Rhiannon 'Non' Vaughan, a young Welsh polymath and one of the young women newly admitted to university lectures. But when neither the college principal nor the powerful ladies behind Oxford's new female halls will allow her to become involved, Non's fierce intelligence and determination to prove herself drive her on. Both misfits at the university, Non and Basil form an unlikely partnership, and it soon falls to them to investigate the mysterious circumstances of Parker's death.
But between the corporate malfeasance and the medical quacks, they soon find the dreaming spires of Oxford are not quite what they seem…
***
Alis Hawkins grew up in Ceredigion and curently lives on the Welsh-English border with her partner. Her Teifi Valley Coroner historical crime series – featuring partially-sighted ex-barrister Harry Probert-Lloyd – is set in the area where she grew up and has twice been shortlisted for the prestigious CWA Historical Dagger.
***
Thursday 23 March
7.30 pm (doors open 7.00 pm)
Penarth Pier Pavilion
Tickets: £18.00 including a signed hardback copy of A Bitter Remedy / £8.00 event only / £5.00 Student Ticket