Spotlight on Representing Wales Mentoring
Published Sun 16 Oct 2022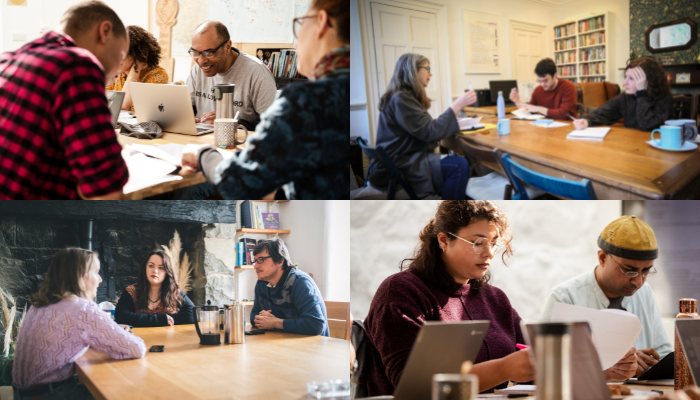 "To have a writer of that standard read my work, provide useful feedback, and show enthusiasm is just elating". 
Mentoring features as a central part of the Representing Wales writer development programme and is a rewarding and potentially life-changing experience for a writer. Alongside bilingual monthly workshops and creative writing masterclasses, the cohort receive one-to-one mentoring sessions with an established writer of their choice over the course of the 12-month programme. 
"I left the session feeling uplifted, reconnected with myself as a poet, and so excited for the future. I couldn't be more grateful."
–Frankie Parris, Representing Wales 2022-2023 cohort member mentored by Peter Scalpello.  
Previous and current Mentors on the Representing Wales programme include Michael Rosen, Abi Morgan, Patrice Lawrence, Jacob Ross, Inua Ellams, Malika Booker, Sophie Mackintosh, Eloise Williams, and Manon Steffan Ros. The Mentors are chosen by the writers themselves with Literature Wales' support.  
"Her encouragement cut through my caution, and I was able to be braver on the page as a result."
– Bridget Keehan, Representing Wales 2022-2023 cohort member mentored by Kerry Hudson 
Literature Wales has been pairing writers with Mentors since 2004 through previous Mentoring programmes. Other Mentors we've worked with in the past include Paul Henry, Lleucu Roberts, Angharad Tomos, Rebecca F John, Samantha Wynne-Rhydderch, Catherine Merriman, Llyr Gwyn Lewis, Ian Gregson, Jonathan Edwards, and Catherine Fisher.  
Representing Wales is a bilingual programme and accepts applications from Wales-based writers who write in English and/or Welsh. The programme also welcomes applications from writers who are new to writing in Welsh and who are interested in experimenting creatively with the language. The writers receive mentoring in the language of their choice and are carefully paired with a Mentor who will understand their career and writing ambitions.   
Cardiff-based writer and playwright, Nia Morais was mentored by the award-winning author, Manon Steffan Ros over the course of the programme's first year. During their sessions, Nia, who is interested in writing for young adults, received editorial feedback on her creative work as well as detailed career guidance.  
On the experience Nia says:  
"I received some incredibly helpful advice from Manon, as well as detailed feedback on my creative work which helped me gain confidence. The mentoring came at a good time in my career, and I now feel a lot more confident going for new opportunities." 
Since the programme, Nia's writing career has gone from strength to strength and she is currently one of the Sherman Theatre's Writers in Residence. To mark the theatre's 50th Anniversary, Nia was recently commissioned to write a Welsh language story on queerness and difference called, 'Imrie'. She is also currently writing stories for children for the Darllen Co website.  
You can learn more about the first year's cohort's mentoring experiences by watching the video below:
Applications for the third round of the Representing Wales writer development programme are open until 25 October, 5.00pm 2022. Click here to find out more about the programme and how to apply.  
Representing Wales Writer Development Programme is funded by The National Lottery through the Arts Council of Wales.