My Writing Journey
Published Fri 4 Nov 2022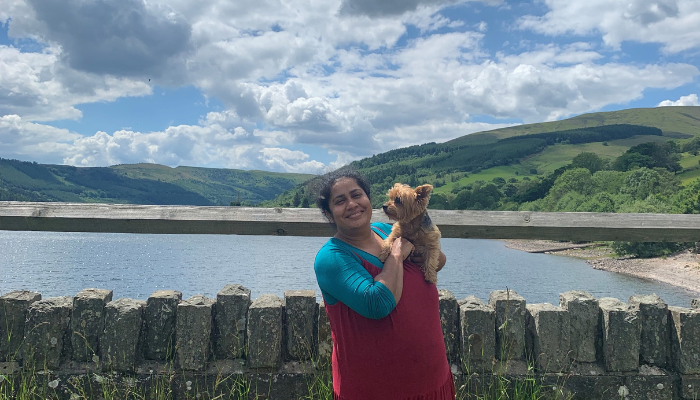 I am Indian and I am Welsh, I was born in Bombay and grew up all over India, moving with my family according to the dictates of my father's career. I spent all my childhood with a book within reach. When new ones weren't available, I reread my favourites. But it never occurred to me that I could write my own.
I moved to Britain in 2012 for the Welshman who would become my husband eleven short months later. Through him I first fell in love with Wales' verdant hillsides, her early morning peaks wreathed in dragon's breath, her secret coves and sandy beaches. He taught me about the strength and resilience of her people, the beauty of her ancient language and the strong thread of creativity that runs through the generations of people who have called Wales their home. All this is so much a part of my being today that I no longer know who I would be without it.
On 1 October 2020, I was jolted awake by a very vivid dream. I switched on the laptop and worked steadily for eighteen hours. That's how I began writing my debut novel, Pen Morgan for the Win. It is about eleven-year-old Pen Morgan, who comes from two different worlds and must find a way to conquer her fears in order to save those she loves.
I completed my first draft five months later and spent the rest of lockdown happily editing.
I am a member of a poetry group local to me and I dabble with different forms of poetry, but I've never attempted anything like this before. Not unusual in itself, because I've spent my life leaping without looking.
A friend from Poetry group, who knew about Pen Morgan, told me about Literature Wales' Books for All course at their Tŷ Newydd Writing Centre in north Wales. I don't have any training in literature and at that time, other than my poetry group, I didn't have any links with the literary world at all. This was my introduction to Literature Wales. I filled the application form out of curiosity and forgot all about it until an email arrived with perfect timing: on the day I failed my second driving test. It gave me the oomph I needed to jump through the relevant hoops to get another test and pass it, which I did, just two weeks before the course. I'd never have been able to get to Tŷ Newydd that particular week from Brecon if I couldn't drive.
I can't remember what I expected before I arrived at Ty Newydd. I was first struck deeply by Literature Wales's passion and sincere commitment to achieving a literary landscape that is a true and faithful representation of the cultural demographic of our beautiful and vibrant nation.
In the peace and welcoming acceptance there, I discovered a part of myself that I hadn't know existed.
Many of my rough edges were sympathetically smoothed off, thanks to the course tutors, Patience Agbabi and Jasbinder Bilan who held the workshops and tutorial sessions as well as the other attendees who generously shared from their own experiences.
My writing benefited immeasurably of course, but equally important, I am no longer alone; I have a network of people like me now. During the workshops I developed the kernel of my current project, another exciting magical MG adventure about friendship across borders.
During the course, the video conferences with publishers demystified the part that comes after the writing. During the video conference with an editor from Firefly Press, we were told about the Firefly Children's Fiction Competition (Wales) 2022.
Thanks to all that I learned and the encouragement I received during the Books For All course, I submitted my debut novel and Pen Morgan For the Win made the shortlist!