Literary gift ideas for Christmas 2021
Published Mon 13 Dec 2021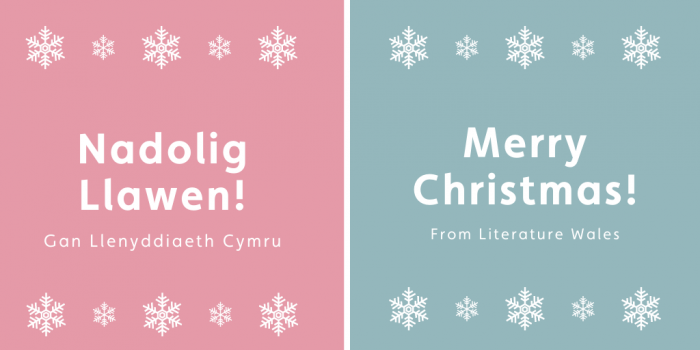 We are quickly approaching the end of what has been another challenging year, and are all looking forward to celebrating Christmas and taking a well-deserved break.
Of course, there is no better way to relax than to escape to another world with a great book. If you're looking for the perfect book as a treat for yourself, or if you are looking for a wonderful literary gift from Wales, look no further. The Literature Wales staff have shared their own ideal Christmas gifts below:
Available in amounts of £50, £100 or £150, these vouchers can be used towards a creative writing course or a writer's retreat at Nant cottage. A brand-new programme of Tŷ Newydd Writing Centre digital taster courses were announced recently to inspire writers over the winter months, you can browse these here. The 2022 programme will be launched in January.
100 Poems to Save the Earth – Zoë Brigley and Kristian Evans (Seren Books)
Our climate is on the brink of catastrophic change. 100 Poems to Save the Earth invites us to fine-tune our senses, to listen to the world around us, pay attention to what we have been missing.
Tu ôl i'r Awyr – Megan Angharad Hunter (Y Lolfa)
A pioneering début novel by Megan Angharad Hunter. A novel that will move you to tears and make you laugh out loud as you wonder at the author's skill in delving deep into the minds of two characters who will remain with you for a long time.
The winner of the 2021 Wales Book of the Year Award.
The first issue of Y Stamp's new poetry periodical, Ffosfforws. This issue has been edited by Ciarán Eynon, and includes work by Alaw Tomos, Aled Lewis Evans, Elen Roberts, Gareth Evans-Jones, Gwenno Gwilym, John G. Rowlands, Manon Wynn Davies, Meleri Davies, Morgan Owen, Morwen Brosschot, Rhys Trimble, Sian Shakespear, Sion Tomos Owen, Sophie Roberts and Vernon Jones.
Peter Fowler's Water Tower Mural – Print
A high-quality, giclée print of the Water Tower Mural by world renowned artist Pete Fowler (best known for his collaborations with the Super Furry Animals).
Depicting scenes from Welsh legend, the Water Tower Mural is prominently displayed on the 1932 grade II listed Water Tower, overlooking Cardiff Central Station and Principality Stadium. The print is signed by Pete Fowler and is one of a limited 200 prints commissioned by Literature Wales.
Wales' book magazine, O'r Pedwar Gwynt, reads, questions, and challenges. It reflects and examines ideas about contemporary Wales and its place in the world. There are three issues annually – Spring, Summer, Winter, and new content is shared weekly on the website.
Four Dervishes – Hammad Rind (Seren Books)
Four Dervishes draws on a long tradition of storytelling as it skewers issues like religious bigotry, injustice, the denial of women's rights, and class division. Lavishly inventive, verbally rich, an exotic confection, this novel is both darkly thematic and humorously playful.
The prizewinning entries of the Literary Section of the 2020/21 Urdd Eisteddfod. Designed by artist Efa Lois and edited by Brennig Davies. A celebration of young literary talent.
The Welsh Way: Essays on Neoliberalism and Devolution (Parthian Books)
The Welsh Way interrogates neoliberalism's grasp on Welsh life. It challenges the lazy claims about the 'successes' of devolution, fabricated by Welsh politicians and regurgitated within a tepid, attenuated public sphere. These wide-ranging essays examine the manifold ways in which neoliberalism now permeates all areas of Welsh culture, politics and society. They also look to a wider world, to the global trends and tendencies that have given shape to Welsh life today. Together, they encourage us to imagine, and demand, another Welsh future. Edited by Daniel Evans, Kieron Smith, and Huw Williams.
Lucent Dreaming is an independent magazine for emerging authors and artists. It is a biannual print and online magazine publishing beautiful, strange and surreal short stories, poetry and artwork from contributors worldwide.
A box set of five short novels which interweave, following the stories of five friends in their final year at school. This is an exciting and ambitious project by young authors for young people, published in July 2021. The novels are written by Elgan Rhys, Tomos Jones, Mared, Roberts, Ceri-Anne Gatehouse, Iestyn Tyne, Leo Drayton, Marged E. Wiliam, Mahum Umer, Megan A. Hunter, and Maisie Awen.
Tŷ Newydd Rhithganfyddiad Print
Print created by artist Efa Lois (Rhithganfyddiad) reimagining Literature Wales' Tŷ Newydd Writing Centre site. This beautiful illustration of Tŷ Newydd is accompanied by an extract of a Welsh-language poem written by Ifor ap Glyn, National Poet of Wales – 'Ffydd', to note the 30th birthday of Tŷ Newydd in the year 2020. The print is in A3.