Creative Interactions in a Virtual Climate
Published Thu 29 Apr 2021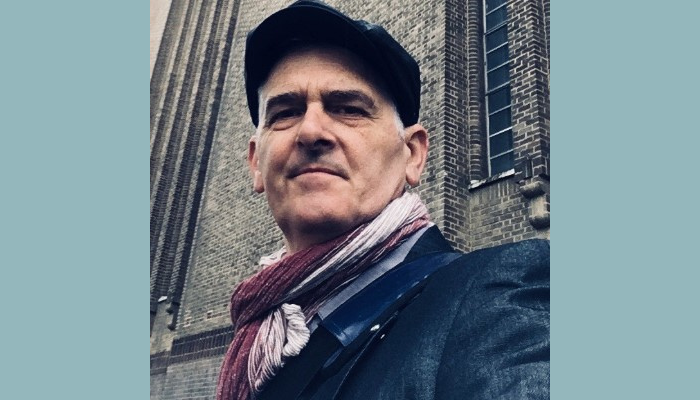 Piece by Piece, a project by Literature Wales, Newport Mind and Community Youth, sees writers and artists partnered to create poems, films and music projects to support families and young people with mental health issues.
Bill Taylor-Beales was one of 15 artists selected for the project, following a call-out in September 2020.
I am a socially engaged creative practitioner – which is quite a title – but what it really boils down to is that I am an artist whose main work is about creating with other people. Anybody anywhere anytime – I have worked in prisons and palliative care units', schools, and community groups –  here and internationally and the thing they all have in common is that we can all learn a lot from spending creative time together. The most important thing we can learn is that 'we all have the ability to extend our possibilities' (Sartre).
The big lockdown has been hard on many if not most people in many different ways, yet it has also opened up some doors of opportunity that were just ajar or even closed before. As an artist I have been amazed at how my creative network has opened up and positively bloomed since the lockdown and this has been because of the ability to "Zoom".
A word that has become an everyday phrase for new communication – a communication medium that means people who for whatever reason struggle to physically travel or engage can now be part of a happening, a meeting, a time of contact.
I have made so many new creative contacts and been part of many creative groups who may be a geographically many miles apart. This is how I found myself to be leading a creative session with the Piece-by-Piece initiative of Newport Mind and Literature Wales.
I ran a series of online workshops that used visual art, creative writing, and video to generate a digital outcome. I call it 'The Mash Up' as it has the remit to absorb all forms of creative output and sew the pieces together to form a whole. It enables a collective of individuals to find common ground and play to their strengths whilst being encouraged to explore new areas of creative practice.
The outcome in this case was a film entitled NEW ORDER. The title was an acrostic that we used to explore the other side of lockdown – to consider the changes we had gone though and what the new order of things might look like when the lockdown ends.
The acrostic is a nice way to commit everyone to the piece as we all take a single letter and own it therefore, we are all important contributors with a role to play. The acrostic then gives us our first creative step as we find words or phrases to describe our theme from the chosen letter – this quickly develops into a more formal creative text task as we collectively create a Haiku for each letter. These 5-7-5 syllabic mini prose poems are a wonderful device to capture and distil the essence of what we are hoping to convey.
So, the next step is a lot of fun as we go a bit digital and use an app called Chatterpix which allows us to photograph any inanimate object and draw a mouth on it which then moves when we record our voice into it. A lot of fun but can also be quite profound depending on the object and the spoken narrative.
Alongside this we have photo stills and moving image of life around us – observed through the lockdown lens which can really help us see some of the more mundane, often invisible,  aspects of everyday life thrown into the spotlight.
We created these elements as individuals and in small groups and as a whole group interacting on our own terms in our own way from the comfort and security of our own homes. At the same time having glimpses into the lives and creativity of others in the group. We discussed our favourite music, films, art and even entertained a dinner party with chosen holographic heroes.
I gathered all these elements together and using the acrostic as a story board wove them all together. As a group we then made some creative editorial decisions about the filters and fades, the music, and the fonts until we were happy and indeed proud of this collective digital piece of artwork.
If I leave a project feeling like I have been leading a group of people on a process and we produced a fine piece of work I have failed. I need to leave the project feeling that 'I' have been on a creative adventure with fellow travellers, and we all shared our skills, and we all grew a little bit and we all left it a little bit richer and stronger and a little more confident about our own abilities and the scope of our possibilities.
This was one such project which I loved very much and learnt a lot and was genuinely moved by the interactions and contributions of all those involved.
Thank you for inviting into this place.