15 Literary gift ideas for Christmas 2020
Published Tue 8 Dec 2020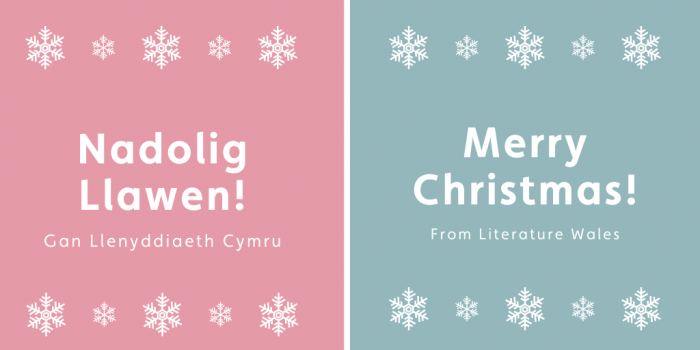 Christmas and the new year is a perfect time to get cosy and curl up with a good book, to share a love of reading with family and friends or to escape the festivities for a little bit of peace and quiet. Here at Literature Wales, after a year of delivering participation projects, developing writers and celebrating Wales' literary culture in a very different way, we are very much looking forward to a short break to recharge the creative batteries, ready for a new year.
As such, we thought to share some of the things on our staff's wish lists, which are perfect not only for the literary lover or book-worm in your life, but for anyone who's passionate about supporting Welsh and Wales based artists, writers and small businesses alike.
These vouchers can be used towards a stay at Nant Writers' Retreat.
The Mab is a collection of eleven epic Welsh stories from the Mabinogion, beautifully illustrated and retold for young people. Each story will be told in English and in Welsh by a team of extraordinary authors and writers and will be vividly illustrated by the brilliant Max Low. Your purchase will make this book, funded through crowdfunding publisher Unbound, become a reality.
Folklore & Tradition Greeting Card
A greeting card illustrated by world renowned artist Pete Fowler (best known for his collaborations with the Super Furry Animals).
Mae 'Na Arth Wedi Dwyn Fy Mhyjamas
A collection of poems on the theme of 'Midnight' by the current Bardd Plant Cymru Gruffudd Owen and past Beirdd Plant. The collection includes six poems by Gruffudd, together with two poems each by the other contributors, with accompanying illustrations by John Lund.
A Welsh community witnesses a strange vision: the huge spectre of a woman floating over a ridge. Is it a collective hallucination, a meteorological phenomenon, or something supernatural?
Winner of Wales Book of the Year Award 2020.
A high-quality, giclée print of the Water Tower Mural by world renowned artist Pete Fowler.
*We are currently offering a 10% discount off this item at the Literature Wales online shop.
Wales' foremost poetry magazine, Poetry Wales, publishes internationally respected contemporary poetry, features and reviews in its triannual print and digital magazine in its mission to sustain and preserve the artistic works both inspiring our literary present and shaping our literary future.
Just so you know, Edited by Hanan Issa, Durre Shahwar and Özgür Uyanik
From language politics to neurodivergence, cultural heritage to sexual identity, from immigration to race, these are insights shared with great care, sincerity, and often humour.
Tŷ Newydd Rhithganfyddiad Print
Print created by artist Efa Lois (Rhithganfyddiad) reimagining Literature Wales' Tŷ Newydd Writing Centre site. This beautiful illustration of Tŷ Newydd is accompanied by an extract of a Welsh-language poem written by Ifor ap Glyn, National Poet of Wales – 'Ffydd', to note the 30th birthday of Tŷ Newydd in the year 2020.
Marged Tudur's first poetry collection, developed as a part of Literature Wales' 2019 Writers' Bursaries Scheme.
Stretching across the richness of Welsh culture, people, landscapes and locations, these literary essays illuminate Dylan Thomas' life and words in the settings which inspired him.
Dweud y Drefn Pan Nad Oes Trefn, Gol. Grug Muse a Iestyn Tyne
This unique anthology published by Y Stamp features 100 poems from 63 contemporary Welsh poets.
Griffin Books Book Subscriptions
Each package includes a consultation with the Penarth bookshop's expert booksellers to discuss the recipient's reading preferences.
The iconic graffiti was painted in protest to the compulsory eviction of the village of Capel Celyn so the valley could be flooded by the new Tryweryn Reservoir, built to provide water to Liverpool. It has since become a symbol and a slogan for the Welsh language and has been recrafted many times following acts of vandalism against the monument.
*We are currently offering a 10% discount off this item at the Literature Wales online shop.
Hello Friend We Missed You, Richard Owain Roberts
This poignant and comic novel about loneliness, Netflix, existing, rural life, money, Jack Black, and learning to live in the least excruciating way possible won the Guardian's Not the Booker Prize 2020.