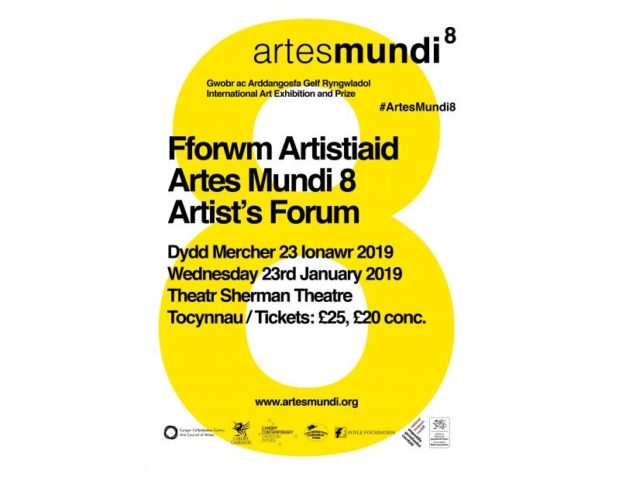 Category / Conference, Talk / Lecture
Artes Mundi 8 Artist's Forum
Join for a day-long series of presentations by our shortlisted artists including talks, presentations and performances, offering an unrivalled opportunity to consider more deeply each artist's practice and some of the themes and issues behind their work.
The Artist's Forum is a space for assembly and discussion of the role of contemporary art in society and of the themes and issues raised by the work of the Artes Mundi 8 shortlist. It also offers a unique opportunity to meet and network with peers in the visual arts sector and to engage with the shortlisted artists in Q&As.
The work in the exhibition spans four continents and a varied range of artistic practices. Anna Boghiguian's drawings, paintings, cut-outs and installations are influenced by philosophy, poetry, politics and place tracing intricate economies of global power. Through her use of film, Bouchra Khalili deftly examines citizenship and modes of resistance, creating civic platforms from which silenced and marginalised voices and histories can be heard. Otobong Nkanga's intricate and beguiling tapestries, installations and use of minerals and organic material interrogate our fast-changing relationship with the land and legacies of power and control. Trevor Paglen's unique use of photography, scientific collaboration and journalism offer the viewer a chance to see the unseen, investigating shadowy government practices, surveillance and hidden structures of authority, while Apichatpong Weerasethakul's meditative and dreamlike films explore the ghosts of Thailand's past, liminal spaces of memory and identity and shared consciousness and belonging.