Wales Book of the Year Short List 2017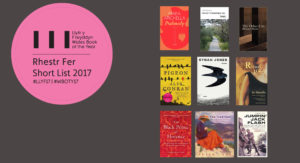 The Roland Mathias Poetry Award
'What Possessed Me' by John Freeman (Worple)
Evoking childhood memories and lifelong relationships with humour, poignancy, and preternatural clarity, What Possessed Me also explores the natural world and landscapes in various parts of England, Wales, France, and Greece. There are salutes to writers like Edward Thomas, Dannie Abse and Jack Gilbert. Separate sequences celebrate visits to Llandaff Cathedral, and the revelations of a stay in Athens. This is a book diverse in its moods and subjects but unified by an infectious openness to the moment and to life's joys and sorrows, and an unfolding sense of accumulating experience and insight. It is illuminated by a recurrent sense of inspiration, of 'what possessed me.'
John Freeman was born in Essex, grew up in south London and lived in Yorkshire before settling in Wales where for many years he taught English Literature and Creative Writing at Cardiff University. He lives in the Vale of Glamorgan. Worple published Freeman's A Suite for Summer in 2007. What Possessed Me is his eleventh collection.
'The Other City' by Rhiannon Hooson (Seren)
Sharply focused, beautifully resonant, deeply felt, these poems tend to travel in distinct streams: some reference and re-make narratives from classical Greek myth, featuring characters like Zeus, Narcissus, Ariadne, Ganymede; some rework elements of Welsh history, both ancient, as in 'Y Bydd', (inspired by a section of 'The Stanzas of the Graves' commemorating fallen warriors in the Black Book of Carmarthen, 12th Century), and modern as in 'Elan' where we float through the eerie depths of a submerged Welsh village that was drowned to make a reservoir for Liverpool in the 60's.
Rhiannon Hooson was born in Mid Wales in 1979, where she lived until moving to the north of England in 1998. She studied and later taught at Lancaster University, where she was awarded first an MA in Creative Writing then a PhD in Poetry. Her first pamphlet, This Reckless Beauty, was published in 2004 by Wild Women Press, and in 2008 she received an Eric Gregory Award from the Society of Authors. Her work has appeared in many literary magazines and anthologies. She now lives in the Welsh marches after time spent living in Ulaanbaatar, Mongolia.
'Psalmody' by Maria Apichella (Eyewear)
This ambitious debut interrogates love and faith in the contemporary world. Grounded in the relationship of a profoundly religious woman and an atheist, the collection's central characters both become inextricably identified with the Old Testament King and Psalmist David. These free-verse psalms transplant all the ancient form's tropes – vivid eroticism, praise, questioning, triumph, doubt, and lush naturalism – into modern Wales.
Maria Apichella completed her PhD in English and Creative Writing at The University of Aberystwyth in Wales. She now teaches with the University of Maryland, University College, Europe. Her pamphlet Paga was a winner of the Cinnamon Press Pamphlet competition 2014. This is her first collection.
The Rhys Davies Trust Fiction Award
'Pigeon' by Alys Conran (Parthian)
Iola and Pijin make up stories to test each other, stories of daring and adventure, of bad people and of Gwyn who drives his ice cream up the hill to their town every week. Gwyn is a dangerous man and Pijin knows it. Iola is not so sure. As they grow up and their friendship grows more complicated, some of their stories fall silent, but some will come true.
Pigeon is a journey through the uneasy half-forgotten memories of childhood, a story about wishful thinking and the power of language.
Alys Conran's fiction, poetry, and translations have been placed in several competitions, including The Bristol Short Story Prize and The Manchester Fiction Prize. Having previously studied Literature at Edinburgh, she completed her MA in Creative Writing at Manchester. She has also run projects to increase access to creative writing and reading among traditionally excluded groups in North Wales. She was recently awarded a scholarship to write a second novel.
'Cove' by Cynan Jones (Granta)
Out at sea, in a sudden storm, a man is struck by lightning. When he wakes, injured and adrift on a kayak, his memory of who he is and how he came to be there is all but shattered.  Now he must pit himself against the pain and rely on his instincts to get back to shore, and to the woman he dimly senses waiting for his return.
Cynan Jones was born near Aberaeron, Wales in 1975. His previous novels are The Long Dry (Granta), winner of a Betty Trask Award in 2007, Everything I Found on the Beach (Granta), the retelling of a medieval Welsh myth Bird, Blood, Snow, and The Dig (Granta), winner of the Wales Book of the Year Fiction Category in 2015.  A chapter from The Dig was one of the outstanding pieces in Granta Magazine's Britain issue of 2012 and shortlisted for the Sunday Times / EFG Short Story Award 2013. In October 2017 Cynan won the BBC National Short Story Award for his work 'The Edge of the Shoal'.
'Ritual, 1969' by Jo Mazelis (Seren)
This darkly gothic collection of stories explores the unsettling borderland between reality and the supernatural. Ranging from early twentieth-century France to 1960s South Wales and contemporary Europe, Jo Mazelis' singular vision and poetic language creates characters caught up in events and feelings they do not fully understand or control, giving the book its uncanny focus. Not all is as it seems in a world where first impressions may only conceal disguises and false trails – and there's no going back.
Jo Mazelis is the author of short stories, non-fiction and poetry. Her collection of stories, Diving Girls (Parthian, 2002), was short-listed for the Commonwealth 'Best First Book' and Wales Book of the Year. Her second book, Circle Games (Parthian, 2005), was long-listed for Wales Book of the Year. Her stories and poetry have been broadcast on BBC Radio 4 and published in various anthologies and magazines, and translated into Danish. Her novel Significance (Seren, 2014) was the 2015 Jerwood Fiction Uncovered Prize-winner. Her third collection of stories Ritual, 1969 (Seren, 2016) was long-listed for the Edge Hill Short Story Prize 2017.
Born and educated in Swansea Jo returned to her home town in 1991 after working in London for many years. During the 1980s she worked as a graphic designer, photographer and illustrator for the magazines City Limits, Women's Review, Spare Rib, Undercurrents, Everywoman and New Dance.
The Creative Non-Fiction Award
'The Tradition' by Peter Lord (Parthian)
Peter Lord was born in Exeter in 1948, and now lives near Aberystwyth. Initially, he worked as a sculptor, designing several large scale public works, notably the Hywel Dda Memorial at Whitland. However, in 1986 he decided to concentrate on writing about visual culture, and since then has published some twelve studies on various aspects of the subject. These include the three volumes of The Visual Culture of Wales (University of Wales Press, 1998-2003), regarded as the standard work on the subject. In 1999 he wrote and presented a seven-part series about Welsh visual culture, The Big Picture, for BBC Wales, and he continues to interpret the subject on television and radio. He has lectured on Welsh art in Germany and the United States, where he was a visiting scholar at the British Art Center at Yale.
'Jumpin' Jack Flash' by Keiron Pim (Vintage)
David Litvinoff was one of the great mythic characters of '60s London.
Flitting between the worlds of music, art and crime, he exerted a hidden influence that helped create the Krays twins' legend, connected the Rolling Stones with London's dark side, shaped the plot of classic film Performance – and saw him immortalised in a portrait by Lucian Freud.
Keiron Pim is aged 38, married with three young daughters and lives in Norwich, where he was for a decade the literary editor of the Eastern Daily Press newspaper before leaving to concentrate on writing books. He is the author of The Bumper Book of Dinosaurs (Square Peg, 2013) and he edited and introduced Into the Light: the Medieval Hebrew Poetry of Meir of Norwich (East Publishing, 2013), the first translated edition of England's only major medieval Hebrew poet.
'The Black Prince of Florence' by Catherine Fletcher (The Bodley Head)
In The Black Prince of Florence, a dramatic tale of assassination, spies and betrayal, the first retelling of Alessandro Medici's life in two-hundred years opens a window onto the opulent, cut-throat world of Renaissance Italy.
From dazzling palaces and Tuscan villas to the treacherous backstreets of Florence and the corridors of papal power, the story of Alessandro's spectacular rise, magnificent reign and violent demise takes us deep beneath the surface of power in Renaissance Italy – a glamorous but deadly realm of spies, betrayal and vendetta, illicit sex and fabulous displays of wealth, where the colour of one's skin meant little but the strength of one's allegiances meant everything.
Catherine Fletcher is a historian of Renaissance and early modern Europe. Her first book, The Divorce of Henry VIII (Vintage, 2012) brought to life the world of the Papal court at the time of the Tudors. Subsequently, Catherine worked with the set team on the BBC's adaptation of Wolf Hall, advising the production on the historical detail of religious ceremony, dress and furnishings. She broadcasts frequently for BBC Radio 4 on Italian Renaissance history and is currently a BBC New Generation Thinker. Catherine now holds the position of Associate Professor in History and Heritage at Swansea University; has previously held fellowships at the British School at Rome and the European University Institute; and has taught at Royal Holloway, Durham and Sheffield universities.
Welsh Language Poetry Award
'Chwilio am Dân' by Elis Dafydd (Cyhoeddiadau Barddas)
A collection of poems from young poet Elis Dafydd reflecting the hopes and anxieties of his generation.
Elis is a poet from Trefor, Pen Llŷn and is currently a research student at the Welsh department, Bangor University. He won the chair at Caerphilly Urdd National Eisteddfod in 2015. He took part in Literature Wales' Her 100 Cerdd in 2013. He often contributes articles for Barddas and is often heard on Talwrn y Beirdd. He has recently co-edited Rhywbeth i'w Ddweud (Barddas) which is a collection of essays on Welsh political song lyrics.
'Llinynnau' by Aled Lewis Evans (Cyhoeddiadau Barddas)
A collection of poems that reflect on matters of the heart and on relationships.
Aled Lewis Evans comes from Wrexham. He has published books for adults and children, both prose and poetry. His last collection of poetry was Amheus o Angylion (Barddas, 2011). He works as a Welsh for Adults Tutor and he's a lay preacher. He's often seen and heard reading his work at different literary and social circles.
'Bylchau' by Aneirin Karadog (Cyhoeddiadau Barddas)
A collection of poems reflecting on personal and public loss, loss of language and culture and about what fills the breach.
Aneirin Karadog is an award-winning poet. His first collection, O Annwn i Geltia (Barddas) won the Wales Book of the Year Welsh-language poetry category in 2013. He won the chair at the Abergavenny National Eisteddfod in 2016 and he was Bardd Plant Cymru between 2013-2015.
Welsh-language Fiction Award
'Ymbelydredd' by Guto Dafydd (Y Lolfa)
What happens when a young man from a small town in Gwynedd has to spend six weeks in Manchester for a course of radiotherapy? This novel portrays life through the eyes of patient number 24609-3740. Winner of the Daniel Owen Prize at the 2016 National Eisteddfod.
Guto Dafydd is an author and a poet from Trefor, Pen Llŷn. He lives in Pwllheli with his wife Lisa and their children Casi and Nedw. He enjoys discussing literature with any audience – be it in a chapel vestry, a pub, on the television, online or in print. After successes at many local eisteddfodau, he won the Crown at the Urdd National Eisteddfod in 2013 and then won the Crown at the National Eisteddfod in 2014. He published his first collection of poetry, Ni Bia'r Awyr (Barddas), in 2014 which explores the relationship between people, land and heritage in the same year. His first novel, Stad (Y Lolfa), was published in 2015.
'Iddew' by Dyfed Edwards (Gwasg y Bwthyn)
A powerful novel which hurls us headlong into the chaotic life of Yeshua bar-Yôsep Natz'rat (Jesus son of Joseph of Nazareth). The story of his journey to the Cross is a familiar one, but in this original and skilful book it's presented in a way which challenges that familiarity.
Dyfed Edwards was raised in Rhosmeirch on Ynys Môn. He has worked as a journalist but now lives in Whitstable as a full-time writer. He has published Welsh and English books and has twice won the Drama Medal at the National Eisteddfod.
'Y Gwreiddyn' by Caryl Lewis (Y Lolfa)
A volume of short stories relating to nature, man's relationship with his fellow-man, love and loss.
Caryl originally comes from Dihewyd near Aberaeron. She graduated from Durham University before returning to Aberystwyth University to get a higher degree in writing. Caryl is a multi-award-winning writer: She won the Welsh-language Wales Book of the Year Award 2016 with her novel Y Bwthyn (Y Lolfa); her novel for young people Iawn Boi? (Y Lolfa) won the Tir na n-Og award in 2004; and her novel Martha Jac a Sianco (Y Lolfa) was named Wales Book of the Year 2005. 
Welsh-language Creative Non-Fiction Award
'Optimist Absoliwt' by Menna Elfyn (Gwasg Gomer)
A biography of the poet Eluned Phillips (1915-2009), the second woman to win the National Eisteddfod Crown, which she did twice (1967 and 1983). She embraced a bohemian lifestyle, travelling to pre-war London and Paris, where she was acquainted with Augustus John, Dylan Thomas, Edith Piaf, Jean Cocteau, Maurice Chevalier and Pablo Picasso.
An award-winning writer of over 20 volumes of poetry, stage plays, playscripts, libretti, travel essays, a journalist, filmmaker and tireless promoter of the Welsh language, Menna's work has been studied as part of Welsh literature GCSE, 'A' Level, and degree courses at universities in Wales and at colleges in America.
'Gwenallt' by Alan Llwyd (Y Lolfa)
The biography of D. Gwenallt Jones, one of Wales's most outstanding twentieth-century poets, who was also a scholar and Welsh nationalist.
Alan Llwyd is a Welsh poet, literary critic and editor. Born in Dolgellau, Gwynedd, he was brought up on a farm at Cilan and educated at Bangor University. Alan Llwyd won the Chair and the Crown at Ruthin National Eisteddfod 1973 and again at the Cardigan National Eisteddfod in 1976 becoming only the second poet to do so. Recently he has published a series of biographies including Kate (Y Lolfa, 2011), Bob (Gwasg Gomer, 2013), Waldo (Y Lolfa, 2014) and Hedd Wyn (Y Lolfa, 2014). He wrote the script for the Oscar-nominated Welsh-language film Hedd Wyn (1992).
'Cofio Dic' by Idris Reynolds (Gwasg Gomer)
A volume of recollections about the late poet and former Archdruid of Wales, Dic Jones, written by one of his bardic friends, Idris Reynolds. Through these we are given an insight into the many-faceted character of Dic Jones and also glimpse the society and circumstances that influenced his poetry.
Idris Reynolds is one of Wales' most renowned chaired poets. He lives in Brynhoffnant in Ceredigion and gives lectures on Dic Jones. Twice winner of the Chair at the National Eisteddfod he is a former librarian and is a frequent competitor on Radio Cymru's Talwrn y Beirdd.
Back to Wales Book of the Year