Wales Book of the Year Shortlist 2020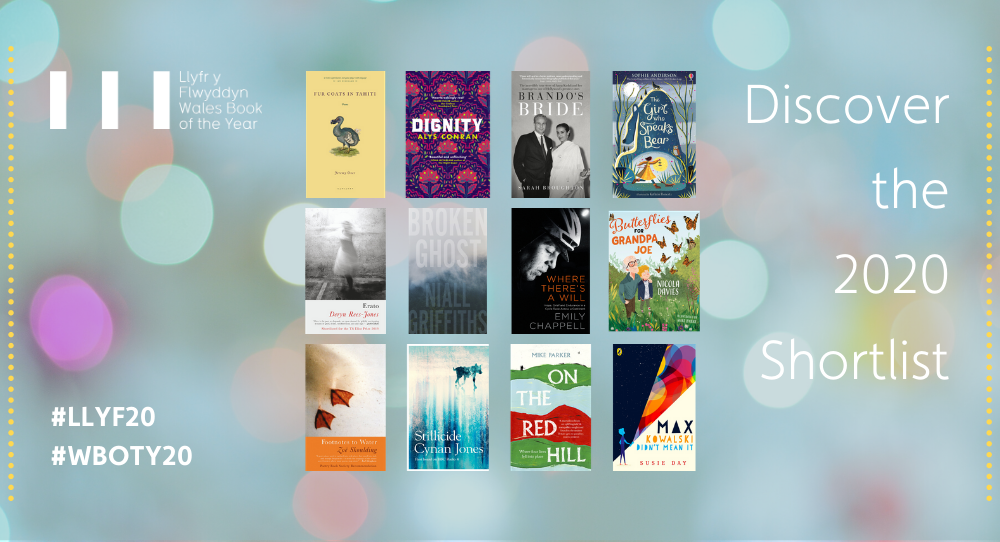 Children and Young People
The Girl Who Speaks Bear - Sophie Anderson (Usborne)
From the wild imagination of bestselling author Sophie Anderson, comes a lyrical folk tale of magic, belonging, and choosing your own family. Found abandoned in a bear cave as a baby, Yanka has always wondered where she is from. She tries to ignore the strange whispers and looks from the villagers, wishing she was as strong on the inside as she is on the outside. But when she has to flee her house, looking for answers about who she really is, a journey far beyond anything she ever imagined begins, from icy rivers to smouldering mountaints, meeting an ever-growing herd of extraordinary friends along the way.
SOPHIE ANDERSON was born in Swansea and now lives in the Lake District in a National Trust property, surrounded by wildlife and countryside. She wrote science textbooks until characters from Slavic folklore began appearing in her work. She learnt these folk tales from her Prussian grandmother and feels a deep connection to her international roots. Sophie enjoys the freedom of home schooling her four children, fell walking, canoeing and daydreaming.
Butterflies for Grandpa Joe - Nicola Davies (Barrington Stoke)
Grandpa Joe has always loved butterflies. There used to be nothing he enjoyed more than heading off to search for the flutter of brightly coloured wings and snap some photos for his collection. But since Ben's granny passed away, Grandpa Joe has changed. He doesn't want to go outside, and nothing Ben says or does makes him smile. It feels like Grandpa Joe is slipping away too. So there's only one thing left to try – if Grandpa Joe won't come searching for butterflies, Ben will bring the butterflies to him…
NICOLA DAVIES is an award-winning author, renowned for her bestselling nature writing and children's fiction. Her many books for children include A First Book of Animals, Big Blue Whale, The Promise, King of the Sky and the critically acclaimed The Day War Came. She is a zoology graduate and has worked for the BBC Natural History Unit. She lives in Powys.
Max Kowalski Didn't Mean It - Susie Day (Puffin)
Max wants to be just like his dad – fun, loud and strong. He loves their trips to the fair and Dad's no-nonsense attitude when Max gets in trouble at school. But everything changes when mysterious boxes and even more mysterious wads of cash start turning up at their house, and when Dad disappears it's up to Max to look after his three sisters until Dad comes home. Determined to keep the family together, Max takes his sisters to a remote village in Wales, where he's convinced that no one will find them. What Max doesn't expect to find is new friends, new questions, and a very old legend. Just how easy is it to look after three kids with no grown ups around? Where did Dad go, really? And what are the whispers Max keeps hearing, of a golden dragon, asleep under the mountain…?
SUSIE DAY grew up by the seaside in Penarth, Wales, with a lisp and a really unfortunate choice of first name. Between books, she works as a copywriter in Birmingham, crochets ridiculous jumpers and inhales tea. Susie now lives in Coventry, England with her partner and a black cat named Pantalaimon.
Creative Non-Fiction
Brando's Bride - Sarah Broughton (Parthian Books)
In October 1957 Marlon Brando married a young studio actress called Anna Kashfi. He was thirty-three and at the pinnacle of his beautiful fame having recently won an Oscar for On the Waterfront. The wedding was front-page news around the world. His new bride was twenty-three, claimed to be an Indian princess and was pregnant. The day after the wedding a factory worker living in Wales, William O'Callaghan, revealed that Brando's bride was in fact his daughter, Joan O'Callaghan and had been a butcher's assistant from Cardiff. This book sets out to discover who was telling the truth and who was lying – and, perhaps more importantly, why?
SARAH BROUGHTON has worked in the television industry for the last two decades. Her company, Martha Stone Productions, made the recent BBC 4 documentary Andrew Davies: Rewriting the Classics – and has various other film and television projects in development. Parthian Books published Sarah's first novel, Other Useful Numbers. She is currently completing a part-time PhD in Creative Writing at the University of South Wales.
Where There's a Will - Emily Chappell (Profile Books)
In 2015 Emily Chappell embarked on a formidable new bike race: The Transcontinental. 4,000km across Europe, unassisted, in the shortest time possible. On her first attempt she made it only halfway, waking up suddenly on her back in a field, floored by the physical and mental exertion. A year later she entered the race again – and won. Where There's a Will takes us into Emily Chappell's race, grinding up mountain passes and charging down the other side; snatching twenty minutes' sleep on the outskirts of a village before jumping back on the bike to surge ahead for another day; feeding in bursts and navigating on the go. We experience the crippling self-doubt of the ultra distance racer, the confusing intensity of winning and the desperation of losing a dear friend who understood all of this.
EMILY CHAPPELL worked as a cycle courier in London for many years, telling her story in What Goes Around. Since then she has explored the world on her bike and committed to supporting others to do the same, as a founder of The Adventure Syndicate.
On the Red Hill - Mike Parker (William Heinemann)
In early 2006, Mike Parker and his partner Peredur were witnesses at the first civil partnership ceremony in the small Welsh town of Machynlleth. The celebrants were their friends Reg and George, who had moved to deepest rural Wales in 1972, not long after the decriminalisation of homosexuality. When Reg and George died within a few weeks of each other in 2011, Mike and Peredur discovered that they had been left their home: a whitewashed 'house from the children's stories', buried deep within the hills. They had also been left a lifetime's collection of diaries, photographs, letters and books, all revealing an extraordinary history.
On the Red Hill is the story of Rhiw Goch, 'the Red Hill', and its inhabitants, but also the story of a remarkable rural community and a legacy that extends far beyond bricks and mortar. On The Red Hill celebrates the turn of the year's wheel, of ever-changing landscapes, and of the family to be found in the unlikeliest of places. Taking the four seasons, the four elements and these four lives as his structure, Mike Parker creates a lyrical but clear-eyed exploration of the natural world, the challenges of accepting one's place in it, and what it can mean to find home.
MIKE PARKER is a writer and broadcaster. His books to date include Map Addict and the Rough Guide to Wales. He writes for publications including the Guardian and the Sunday Times, and presents on radio and television.
Poetry
Fur Coats in Tahiti - Jeremy Over (Carcanet)
Fur Coats in Tahiti is a cocktail of borrowed forms and modes from Dada, Surrealism, Fluxus, the OuLiPo, the Vienna Group and the New York school. There are scissor snips and slips of the tongue and eye in a sequence of word and image compositions derived from an Edwardian illustrated dictionary. Elsewhere there are childlike, and plain childish, oral and aural pleasures to be had with bananas, cherries and Slobodan Živojinovic; tahini and Petroc Trelawny. The book begins with 'O', an open-mouthed astonishment at nativity, and ends, not with Z but, in the hope of further connection, with the twenty-seventh letter of the alphabet: '&'.
JEREMY OVER was born in Leeds in 1961. His poetry was first published in New Poetries II. There followed two Carcanet collections, A Little Bit of Bread and No Cheese and Deceiving Wild Creatures. He currently lives on a hill near Llanidloes in the middle of Wales.
Erato - Deryn Rees-Jones (Seren)
Erato takes its title from the muse of lyric poetry. Drawing on brief, documentary-style narratives of her life, combined with lyric reinventions, Deryn Rees-Jones asks questions about past, present and future, about the slippages of memory, all our errors and erasures, and the places we inhabit when processing trauma.
DERYN REES-JONES is the author of four previous collections of poetry, shortlisted variously for the Forward (first collection), TS Eliot and Roland Mathias prizes. What It's Like to Be Alive: Selected Poems was published by Seren in 2016 and was a PBS Special Commendation. Her study of the artist Paula Rego will be published by Thames & Hudson this year. She is the editor of Pavilion Poetry, and teaches at the University of Liverpool where she is Professor of Poetry.
Footnotes to Walter - Zoë Skoulding (Seren)
In Footnotes to Water poet Zoë Skoulding follows two forgotten rivers, the Adda in Bangor and the Bièvre in Paris, and tracks the literary hoofprints of sheep through Welsh mountains. In these journeys she reveals urban and rural locales as sites of lively interconnection, exploring the ways in which place shapes and is shaped by language.
ZOË SKOULDING is primarily a poet, although her work encompasses sound-based vocal performance, collaboration, translation, literary criticism, editing, and teaching creative writing. She is a Reader in the School of Languages, Literatures and Linguistics at Bangor University. She is the author of a number of poetry collections, including The Museum of Disappearing Sounds (Seren) which was shortlisted for the Ted Hughes Award, and Remains of a Future City (Seren), which was long-listed for Wales Book of the Year.
The Rhys Davies Trust Fiction Award
Dignity - Alys Conran (Weidenfeld & Nicolson)
Magda is a former scientist with a bad temper and a sharp tongue, living alone in a huge house by the sea and getting through carers at a rate of knots. Until Susheela arrives, carrying life with her: grief for her mother's recent death; worry for her father; longing for a beautiful and troubled young man. The two women strike up an unlikely friendship: Magda's no-nonsense attitude turns out to be an unexpected source of strength for Susheela; and Susheela's Bengali heritage brings back memories of Magda's childhood in colonial India and resurrects the tragic figure of her mother, Evelyn. But as Magda digs deeper into her past, she unlocks a shocking legacy of blood that threatens to destroy the careful order she has imposed on her life – a legacy that might just be the key to give the three women, Evelyn, Magda and Susheela, a place they can finally call home.
ALYS CONRAN's first novel Pigeon won the Wales Book of the Year Award 2017, the Rhys Davies Trust Fiction Award, the Wales Arts Review People's Choice Award and was shortlisted for the International Dylan Thomas Prize. Originally from North Wales, she spent several years in Edinburgh and Barcelona before returning to the area to live and write. She is now Lecturer in Creative Writing at Bangor and has been selected as the Hay Festival International Fellow for 2019-2020.
Broken Ghost - Niall Griffiths (Jonathan Cape)
A Welsh community is drawn together and blown apart by a strange vision in the mountains: the huge spectre of a woman floating over a ridge. The people who live here in these mountains already have their own demons – drink, drugs, domestic violence, psychoses – but each character has a different experience of this strange apparition, a different reaction, and for some it will change everything. Is it a collective hallucination? A meteorological phenomenon? Whatever it is, they all saw something, early one morning on the shores of a mountain lake, something that will awaken in them powers and passions and, perhaps, a possibility of healing these broken people in a broken country.
NIALL GRIFFITHS was born in Liverpool in 1966 and now lives in Wales. He has published six previous novels: Grits, Sheepshagger, Kelly + Victor, Stump, Wreckage, Runt and A Great Big Shining Star.  He is a regular contributor to The Guardian, BBC, and other media outlets, and a film adaptation of his third novel, Kelly+Victor, won a BAFTA. 
Stillicide - Cynan Jones (Granta)
Water is commodified. The Water Train that serves the city increasingly at risk of sabotage. As news breaks that construction of a gigantic Ice Dock will displace more people than first thought, protestors take to the streets and the lives of several individuals begin to interlock. A nurse on the brink of an affair. A boy who follows a stray dog out of the city. A woman who lies dying. And her husband, a marksman: a man forged by his past and fearful of the future, who weighs in his hands the possibility of death against the possibility of life. From one of the most celebrated writers of his generation, Stillicide is a moving story of love and loss and the will to survive, and a powerful glimpse of the tangible future.
CYNAN JONES was born in 1975 near Aberaeron, Wales where he now lives and works. He is the author of five novels, The Long Dry, Everything I Found on the Beach, Bird, Blood, Snow, The Dig, and Cove. He has been longlisted and shortlisted for numerous prizes and won a Society of Authors Betty Trask Award 2007, a Jerwood Fiction Uncovered Prize 2014, the Wales Book of the Year Fiction Prize 2015 and the BBC National Short Story Award 2017. His short fiction has been widely published in anthologies and publications including Granta Magazine and The New Yorker.
Back to Wales Book of the Year