The Roland Mathias Poetry Award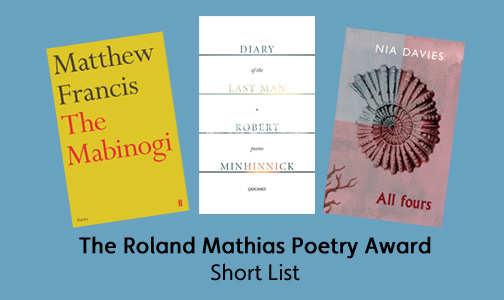 The Mabinogi, Matthew Francis (Faber & Faber)
"Here at the turn of the leaf a horseman is riding through the space between one world and another . . ."
The Mabinogi is the Welsh national epic, a collection of prose tales of war and enchantment, adventure and romance, which have long fascinated readers all over the world.
Matthew Francis's retelling of the first four stories (the Four Branches of the Mabinogi) is the first to situate it in poetry, and captures the magic and strangeness of this medieval Celtic world: a baby is kidnapped by a monstrous claw, a giant wades across the Irish Sea to do battle, a wizard makes a woman out of flowers, only to find she is less biddable than he expected. Permeating the whole sequence is a delight in the power of the imagination to transform human experience into works of tragedy, comedy and wonder.
The Mabinogi is an important contribution to the storytelling of the British Isles.
MATTHEW FRANCIS is the author of four Faber collections, most recently Muscovy (2013). He has twice been shortlisted for the Forward Prize, and in 2004 was chosen as one of the Next Generation poets. He has also edited W. S. Graham's New Collected Poems, and published a collection of short stories and two novels, the second of which, The Book of the Needle (Cinnamon Press) came out in 2014. He lives in West Wales and is Professor in Creative Writing at Aberystwyth University.
Diary of the Last Man, Robert Minhinnick (Carcanet Press)
The opening poem sequence, Diary of the Last Man, sets the tone for Robert Minhinnick's book, a celebration of the dwindling Earth, an elegy, a caution. His Wales is a touchstone; other landscapes and cityscapes are tried against it, with its erratic weather, its sudden changes of mood, 'a black tonic'. The sequence remembers all the geographies of his earlier work, old and new world, but now unpeopled and the lonely spirit free to go anywhere, do anything, but meaning with mankind has drained away. Yet still alive, and still with language, registering. The rest of the book is filled with voices: of children, of rivers, terrorists, magicians; and voices translated from the Welsh, and from Turkish and Arabic, shared, enriching with their difference, their other worlds. History washes over and washes up on the strand of this Welsh book. It is seen and recognised, it begins to be transformed. In the long concluding poem, 'The Sand Orchestra', the poet returns to his own voice, and to the voice of a Bechstein piano abandoned in the open air, played now by nature, its winds and sand. The last man, who has been looking for Ulysses, is the very man he has been looking for.
ROBERT MINHINNICK'S recent publications include the novels, Sea Holly (2007) and Limestone Man (2015) from Seren and Fairground Music: the World of Porthcawl Funfair (Gomer, 2010). He edited the international quarterly, Poetry Wales, 1997 – 2008, and received a major Creative Wales award in 2008 to write a collection of short stories about refugees, The Keys of Babylon (Seren, 2011). His poems have twice won the Forward Prize for 'best individual poem' and his essays have twice won Wales Book of the Year. An established environmentalist, he is joint founder of Friends of the Earth Cymru, 1984, and the charity, Sustainable Wales, founded 1997, for which he is a special advisor. A film, Diary of the Last Man made by Park6 Productions, is released in 2017.
All fours, Nia Davies (Bloodaxe Books)
Bodies. Rhythms. Motion. Sounds. All fours is a debut collection of poetry from Nia Davies, a book of rituals in language that stalk the space between what is uttered and what is meant. These poems are haunted by the strange traces of the longest words in the world and folk-mythic figures such as Sinbad, Eurydice, Mossy Coat, Pan and Baba Yaga. They pose riddles with multiple or mysterious answers.
A swerving sweary jump into a terrain that is both comically musical and perplexedly political, All fours speaks of the (mis)adventures of sex and human communication, a life full-to-bursting with burning questions.
NIA DAVIES was born in Sheffield and studied English at the University of Sussex. She has been editor of Poetry Wales since 2014 also coedits Poems in Which and works with the international literary projects Literature Across Frontiers and Wales Literature Exchange. A frequent collaborator with other poets and artists, Nia Davies co-curated Gelynion – a Welsh Enemies project on collaboration in contemporary poetry in Wales. She is the author of two pamphlets, Then Spree (2012) and Çekoslovakyalılaştıramadıklarımızdanmısınız or Long Words (2016). Her first book-length collection, All fours, is published by Bloodaxe in 2017. She lives in Swansea.
Back to Wales Book of the Year