Wales Book of the Year 2022:
English-language Short List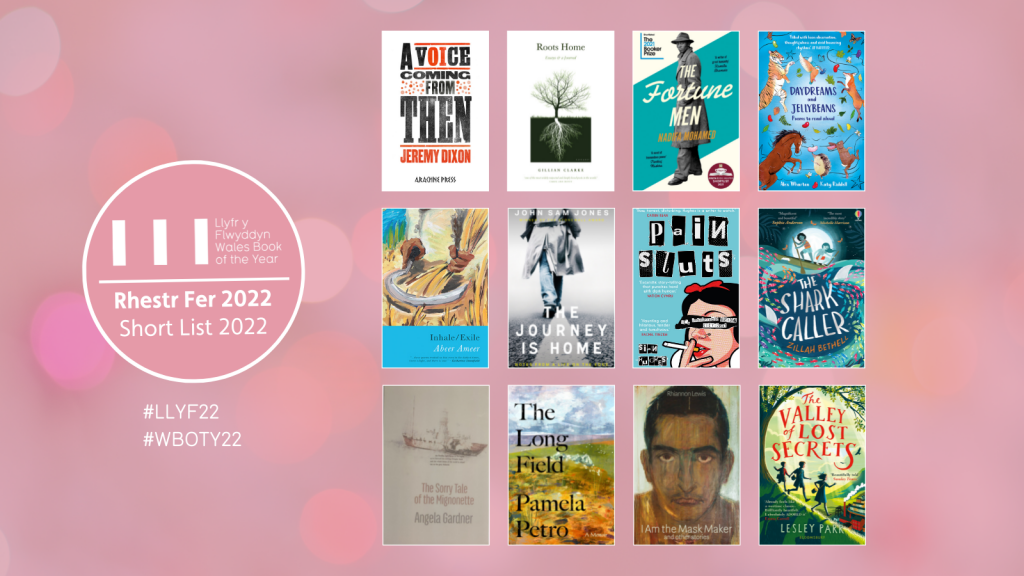 English@BangorUni Poetry Award
A Voice Coming From Then - Jeremy Dixon (Arachne Press)
Jeremy Dixon's second poetry collection A Voice Coming From Then starts from his teenage suicide attempt and expands to encompass themes of bullying, queerphobia, acceptance and support. Includes unexpected typography, collage, humour, magic, discotheques and frequent appearances from the Victorian demon, Spring-heeled Jack. 
***
Jeremy Dixon was born in Essex and now lives in rural south Wales making Artist's Books that combine poetry and photography. His pamphlet, In Retail, was published by Arachne Press in 2019 and other poems have appeared both online and in print in Butcher's Dog, Roundyhouse Magazine, Riptide Journal, Lighthouse Journal, Durable Goods and Really System, among others.  
Inhale/Exile - Abeer Ameer (Seren Books)
Inhale/Exile is the debut poetry collection by Abeer Ameer, a rising poet of Iraqi heritage, who lives in Cardiff, Wales. Inspired by the many stories she heard as a child and visiting family in Iraq as an adult, Ameer has written a book that celebrates the resilience of her forebears and extended family in Baghdad and around the world. The book presents a range of characters in a mixture of political and personal poems; ordinary people living in extraordinary circumstances. Formally diverse, using both traditional and experimental methods, these poems are also full of empathy and suffused with a quietly persistent faith.   
***
Abeer Ameer was born in Sunderland and grew up in Cardiff, Wales. She trained as a dentist in London and completed an MSc, developing an interest in treatment of anxious patients and mindfulness. Her poems have appeared widely in journals and anthologies including Acumen, Poetry Wales, Planet, Magma, New Welsh Review, The Rialto and Long Poem Magazine. She is a recipient of the Literature Wales Mentoring Scheme for 2020. 
The Sorry Tale of the Mignonette - Angela Gardner (Shearsman Books)
Described by Philip Gross as a rattling good yarn, courtroom drama, murder story, test case in moral philosophy, cross-section through the class structures of its time The Sorry Tale of the Mignonette tells of the author's relative, Richard Parker, a cabin-boy on a yacht being sailed from Southampton to Sydney in 1884 for Jack Want a prominent New South Wales barrister and politician. The Mignonette foundered in the South Atlantic far from land, and after nineteen days with no sight of any other vessel to rescue them, the captain and mate decided to murder and eat poor Richard. Days later the remaining sailors were rescued and returned to the West Country to face justice. The Sorry Tale of the Mignonette explores the personal and human story of one of the most important legal judgements in English Law – that necessity is not a defence for murder. It is a UK National Poetry Day recommendation for 2021. 
***
Angela Gardner was born and educated in Cardiff. She has published six solo collections of poetry, this is her most recent publication, following Some Sketchy Notes on Matter (Recent Work Press, Australia, 2020) and The Told World (selected poetry) Shearsman Books UK 2014.  Among other awards and commissions, she has received a Churchill Fellowship, the Thomas Shapcott Poetry Prize, and Australia Council residencies and project funding. Recent poems have been shortlisted for the Aesthetica International Creative Writing Prize and longlisted for the Live Canon International Poetry Prize and published in The Edge of Necessary: Welsh innovative poetry 1966-2016, Wales; The Yale Review and West Branch USA; Blackbox Manifold, The Long Poem and Tears in the Fence, UK; Plumwood Mountain, Westerley, Southerly, Rabbit and Cordite, Australia.  Having lived many years in Australia she now lives in West Cork, Ireland. She is a visual artist with work in international public collections.   
Creative Non-Fiction Award
Roots Home: Essays and a Journal - Gillian Clarke (Carcanet)
Wales's best-loved contemporary poet, one of our major poets of our endangered environment, returns to prose in Roots Home. As in At the Source (2008), she does something unusual with form. She combines two elements. Seven vivid essay-meditations, informed by (among others) Dylan Thomas, George Herbert and W.B. Yeats, explore the ways in which poetry bears witness to what is and to what might be, presence and transcendence in a given, threatened world. The essays precede a journal that runs from January 2018 to December 2020, ending with a poem entitled 'Winter Solstice', three full years of living close to animals, mountains, and (in particular) trees, in human intimacy and lockdown. This is necessary work. As she declares in 'Why I Write', the first meditation in Roots Home: 'Morning begins with my journal. I write in it most days, though not every day. It is friend and listener, to record, remember, rage and rhapsodise, a place for requiem and celebration'.  
***
Gillian Clarke was born in Cardiff in 1937 and now lives in Ceredigion. A poet, playwright and tutor on the M. Phil in Creative Writing at the University of Glamorgan, she is also president of Ty Newydd, the writers' centre in North Wales which she co-founded in 1990. Clarke has published eight Carcanet collections, as well as a Collected Poems and a Selected Poems. She was the inaugural Capital Poet for Cardiff 2005-6 and National Poet of Wales 2008-16.    
The Journey is Home: Notes from a Life on the Edge - John Sam Jones (Parthian)
In this clear and absorbing memoir John Sam Jones writes of a life lived on the edge. It's a story of journeys and realisation, of acceptance and joy. From a boyhood on the coast of Wales to a traumatic period as an undergraduate in Aberystwyth, and on to a scholarship at Berkley on the San Francisco Bay as the AIDS epidemic began to take hold before returning to Liverpool and north Wales to work in chaplaincy, education and sexual health. A journey of becoming a writer and chronicler of his experiences with award-winning books and the somewhat reluctant compulsion to become a campaigner for LGBT rights in Wales. The adventure of running a guest house in Barmouth where he eventually became Mayor with his husband, a German academic, whom he had married after a long partnership. 
***
After working in ministry, education and public health for more than thirty years, John Sam Jones lives in semi-retirement with his husband and two Welsh Collies in a small German village a stone's throw from the Dutch border. John realised he was gay as a teenager at the beginning of the 1970s and quickly came to understand that his life would be lived always on the edge – between truth and lies, rejection and ridicule, self-doubt and a search for acceptance. He ultimately chose to negotiate a route through life where honesty and integrity, in an often toxically homophobic society, were not always appreciated. In 2001 he became the first co-chair of the LGB Forum Cymru (which was later renamed Stonewall Cymru), set up to advise the Welsh Government on LGB issues. He studied creative writing at Chester. His collection of short stories – Welsh Boys Too, – was an Honour Book winner in the American Library Association Stonewall Book Awards. His second collection, Fishboys of Vernazza, was short-listed for Wales Book of the Year which was followed by the novels, With Angels and Furies and Crawling Through Thorns. 
The Long Field - Pamela Petro (Little Toller Books)
Hiraeth is a quintessential Welsh word, famously hard to translate. It means far more than its English approximation of 'homesickness'; it is something like a bone-deep longing for an irretrievable place, person, or time. An acute awareness of the presence of absence.  
The Long Field braids the essential hiraeth stories of Wales with Pamela Petro's own life – as an American who loves Wales, as a gay woman, as the survivor of a train crash, as the daughter of a parent with dementia. Through the pull and tangle of these stories we find both traditional and radical new ways of looking at hiraeth. The hiraeth of place and home, yes. But also queer hiraeth. And hiraeth triggered by technology, immigration, ecological crises, and our new divisive politics.  
On this journey the notion of hiraeth begins to morph, from a uniquely Welsh experience to one endemic to the human condition, from deep longing towards the sort of creative responses to loss which Petro sees as the genius of Welsh culture.  
***
Pamela Petro is the author of three previous nonfiction books, all published by imprints of HarperCollins, UK. She is the Director of the Dylan Thomas Summer School in Creative Writing at the University of Wales, where she's also a Fellow, and teaches writing to both post-grads and undergraduates in The States. Portions of The Long Field have appeared in The Harvard Review and The Paris Review. Her bestselling first book, Travels in an Old Tongue, recounted Petro's efforts to learn Welsh on a 15-country world tour.  
Rhys Davies Trust Fiction Award
I am the Mask Maker and other stories - Rhiannon Lewis (Victorina Press)
I am the Mask Maker and other stories brings together eleven of Rhiannon Lewis's compelling short stories. They transport us to places as varied as plague-ridden Renaissance Venice, a failing antiquarian bookshop in inner-city London, a struggling family farm in 1960s' West Wales, and a soon to be discontinued Heaven where the angels are packing up to leave. Vividly drawn, with wit and subtlety, Lewis's characters are determined not to be pawns in worlds where the odds are stacked against them; to thrive, they often come up with solutions that are unconventional and unexpected. 
This collection includes: 'The Significance of Swans', shortlisted by the Bristol Prize in 2018, 'The Last Flight of La Librairie d'Afrique du Nord', shortlisted by the H.G. Wells Short Story Competition in 2020, 'The Jugs Stay with the Dresser', winner of Frome Festival's short story competition in 2017, and 'Piano Solo', winner of the Adult Short Story category in the William Faulkner Literary Contest in 2020. 
***
Rhiannon Lewis was born in Cardigan, West Wales and grew up on a small farm near the sea. In December 2017, Victorina Press published her debut novel, My Beautiful Imperial, based on the experiences of her great-great uncle, a sea captain, who became involved, inadvertently, in the Chilean civil war of 1891. In March 2018, it was listed by the Walter Scott Prize Academy as one of its recommended historical novels. It has been translated into Spanish and published as Mi Querido Imperial. In 2019, her novella, The Significance of Swans came runner-up in the New Welsh Writing Awards. In September 2020, her work, 'Piano Solo', won the William Faulkner Literary Contest for short story.
Pain Sluts - Sian Hughes (STORGY Books)
A teenager performs stripteases in her bedroom window as funeral processions pass by. A grieving mother reunites with her miscarried foetus. A widow takes on the sinister, rapacious treehouse in next door's garden. Combining pitch-perfect, darkly comic observations with tender touches of humanity, Pain Sluts chronicles the flaws, frailties, and enduring spirit of an eclectic cast of curious characters as they navigate threats to their identity and humanity. 
A brave and bold literary debut bursting with calamity and compassion, Pain Sluts is an astonishing collection of stories which lays bare our beauty and bizarreness. Sharp and tender, true and wise, these stories announce the arrival of a uniquely talented new voice in British fiction. 
***
Sian Hughes is a freelance copywriter, screenwriter, and author whose short stories have been published online and in print and adapted for film and TV, appearing on HTV, BBC Wales, and S4C. An adaptation of her short story 'Consumed', starring The Descent's Shauna Macdonald, was premiered in 2021 at the Glasgow Short Film Festival. Having recently completed an MA in Creative Writing, for which she gained a Distinction, Sian also works as a creative practitioner for the Arts Council of Wales. Sian lives in Cardiff with her husband, three children, and a menagerie of wayward animals. 
The Fortune Men - Nadifa Mohamed (Viking, Penguin Random House)
Mahmood Mattan is a fixture in Cardiff's Tiger Bay, 1952, which bustles with Somali and West Indian sailors, Maltese businessmen and Jewish families. He is a father, chancer, petty criminal. He is a smooth-talker with rakish charm and an eye for a good game. He is many things, but he is not a murderer. So when a shopkeeper is brutally killed and all eyes fall on him, Mahmood isn't too worried. Since his Welsh wife Laura kicked him out for racking up debts he has wandered the streets more often, and there are witnesses who allegedly saw him enter the shop that night. But Mahmood has escaped worse scrapes, and he is innocent in this country where justice is served. Love lends him immunity too: the fierce love of Laura, who forgives his gambling in a heartbeat, and his children. It is only in the run-up to the trial, as the prospect of returning home dwindles, that it will dawn on Mahmood that he is in a fight for his life – against conspiracy, prejudice and cruelty – and that the truth may not be enough to save him. 
***
Nadifa Mohamed was born in Hargeisa, Somaliland, in 1981 and moved to Britain at the age of four. Her first novel, Black Mamba Boy, won the Betty Trask Prize; it was shortlisted for the Guardian First Book Award, the John Llewellyn Rhys Prize, the Dylan Thomas Prize and the PEN Open Book Award. Her second novel, Orchard of Lost Souls, won a Somerset Maugham Award and the Prix Albert Bernard. Nadifa Mohamed was selected for the Granta Best of Young British Novelists in 2013, and is a Fellow of the Royal Society of Literature. The Fortune Men was shortlisted for the 2021 Booker Prize. Nadifa Mohamed lives in London. 
Children and Young People Award
Daydreams and Jellybeans - Alex Wharton (Firefly Press)
From forgotten jellybeans to sparking daydreams, Alex Wharton's poems, written for primary school age children, are both funny and thoughtful, and aim to spark familiarity and inclusion. And the illustrations from Katy Riddell focus on the fun and dreamlike quality of the poems' engagement with the natural world. These poems use rhyme, rhythm and free verse and are ideally suited to performance in a school setting, nurturing a love of language, reading, confidence and self-expression. 
***
Alex Wharton is a writer and poet. He has been published regularly in The Caterpillar, Wales Haiku Journal, Hedgerow and I Am Not a Silent Poet. He collaborated with The Reading Realm in January 2020 where five of his poems featured on the educational iTunes App. A regular compere of Cardiff Arts Free Festival, Alex visits schools to perform his poetry and facilitate writing workshops. Alex won the inaugural Rising Stars Wales Award in 2020. Daydreams and Jellybeans is Alex's debut poetry collection.
The Shark Caller - Zillah Bethell (Usborne)
Dive beneath the waves with this spell-binding adventure of friendship, forgiveness and bravery, set on the shores of Papua New Guinea, perfect for fans of Katherine Rundell and Eva Ibbotson. 
Blue Wing is desperate to become a shark caller, but instead she must befriend infuriating newcomer Maple, who arrives unexpectedly on Blue Wing's island. At first, the girls are too angry to share their secrets and become friends. But when the tide breathes the promise of treasure, they must journey together to the bottom of the ocean to brave the deadliest shark of them all… 
***
Zillah Bethell was born in the shadow of the volcano Mount Lamington in Papua New Guinea. She grew up without shoes, toys or technology. Consequently, she spent a lot of time in the sea swimming and in canoes. Zillah's family returned to the UK when she was ten, and she now lives in South Wales with her family. Zillah is a storyteller and has written numerous stories for all ages. She is delighted to be returning to the shores of Papua New Guinea with The Shark Caller. 
The Valley of Lost Secrets - Lesley Parr (Bloomsbury Children's Books)
September 1939. 
When Jimmy is evacuated to a small village in Wales, it couldn't be more different from London. Green, quiet and full of strangers, he instantly feels out of place. 
But then he finds a skull hidden in a tree, and suddenly the valley is more frightening than the war. Who can Jimmy trust? His brother is too little; his best friend has changed.  
Finding an ally in someone he never expects, they set out together to uncover the secrets that lie with the skull. What they discover will change Jimmy – and the village – forever.  
***
Lesley Parr grew up in south Wales, at the bottom of a valley and quite near a seaside steelworks. Now she lives in the middle of England (almost as far from the sea as it's possible to get) with her husband and their rescue cat, Angharad. She shares her time between writing stories, teaching at a primary school and tutoring adults. Apart from books ,rugby union is her favourite thing in the world, especially if Wales is winning. Lesley graduated with distinction from Bath Spa University's MA in Writing for Young People. The Valley of Lost Secrets is her first book.  
Back to Wales Book of the Year