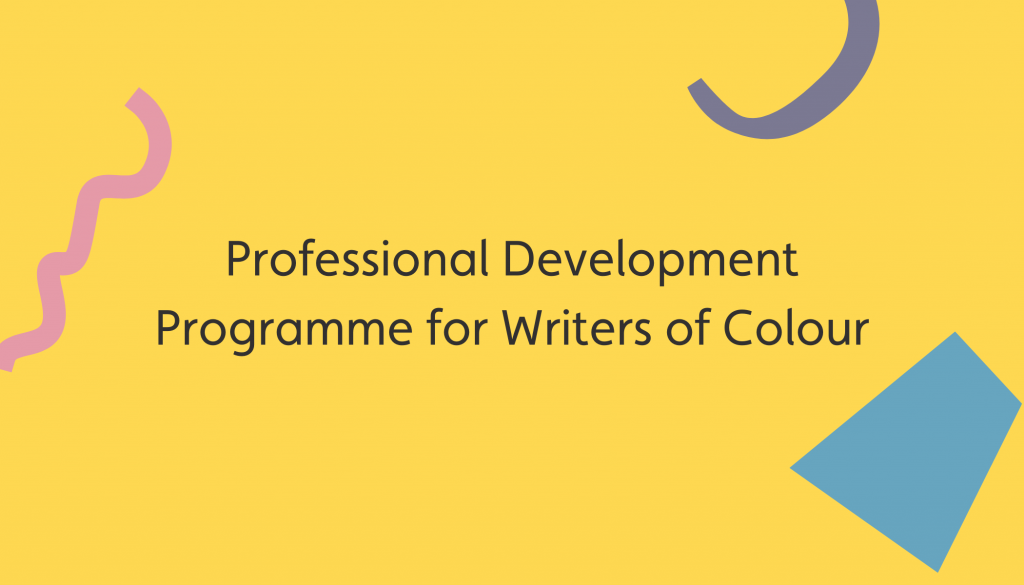 Delivering a Wales where literature empowers, improves and brightens lives.
Literature Wales is pleased to announce our first ever Professional Development Programme for Writers of Colour based in Wales.
What is the programme?
This is a new programme to support writers of colour based in Wales to develop their writing as well as their knowledge of the literature and publishing scene.
We want to help writers of colour reach their long-term writing ambitions, which could include perfecting work-in-progress, finding an agent, getting published, performing to a bigger audience, experimenting with new genres, or facilitating a series of community workshops.
The year-long programme includes cash funding of £2,450 to help writers take time out to write, attend sessions and to support travel expenses. At the beginning of the programme, a mentor will be selected for each writer to offer support throughout the journey. The main programme will include one-to-one mentoring, workshops and talks, as well as opportunities to network, make new contacts and build relationships with other writers. During the year there will be opportunities to meet experts in the literature and publishing industry in Wales and beyond. The aim of the programme is to help each writer develop their own literary potential. 12 spaces are available for writers.
Who is it for?
This opportunity is open to writers of colour over the age of 18 who are currently living in Wales. Writers working in a variety of literary forms can apply. As well as novels, poetry and short stories, these forms can also include scripts, live and/or digital performance, graphic novels and writing for children.
Applicants may be new to the world of writing, or may have just started on their journey and need support to reach the next level. They may be fairly established already as a writer but find that there are barriers to reach their full potential, or they may want to experiment with a different literary form or language.
Applications are open to writers working through the medium of Welsh, English, or any of Wales' other languages, although we can only assess initial applications in Welsh or English. Writers who are not currently fluent in Welsh but are looking for an opportunity to improve their written and creative skills in Welsh can also apply and will be supported in this programme.
Why are we running this programme?
We know that the voices of people of colour are under-represented in the literary culture of Wales. When people can't see themselves in what they read or hear they are far less likely to identify with the literature around them, to see value in creative writing, to feel part of the writing community, or to feel they can build a successful career as a writer.
At Literature Wales, we are committed to developing literature as an art-form that is inclusive and works for everyone in Wales. We will work intensely with the selected writers to address barriers and aim to achieve better equality, diversity, and inclusion in the literature sector in Wales. We also expect to learn a lot during the programme and will continuously listen to feedback and reflect on guidance from our partners and programme participants. After the 12-month programme, we will continue to work with the cohort and with other partners to make sure that they are able to receive the support and advice they need to reach their goals.
This Programme is funded by The National Lottery through the Arts Council of Wales.
A note on terminology
We recognise that terminology to do with race is changing and evolving, and that different individuals and communities will have different views and preference on terms. For this programme, Literature Wales have decided on the term "writers of colour" following a consultation process. During the process of developing and running this programme we as an organisation hope to learn more about the under-represented voices and communities of Wales, and we will be listening carefully to our writers and stakeholders' advice about language and terms throughout the process.
What can applicants expect from the Programme?
Every selected writer will receive a fixed award of £2,000. Writers can choose how to use this award, for example to buy equipment to write, or take time off work to concentrate on the programme and/or their writing. An additional sum of £450 will also be paid to cover accommodation, travel and subsistence costs when taking part in activities away from home and to purchase tickets for literary events and festivals.
Additionally, an access fund has been created to enable full participation in events for writers with disabilities or illnesses who may have access requirements.
The programme itself will be created according to the needs and interests of the selected writers, and will be devised and planned together with the cohort. For example, the programme might include:
Visits to literature festivals and events in Wales and beyond
Training days and workshops
A residential course at Tŷ Newydd Writing Centre and an opportunity to stay at our Writers' Retreat Cottage
A series of virtual talks and readings
Networking events
Information sharing and support in entering competitions, submitting work for publication and more
Each successful applicant will be paired up with a mentor for the duration of the programme to help guide them along in their career as a professional writer. Writers may already have someone in mind to be their mentor, but if not, we will be able to select the perfect match to make sure each writer's literary skills and talents can reach their full potential.
To deliver the programme, Literature Wales will collaborate with a number of organisations and individuals from the arts and literature sector in Wales and the UK, including Lumin Press, Where I'm Coming From, Creative Access, Race Council Cymru, Black History Wales, Ledbury Critics Programme, Lucent Dreaming, Poetry Wales, S4C and Speaking Volumes. Further partners will be announced and included as the programme develops throughout the year.
For further information please contact us: post@literaturewales.org | 02920 472266 | through Facebook Messenger