COVID-19 Lockdown Activities with Eloise Williams
Since March 2020, when COVID-19 lockdown restrictions were first introduced, Children's Laureate Wales Eloise Williams has been working hard to continue to engage and inspire the children of Wales through literature.
Below are some of the highlights: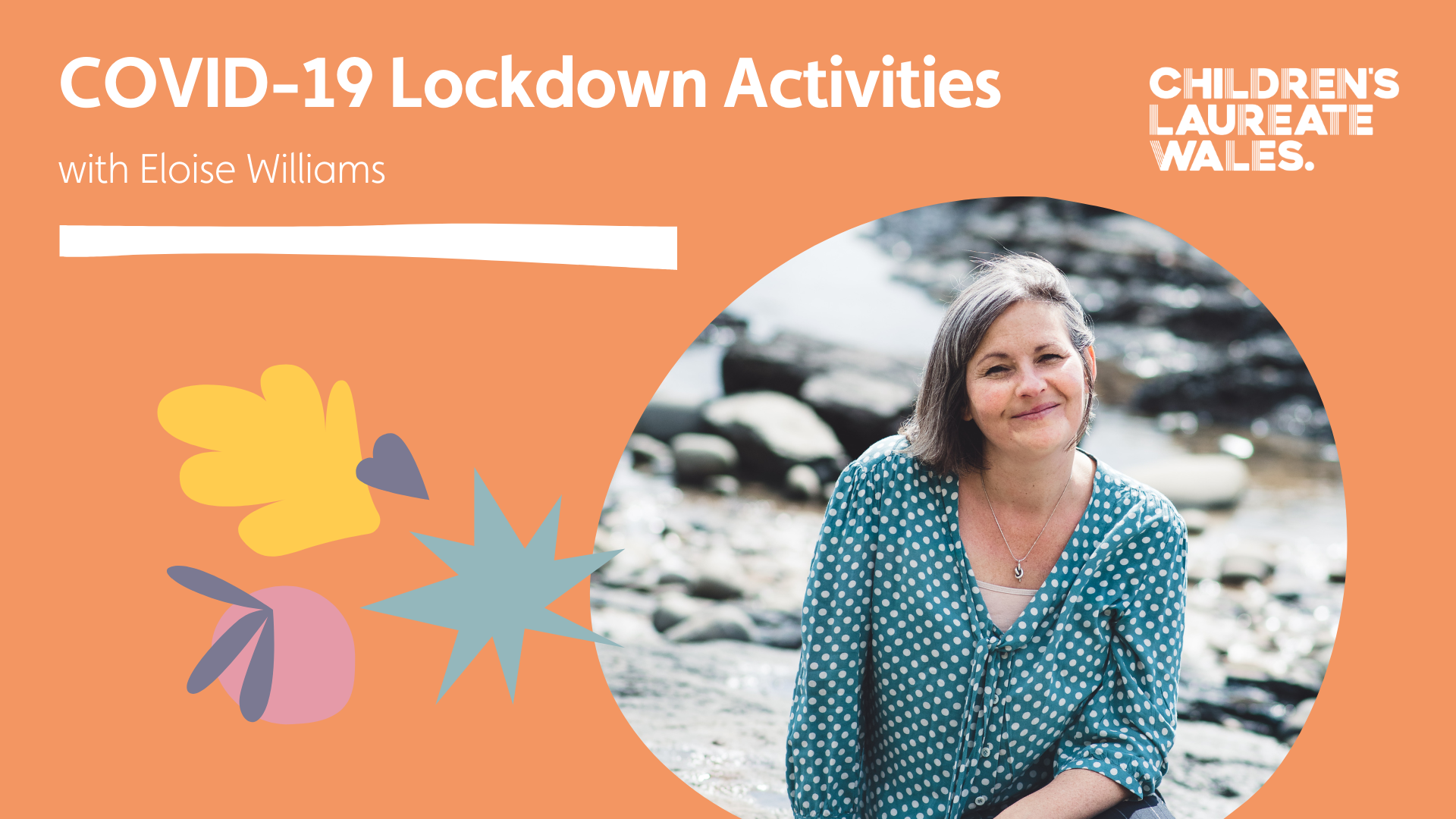 Weekly Writing Challenges
For the first two months of the initial COVID-19 lockdown in March – May 2020, Eloise, along with Bardd Plant Cymru Gruffudd Owen, set Weekly Writing Challenges for children.
Over eight weekly challenges, hundreds of poems, stories, videos, animations and illustrations were shared with us by children from Wales and beyond.
Below are links to the challenges that were set:
Week 1 | Week 2 | Week 3 | Week 4 | Week 5 | Week 6 | Week 7 | Week 8
Am Reading with Children's Laureate Wales
Over the summer months, starting in June 2020, Eloise encouraged children and adults alike to share their favourite children's books from Wales, or by Welsh writers, on social media using the Am Reading with Children's Laureate Wales templates and #AmReadingWithCLW hashtag, before nominating friends, family, pupils and teachers to do the same. The aim was to highlight fantastic children's books from Wales and to promote the benefits of reading for pleasure.
Below are the Am Reading with Children's Laureate Wales templates:
Facebook | Instagram | Twitter
Winter Writing Workshops
In November and December 2020, Eloise released a series of free online writing workshops for 7 – 14 year olds.
The four sets of workshops each consisted of six short videos for teachers to play in front of a class, with various exercises and tasks for pupils to complete between each video.
Below are the workshop videos and accompanying resources for pupils:
Workshop 1 – Winter / Island (for ages 7-9)
Workshop 2 – Ghost / Spooky (for ages 10-14)
Workshop 3 – Witch / Legends (for ages 9-11)
Workshop 4 – Victorian / Christmas / Local history (for ages 9-13)
Letters of Kindness
To coincide with the unveiling of her special themed post box in Cardiff on World Book Day 2021 (Thursday 4 March), Eloise launched the Letters of Kindness project.
This project encourages children to write a letter of kindness to themselves to highlight kind things that they do or have done, and things about themselves and in their lives that they appreciate and are proud of. The idea is inspired by one of Eloise's characters, Wilde, who writes a letter to herself and learns to celebrate her individuality and the things which make her different during the story. The project aims to promote mindfulness and increase a feeling of self-worth in children.
Share the letters on Twitter and remember to tag @Laureate_Wales. Letters can also be displayed in a Wall of Kindness in school.
Letter templates and a Children's Laureate Wales stamp can be found below:
Template 1 | Template 2 | Template 3 | Children's Laureate Wales Stamp