Tir na n-Og Children's Book Awards 2020 shortlists
Published Fri 27 Mar 2020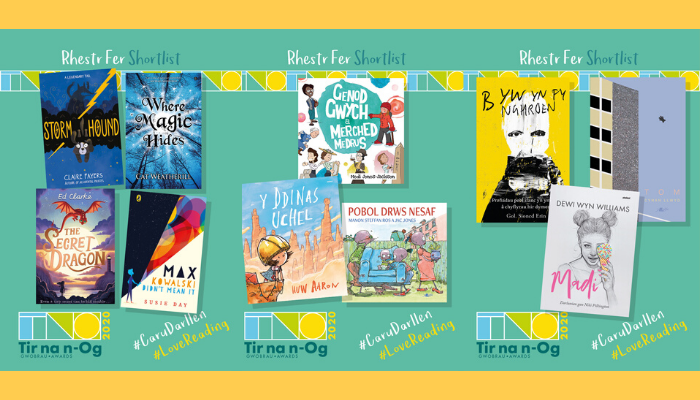 The Books Council of Wales has announced the titles that have reached the shortlist of the prestigious Tir na n-Og Awards 2020, awards which are presented annually to celebrate and honour original work by authors and illustrators of children's books in Welsh and English.
There are three categories:
English-language Shortlist
The Secret Dragon  by Ed Clarke (Puffin 2019).
A magical adventure story for ages 8+ about science, dragons and friendship set on the Welsh coast with a strong sense of place.
Max Kowalski Didn't Mean It by Susie Day (Puffin 2019).
A contemporary story for ages 8+ about families, being a boy and coping with loss, full of empathy and a strong sense of place in Snowdonia.
Storm Hound by Claire Fayers (Macmillan Children's Books 2019).
A fantasy adventure for ages 8+ set in the Welsh mountains, combining Norse legend with Welsh myth.
Where Magic Hides by Cat Weatherill (Gomer 2019).
A diverse collection of seven short stories for ages 9+, all set in Wales, where young characters encounter kings and trolls, wild horses and rainbow-coloured sheep as they learn to find the magic in the stories all around them
Welsh-language Shortlist: Primary
Y Ddinas Uchel (The High City) by Huw Aaron (Atebol 2019).
Petra lives in a city of towers where people spend all day building them higher and higher. A picture book dealing with the materialism of society in an indirect, lighthearted way.
Genod Gwych a Merched Medrus (Great Girls and Skilled Women) by Medi Jones-Jackson (Y Lolfa 2019).
A picture book about 14 inspirational women from Wales including Tori James, Laura Ashley, Eileen Beasley, Amy Dillwyn and Haley Gomez. Full of fun, facts, puzzles, activites and colourful cartoons and illustrations.
Pobol Drws Nesaf (The People Next Door) by Manon Steffan Ros and Jac Jones (Y Lolfa 2019).
A picture book about the importance of not judging people who look and behave differently to us, and the need to respect everyone.
Welsh-language Shortlist: Secondary
Byw yn fy Nghroen (Living in my Skin) edited by Sioned Erin Hughes (Y Lolfa 2019).
A collection of autobiographical accounts about the experiences of twelve young people who have fought against long-term conditions including cancer, epilepsy, Crohn's disease, spina bifida, blindness, OCD, depression and anxiety.
Tom by Cynan Llwyd (Y Lolfa 2019).
A YA novel from a debut author about 15-year-old Tom who lives in a block of flats with his mother and who befriends an 81-year-old neighbour. Themes cover bullying, conflict, migrants, violence and illness.
Madi by Dewi Wyn Williams (Atebol 2019).
A powerful YA novel about a teenage girl living with anorexia and bulimia who tries to hide the illness.
This year's English-language books explore the world of dragons, families, myths and magic set amongst the mountains and coastlines of Wales, whilst the Welsh-language shortlists tackle topics such as mental health, eating disorders and migration.
Helgard Krause, Chief Executive of the Books Council, said,  "The Tir na n-Og Awards are an opportunity for us to celebrate the talents of our writers and illustrators, who are creating world-class content for our children and young people. The awards also reflect the subjects that are important to this audience and address some of the burning issues of the day – from eating disorders and mental health problems to questions around diversity, broadening horizons and respect for others."
According to Eleri Twynog Davies, Chair of the English-language judging panel,  "All four books on the shortlist are of very high quality, from the covers, illustrations and design to great character depiction and excellent storytelling. They take us from Abergavenny to Ogmore and Snowdonia, giving us a real sense of place – one of the central criteria for this award. It is so important that the children of Wales can see themselves reflected in Welsh literature, and that children outside Wales have a window on another culture."
The names of the winners will be announced in May 2020 and further details about the shortlisted books are available on the gwales.com books website.