Natalie Jerome and Dr Cathryn Charnell-White join Literature Wales Management Board
Published Fri 20 Dec 2019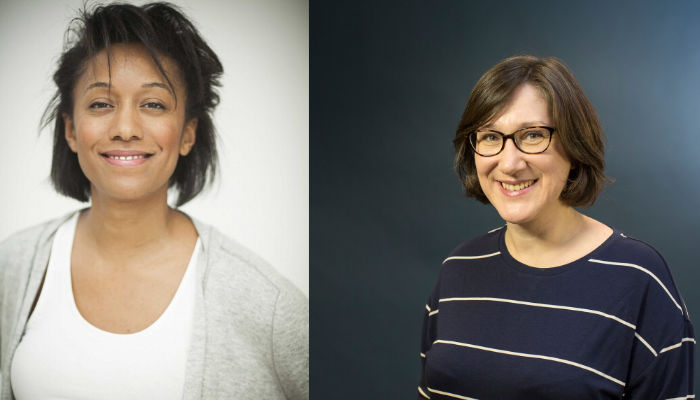 On 23 November, Natalie Jerome and Dr Cathryn Charnell-White were appointed as new Directors of the Literature Wales Management Board.
They join Literature Wales at the start of a vibrant new chapter, as we embark on the second year of our Strategic Plan for 2019-22. This strategy structures all our activities into three main pillars designed to achieve our vision of a Wales where literature empowers, improves and brightens lives:
Participation – inspiring some of our most marginalised individuals and communities through active participation in literature.
Writer Development – developing the creative and professional potential of early career writers.
Wales' Literary Culture – celebrating our contemporary writers and the literary heritage of Wales.
In all our activities and partnerships we focus on three Tactical Priorities: Representation & Equality, Health & Well-being and Children & Young People. Based on our belief that literature has the power to transform lives, these priorities ensure that we deliver our projects where they will have the greatest impact.
As new members of the Literature Wales Management Board, Natalie Jerome and Cathryn Charnell-White will play a vital role in helping us achieve the goals we have set in our Strategic Plan.
Natalie Jerome was born and brought up in Newport and has has over 10 years' experience as a Publisher working at some of the UK's most prominent publishing houses including Penguin Random House, Pan Macmillan, Bonnier Books and HarperCollins. Included in the 2018 publishing trade magazine The Bookseller's Industry top 100, she was described as a 'brand publishing wizard' having acquired and published books that have sold, during the course of her career, six million copies driving revenue of £30m.
As one of the few editors of BAME background in the UK, Natalie has worked to improve diversity within the publishing industry. She is a founding trustee and advisory board member of Creative Access, a mentoring and graduate trainee scheme for BAME candidates looking for paid internships across the creative industries and media sector. In 2016 Natalie was highly commended for her work at the National Business in the Community Race Equality Awards.
"I'm thrilled to be joining Literature Wales at such an exciting time, and to help bring together a range of partners in the sector to tackle some of the big issues facing us through a love of literature and reading, and to help make our writing more representative."

Natalie Jerome
Cathryn Charnell-White is head of Department of Welsh and Celtic Studies at Aberystwyth University with a research focus on Welsh identity and women's writing. As well as being involved in the university's recruitment panel, Cathryn is also a departmental equalities and diversity champion. She was a member of the 2019 Wales Book of the year Judging Panel and she is both a Council Member for the Books Council of Wales and a co-editor of Honno Welsh Classics.
"I look forward to serving Literature Wales's Management Board and supporting its work in realising its Strategic Plan. As a parent and as someone who works in higher education, I am particularly interested in how literature can be a positive and enabling force for children and young people."

Cathryn Charnell-White
Details about the full Management Board can be found here: www.literaturewales.org/management-board.