March Opportunities 2020
Published Sun 1 Mar 2020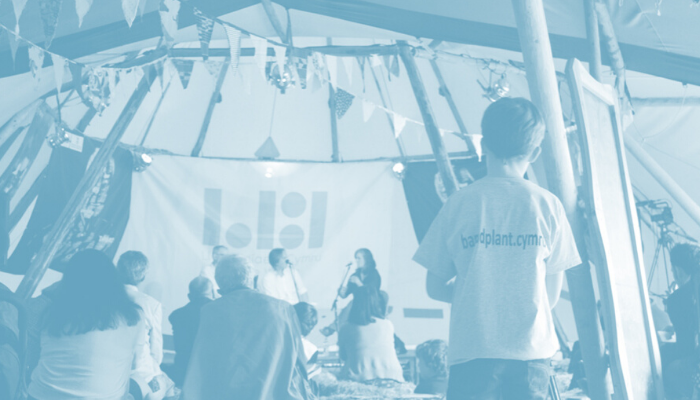 We have compiled a small list of some exciting opportunities with upcoming deadlines for writers and literary organisations alike. Keep up to date with opportunities for writers by signing up to our newsletter and following us on Facebook, Twitter and Instagram. 
Due to the current situation in Wales regarding the Coronavirus, we suggest that anyone interested in taking part contacts the organisers directly for the most up-to-date information.
Eisteddfodau – various
There are various literary competitions held at numerous Eisteddfodau throughout Wales, here is a list of deadlines for this month from Cymdeithas Eisteddfodau Cymru.
For more information, click here: Dyddiadau Cau Mawrth 2020
Nant Writers' Retreat – March onwards
A historical Grade II* listed cottage which has been newly renovated for writing retreats. Based at Tŷ Newydd Writing Centre, Llanystumdwy, this self-contained, fully equipped cottage provides a comfortable and quiet haven where you can concentrate on your work in progress, add those finishing touches to your writing, or simply revive your creativity.
For more information, visit: https://www.tynewydd.wales/nant/
Christopher Tower Poetry Prize 2020 – 2 March
The Tower Poetry competition is free to enter and open to students between 16 and 18 years who are educated in the UK. To enter, submit a poem of up to 48 lines on this year's topic: trees. Prizes are between £250 and £3,000. Eligible winners are also invited to attend the next biennial Tower Poetry Summer School.
For more information, visit: https://www.chch.ox.ac.uk/research-and academia/competition-information
Wilbur Smith Adventure Writing Prize 2020—2 March
The Wilbur & Niso Smith Foundation is a charitable organisation dedicated to empowering writers, promoting literacy and advancing adventure writing as a genre. Through their work, they want to reach out to writers and readers across the world, allowing everyone to have their own adventures through the words on a page. The Prize is split into two separate categories – an award for the best published adventure novel (£15,000) and an award for the best unpublished manuscript by a debut author (Publishing deal with Bonnier Books UK). They only accept fiction.
For more information, visit: https://www.wilbur-niso smithfoundation.org/index.php/awards/adventure-writing-prize
Forward Prizes for Poetry 2020—9 March
The 2020 Forward Prizes for Poetry accepts entries from publishers, magazine editors and competition organisers (poets may not submit their own work).The prizes are awarded in three categories: The Forward Prize for Best Collection (£10,000), The Felix Dennis Prize for Best First Collection (£5,000), and The Forward Prize for Best Single Poem (£1,000). Publishers should use the website to let us know the titles and authors of eligible works by Monday 9 March 2020.The deadline for sending physical books or bound proofs is Thursday 19 March 2020.
For more information, visit: http://www.forwardartsfoundation.org/about-us/
2020 Fitzcarraldo Editions/Mahler & LeWitt Studios Essay Prize – 15 March
£3,000 for the best proposal for a book-length essay (minimum 25,000 words) by a writer resident in the UK & Ireland who has yet to secure a publishing deal. The judges will be looking for proposals for essays that explore and expand the possibilities of the essay form, with no restrictions on theme or subject matter. In addition to the £3,000 prize, the winner will have the opportunity to spend up to three months in residency at the Mahler & LeWitt Studios in Spoleto, Italy, during the summer of 2020, to work on their book.
For more information, visit: https://fitzcarraldoeditions.com/prizes/essay-prize
New Welsh Writing Awards 2020: Rheidol Prize for Prose with a Welsh Theme or Setting – 17 March
The Award is for short unpublished books (between 5,000 and 30,000 words), either fiction or non-fiction, written in English and with a Welsh theme or setting. Entrants must be resident in the UK or Ireland or must have been educated in Wales for a minimum of six months. The winner will receive a cash prize of £1,000 as an advance against an e-publishing deal and a positive critique from literary agent Cathryn Summerhayes at Curtis Brown Literary Agency in London. Second prize is a residential course of the writer's choice at Literature Wales' Tŷ Newydd Writing Centre, and third prize is a two-night stay at Gladstone's Library in Flintshire.
For more information, visit: https://www.newwelshwritingawards.com/
New Literary Department at Sherman Theatre
Literary Manager—19 March
Sherman Theatre wishes to appoint an experienced and dedicated Literary Manager on a full-time, fixed term contract. This is a new role within the artistic team at the Sherman Theatre, working closely with the Artistic Director to support and nurture writers from grassroots level right the way through to every stage of their career.
Welsh speaking candidates are particularly welcome to apply.
Literary Associate—Welsh Language—2 April
Sherman Theatre wishes to appoint a talented and enthusiastic Literary Associate on a part-time, fixed term contract for one year. This is a new, designated Welsh language, role within the artistic team at the Sherman Theatre, working closely with the Literary Manager and the Artistic Director.
This is a designated Welsh language role.
For more information, visit https://www.shermantheatre.co.uk/jobs/
Writing Wizardry Competition – 27 March
A competition for all young writers up to 11 years. To enter, send in a poem or a story of fewer than 500 words. The story can be about anything but must be your own original work. The winner in each category receives a tower of books and three free copies of the anthology in which your poem or story will be published. The runners up receive a £25 book token plus three copies of the anthology. There is also a special school prize for the school which submits the most entries that make it onto the shortlist.
For more information, visit: https://www.fresherpublishing.co.uk/writing-wizardry-competition/
Write on Art Prize – 31 March
Write on Art is an annual prize for young writers aged 15 to 18, sponsored by Art UK and the Paul Mellon Centre for Studies in British Art. To enter, pick one artwork featured on the Art UK website and write about it: What does it say to you? What's the history behind it? How does it make you feel? The winners will receive cash prizes between £100 and £500 and have their essays featured on the Art UK and Paul Mellon Centre websites.
For more information, visit: https://www.writeonart.org/
Poetry Wales Open for Submissions- 31 March
Poetry Wales is reopened for submissions in preparation for issue 56.1. Please read their new submission guidelines in full before sending your poems; their guidelines have been updated to reflect their new payment structure and the kind (and volume) of poems they accept.
For more information, visit: https://poetrywales.co.uk/submission/
The Alpine Fellowship Writing Prize 2020—1 April
Awarded for the best piece of writing on the theme of the 2020 Alpine Fellowship Annual Symposium: Forgiveness and Retribution.
The winner receives a £10,000 cash prize and is presented with the award by the poet John Burnside. A £3,000 cash prize will go to the second place, and £2,000 to the third place runner up. The winner and two runners up are invited to attend the Fjällnäs symposium.
For more information, visit: https://alpinefellowship.com/writing-prize
Bath Short Story Award – 20 April
The competition is open to all writers, based in the UK or elsewhere, who are 16 years or older.
To enter, hand in a previously unpublished story on any subject of up to 2,200 words. The first prize is £1,200, second prize is £300 and third prize is £100. The Acorn Award for an unpublished writer of fiction will be £100. The entry fee is £8.00 for each submission.
For more information, visit: https://www.bathshortstoryaward.org/
Micro-grants for Get Creative 2020 events—20 April
Apply for a micro-grant to help your group run an event during Get Creative Festival in Wales in May 2020.
The Arts Council of Wales have provided funds for Voluntary Arts Wales to administer micro-grants of £100 to help groups with the costs of running events during Get Creative Festival.
Events must be: participatory and creative, either free or cost-recovery, and take place in Wales between 9-17 May 2020
The micro-grants are intended for voluntary, amateur and community-based groups in Wales, to help with any additional costs incurred in running events, such as materials, publicity or venue hire.
For more information, visit: https://www.voluntaryarts.org/micro-grants-for-get-creative-events-in-wales
Bristol Short Story Prize – 30 April
The Bristol Short Story Prize is open to all writers, whether published or unpublished, UK or non-UK based. 20 stories will be shortlisted and published in an anthology. The winner and two runners up will be selected from the shortlist and announced at an awards ceremony in October 2020. The first prize is £1,000, second prize is £500 and third prize is £250. The remaining shortlisted writers will be presented with 17 further prizes of £100.
For more information, visit: https://www.bristolprize.co.uk/news/2020-bristol-short-story-writing-competition
The Phoenix Project: Wales-Namibia Short Fiction for Children Competition 2020—30 April
The Phoenix project is a charity set up to support Health and Cultural projects in Namibia and Zambia. Phoenix works in co-operation with Cardiff University and the University of Namibia.
Stories can be about anything, in any style. However, they should try and deal with some aspect of the modern world as it affects either country, e.g., youth unemployment, despoliation of the environment, over-population, conservation, etc.
The three winners will receive a small cash prize. They will try and get the best stories published as a compendium, but at this stage this cannot be guaranteed.
Stories should be aimed at children aged 12-17 (entrants should specify which age-group they are aiming at within a 3-year age bracket). Stories must be submitted in English.
Max 3000 words.
For more information, visit: https://www.cardiff.ac.uk/news/view/1760770-fiction-writing-competition-for-children-launched-in-wales-and-namibia
2020 International Rubery Book Award—30 April
The Rubery Prize is a prestigious international book award seeking the best books by indie writers, self-published authors and books published by independent presses, judged by reputable judges. Book of the Year wins £1500. Category winners win £150. Every winner receives a glass plaque and all winners & shortlisted authors receive a write up.​
For more information, visit: https://www.ruberybookaward.com/
Gwobr Esyllt Prize 2020- 1 May
The Panel of Chwedl, the network of women storytellers in Wales, is proud to celebrate International Women's Day by publishing the callout for applications for the Gwobr Esyllt Prize 2020.
For a copy of the brief, in English or Welsh, or with any questions, please email:
Lucent Dreaming 2020 Short Story and Poetry Contests – 30 May
Lucent Dreaming is an independent creative writing magazine publishing beautiful, imaginative and surreal short stories, poetry and artwork from emerging authors and artists worldwide. They currently have two competitions on: short stories and poetry. You can now submit up to five short stories and five poems and be in for a chance to win coveted Lucent Dreaming merch, publication, free editing for the year as well as a cash prize!
For more information, visit: https://lucentdreaming.com/lucent-dreaming-2020-short-story-and-poetry-contests/
Creative Future Writers' Award—31 May
This is a poetry and prose competition is for under-represented writers in the UK only. 12 winners will receive cash/professional development, plus publication.
This year's theme is Tomorrow. Your work should respond to the theme, implicitly or explicitly, but they're looking for quality writing first and foremost.
For more information, visit: https://www.creativefuture.org.uk/for-writers/creative-future-writers-award/how-to-enter/
Welsh Poetry Competition – 31 May
The 14th international competition is now open and accepting entries, 1st, 2nd & 3rd awarded cash prizes plus 17 runners up prizes of being published on the Welsh Poetry Competition website and in a future anthology. The judge for 2020 will be Sally Spedding.
For more information, visit: http://www.welshpoetry.co.uk/
 Canterbury Festival Poet of the Year Competition—15 June
Poems can be on any subject and in any form but no more than 60 lines long. This year's first prize is £200, with £100 for second and £50 for third place.
From the entries approximately 35 poems are chosen to appear in an anthology, which will be available from the Festival Office. Following this, a shortlist of poets will be invited to read their poems at this year's awards evening in October and the winner will announced on the night. Dates and times will be released soon.
For more information, visit: https://canterburyfestival.co.uk/poet-of-the-year-competition-2020/
Poetry Kit Spring Competition 2020-17 June
This year's competition is for poetry on any subject.There are no style or length restrictions but it should be stressed
that a short poem is just as likely to be selected as a longer one. 1st prize is £100. 2nd £50. Entry fees are as follows; 1 poem £3.50 3 Poems £8.00 5 poems £10
Competition Judge; Jim Bennett
For more information, visit: http://www.poetrykit.org/PKcomp.htm
Poetry Kit Online Courses – Various Dates
Writing in traditional forms – 5th – 25th April 2020
This three week course looks at new modern ways to use traditional forms. These forms can be ways for poets to grow the tools available and to find new ways to say what they want. These forms can produce memorable and exciting ways to explore modern topics. This is a challenging course that asks poets to look at some traditional forms in new ways. The course will be conducted online over three weeks, at a cost of £30 –
Book your place here.
Writing Ekphrastic Poetry – 4th – 25th May 2020
The aim of this course is to look at the different approaches that can be taken to bring new insights to poems that engage with a piece of visual art. During the course poets will be asked to respond to a series of paintings using a variety of techniques. Poems will be workshopped and full feedback given. The cost of this course is £30 –
Book your place here.
New Poetry Workshop – 4th – 25th May 2020
This three week course looks at new ways to find subjects, write, edit and publish poems. This is a challenging course that asks poets to look at these issues in a new way. Ideal for those wanting to write more and to have more tools available. The course will be conducted online over three weeks, at a cost of £30 –
Book your place here.
Poetry Book Awards – 30 June 
An annual, international book award given to the best poetry books produced by indie writers, self published authors or books published by independent or small presses. Winners will be announced on the Poetry Book Awards website and in the local and national press. Welsh poet Dave Lewis will judge the awards in 2020.
For more information, visit: http://www.poetrybookawards.co.uk/enter/