Literature Wales and Firefly's Rising Stars 2020
Published Tue 4 Feb 2020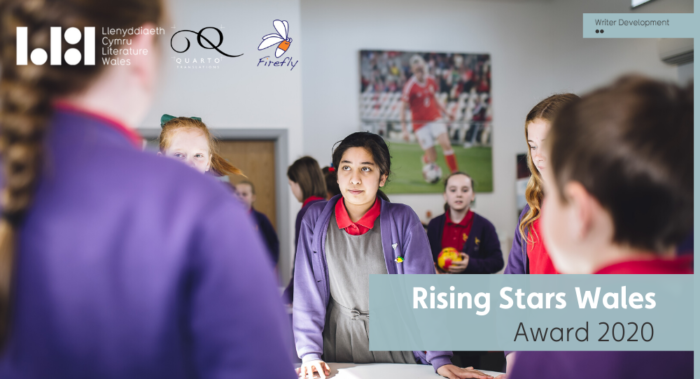 Literature Wales and Firefly Press announce their investment in three emerging children's poets from Black, Asian and Minority Ethnic backgrounds based in Wales.
The Rising Stars Wales Award, held in partnership between Literature Wales and Firefly Press, gives Children's Poets from Black, Asian and Minority Ethnic backgrounds based in Wales the opportunity to further-develop their skills and writing for children. We are extremely pleased to announce that three promising poets have been selected to receive the first-ever Rising Stars Wales awards.
Literature Wales is delighted to announce that the selected poets and their awards are as follows:
Alex Wharton has been selected to receive the highest award:
A 4 night Nant Writers Retreat worth £400: a stay at the newly-renovated cottage based at the  historical Grade II* listed Tŷ Newydd Writing Centre. This self-contained, fully equipped cottage provides a comfortable and quiet haven where writers can concentrate on their work in progress.
A cash prize of £250 sponsored by Quarto Translations.
Selected works to be published on the Literature Wales and Firefly Press websites.
Both Sadia Pineda Hameed and Taylor Edmonds were selected for further development, each receiving:
A cash prize of £100.
The opportunity to shadow and take part in a school workshop with Eloise Williams, the Children's Laureate Wales.
Selected works to be published on the Literature Wales and Firefly Press websites.
In our new Strategic Plan 2019-22, published last April, Literature Wales stated that Representation and Equality would be one of our three tactical priorities for the forthcoming years. This is based on our belief that true representation is crucial to the future of our literature, our society, economy and culture. As a result, this new initiative aims both to develop early-career writers, one of the main objectives of our Writer Development activity pillar, and to contribute to the creation of a national literary culture that represents contemporary Wales.
We believe that Wales' writers should comprise a range of ages, socio-economic backgrounds, ethnicities, genders, regions and languages and not be typified by certain limited demographic profiles. Therefore, we see investing in authors from BAME backgrounds as a crucial step towards ensuring that there are no barriers in literature. All individuals should have access to participate in the literary arts, and the same access to opportunities should be available to all. We are working hard to deliver targeted activity that is designed to attract, support and strengthen under-represented literary voices.
---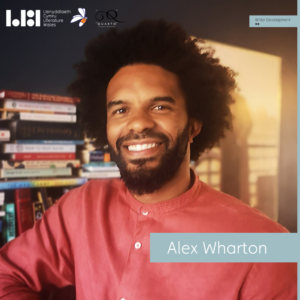 Alexander Wharton currently works a Senior Building Surveyor when he isn't busy writing or performing poetry for both Adults and Children.  He has received regular publications in The Caterpillar, Wales Haiku Journal, Hedgerow and I am not a silent Poet. The panel described his poems as 'humorous, whimsical and witty' and stated that he is a confident writer for children with strong concepts and use of imagery.  He has been a regular compere of Cardiff Arts free festival, a quarterly evening of artistic and literary performance. He regularly visits schools to perform his poetry and facilitates writing workshops with the students. Alexander has completed numerous online Creative writing Short courses from Open University and Future Learn and hopes to study an MA in Creative Writing in the near future.
---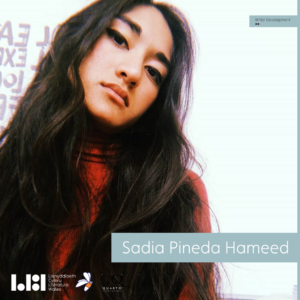 Sadia Pineda Hameed is a half-Filipina half-Pakistani writer and artist living in Cardiff. Her writing practice includes poetry, experiments in prose, creative essays and spoken word performances. She is also the co-creator of LUMIN, an independent small press and arts collective publishing the work of marginalised writers in Wales. Her interest in writing spawns from a heritage of oral histories, post-colonial loss, craft, and dreaming. She has an intuitive, precise and fluid style which often focuses on larger themes of her BAME identity, belonging, place and family, and the panel felt 'wonderful tension between longing, love and loss' in her work. She strongly believes that 'language should always be universal, pertinent, and easy to absorb for all ages, experiences and fluencies' and therefore carefully considers clarity, aural experience, and conversational language when writing.
---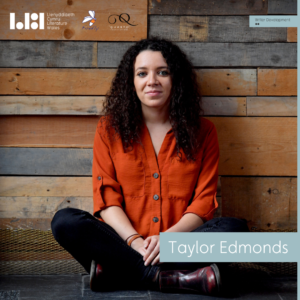 Taylor Edmonds, poet and performer, was recently awarded a Distinction upon completion of her MA in Creative Writing at Cardiff University. She views writing as a way to express herself and connect with others and is a team member of the Where I'm Coming From open mic series, aimed predominantly but not exclusively at BAME writers and artists in Wales. She's passionate about making poetry accessible for everyone, particularly young people from disadvantaged and minority backgrounds. Her publications include BBC Wales Sesh, Wales Arts Review, Butcher's Dog Magazine, The Cheval Anthology, and The Cardiff Review and has recently worked on projects with the Nescio Ensemble, The Arts Council of Wales and The Severn Estuary Partnership. Taylor tells her stories through vivid imagery and rhythms, and the panel believes that she 'has a great understanding of story and image'.
---
Literature Wales is the national company for the development of literature. Our vision is a Wales where literature empowers, improves and brightens lives. Our Strategic Plan for 2019-2022 outlines Representation and Equality as one of Literature Wales' main tactical priorities. We believe that every person, regardless of their background, should feel included and free to navigate, contribute and take ownership of the literature scene in Wales.
Firefly Press is an award-winning independent children's and YA publisher based in Cardiff and Aberystwyth. Set up in 2013, Firefly is the only dedicated children's publisher in Wales, publishing quality fiction in all genres for 5-19 year olds. They aim to publish books by great authors and illustrators wherever they are from. Successes include The Clockwork Crow by Catherine Fisher, shortlisted for the Blue Peter Book Awards and winner of the Tir na N'og Children's book Prize, and Aubrey and the Terrible Yoot by Horatio Clare, which won the Branford Boase first children's novel award.
Firefly Publisher Penny Thomas said:
"From jellybeans to pepper crumbed ham this first Rising Stars Award has revealed a wonderful mix of poems for children that you can practically taste! We're so delighted to be a part of this award and hope it will encourage more poetry that children in Wales from all backgrounds will enjoy.  We're particularly excited that the Award has led to Firefly signing its first-ever poetry book for children, with Daydreams and Jellybeans  by the wonderfully talented Alex Wharton due out next year."
Robin Bennett, Founder and Managing Director of Quarto Translation said:
"Translation unlocks cultures and brings people closer. We are very proud to sponsor this award because Quarto Translations firmly believes that is also what the Rising Stars Wales Award does. Readers long to see themselves in books but are also drawn to new characters and notions…"
Alex Wharton said:
"I am deeply grateful accepting this award, I feel it recognises my passion and dedication for writing Children's Poetry. It has already opened up a terrific opportunity for me as the wonderful people at 'Firefly press' will be publishing my full collection of poems 'Daydreams and Jellybeans' early next year. Poems are to be shared, they find the people who need them – and the award has unraveled a wider platform for my words, It's exciting and I am very thankful."
Lleucu Siencyn, Chief Executive of Literature Wales said:
"This has been an incredibly valuable project in partnership with Firefly Press. The award shines a light on three talented writers, giving their poems for children a platform, and offering tangible development opportunities for career progression. We have already seen how this award can have a significant impact on a writer's career, with Firefly Press signing a poetry collection for children by Alex Wharton for 2021. It's an exciting time for Wales' Literary Culture."