Literature for Wellbeing Funding Scheme
Published Fri 29 Nov 2019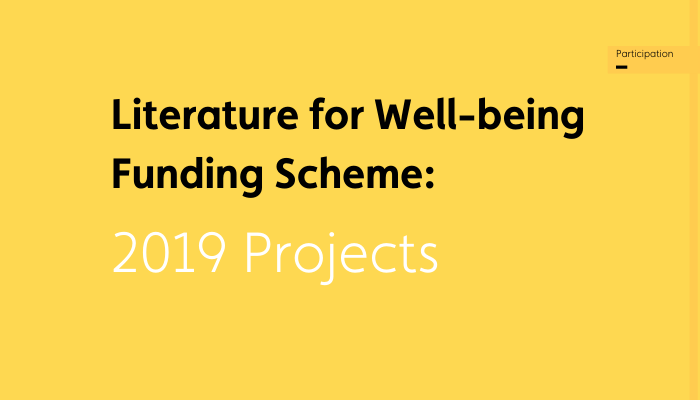 Literature Wales has announced its investment in 10 new projects which aim to encourage engagement and inclusion in communities across Wales.
The Literature for Wellbeing Funding Scheme offers financial support and training for writers and artists to create and deliver original community-based creative writing projects, devised with a specific group in mind. The aim of the scheme is to inspire and empower some of our most marginalised and vulnerable individuals and communities through participation in targeted literature activities.
Following an open call-out in June 2019, we are supporting 10 projects across Wales this winter. These activities are delivered by writers and arts practitioners who have received Safeguarding and Participation training as part of this scheme. As well as being an integral part of our Participation activities, the scheme is an investment in the professional development of writers interested in outreach work.
Workshops take place over 4-6 sessions. They are innovative and inclusive working with a variety of groups including prisoners, refugees, neonatal parents, LGBTQ+, and people accessing mental health support.
Each workshop series has a clearly defined output, from the creation of a poetry pamphlet to an exhibition, radio monologues to an EP of songs.
2019 Projects:

Detailed information about each project and the writers delivering them is available here:

Literature for well-being 2019

Participation in Literature is one of Literature Wales three activity pillars, and health and wellbeing is one of our key priority areas as stated in our Strategic Plan for 2019-2022.
Lleucu Siencyn, Chief Executive of Literature Wales said: "we all have stories to tell, but not everyone is offered the same opportunities to do so. This scheme opens the door to literature for some of our most marginalised communities, giving them the opportunity to explore the benefits of this remarkable, democratic art form."