My first two months as Children's Laureate Wales
Published Wed 20 Nov 2019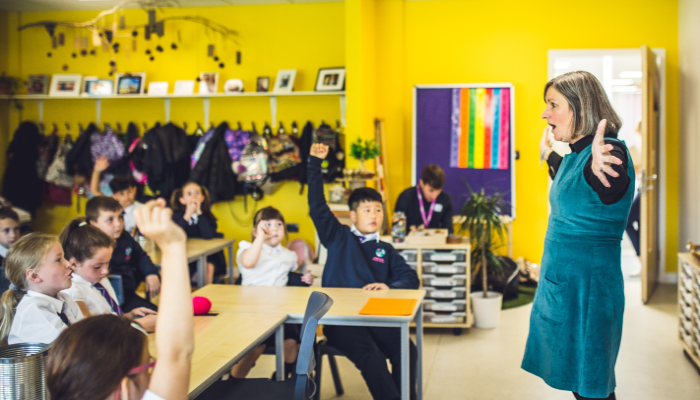 On World Children's Day, Eloise Williams reflects on her first two months as Children's Laureate Wales:
About six months ago I sat in a room at Hay festival with lots of talented and emerging writers who were taking part in the Writers at Work scheme. We were blessed by the presence and wisdom of Malorie Blackman. With trembling voice and an eagerness which undoubtedly scared her a little I asked what it was like to be a Children's Laureate. It was never going to happen to me. I was going to have to experience it vicariously. Please tell me what it's like Malorie. Please, please, please…
Cut to a school day in mid-September when the first Children's Laureate Wales is going to be announced and a very nervous forty-something-year-old walks into a hall full of cheering children in a dreamlike state and feeling every bit seven years old again.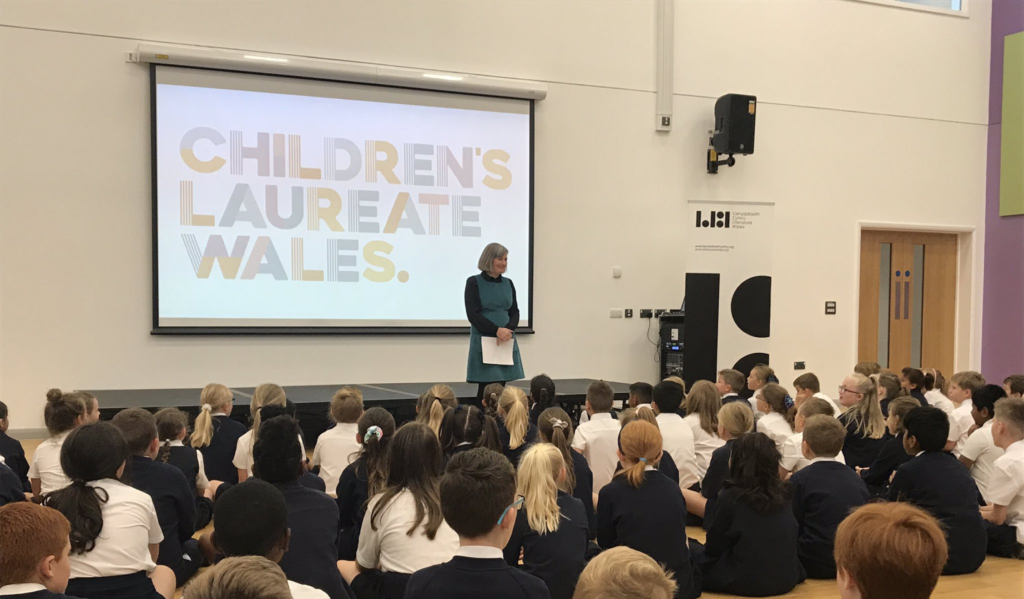 She reads a letter of her intentions as Laureate, opens a library, talks to TV people, drives along the M4 to jump out of the car and gabble her way through a radio interview. The only time throughout this day when she feels as if she is actually inside her own skin is when she has Q&A sessions with the children. The only part of that day which brings her to tears is seeing a picture one of the children has drawn of her books on the library wall. There is nothing that could ever make her prouder, or be more worthwhile to her, than being the Children's Laureate Wales.
Two months later and I'm still thrilled and excited but am not talking about myself in the third person anymore. I've returned to my body and have a much tighter grip on what it means to be a Children's Laureate. There are tough times. Times when I see children who are living in such poverty I want to bawl. Times when I meet too many children who do not own a single book. Mostly though, I'm glad to say, there are wonderful times where children tell you how much they loved a certain story, or how they are creating a book of their own.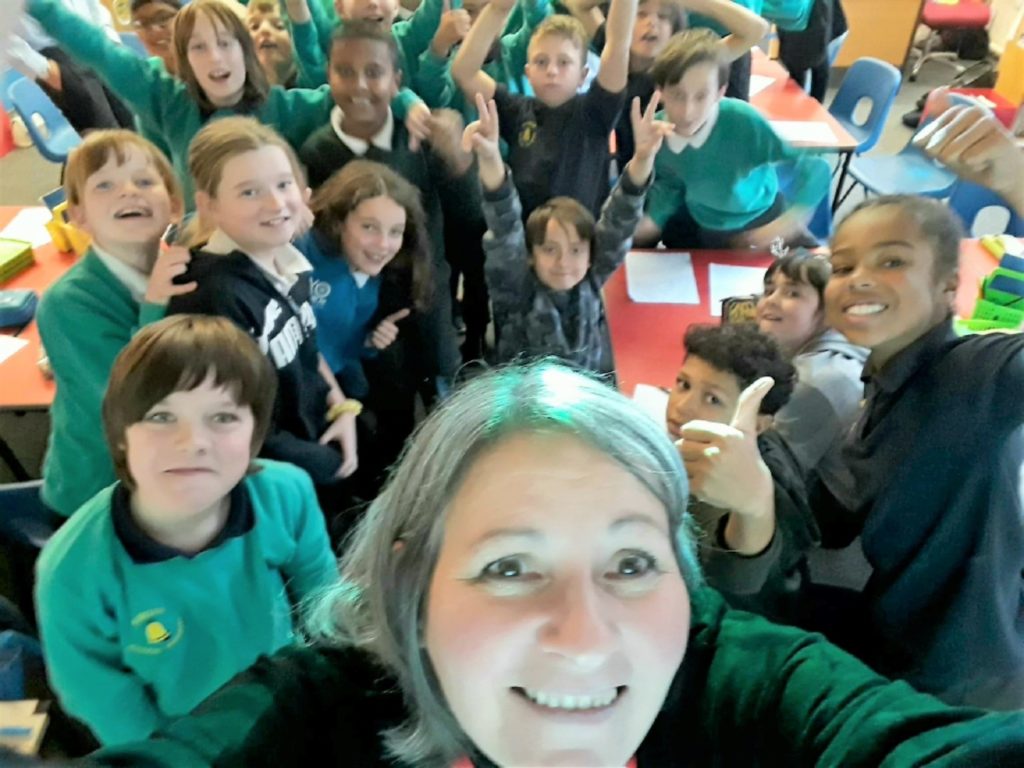 What I love most about working with children is that there is no opportunity to get above your station. If you want someone to bring you back down to ground level when you are feeling proud and lofty, you have it right there. Once you get past the first few minutes where they are on their 'best behaviour' you get complete honesty and I love it.
Most asked questions are;
How old are you? Often accompanied by the response, 'Wow you are the same age as my nana.'
'How much do you get paid?' I bend the truth a little here – no-one wants to put children off writing for a living, right?
I sometimes get questions which aren't questions at all. 'My foot hurts.' Is a firm favourite.
But in the midst of these dubious questions is the discussion of stories. Which ones they like and why. What grabs their attention about so-and-so? What is the point of reading? Why should we all be storytellers? We create worlds and I'm astounded by their creativity. We write stories and I'm jealous of their sheer unbridled imaginations. The joy of it! Also, do you mind if I steal a few of your ideas please children… I'm joking of course but it has definitely had an impact on my own writing too and I'm pushing boundaries with my own creativity. They've freed up the adult in me and made me think like a child again and it's brilliant!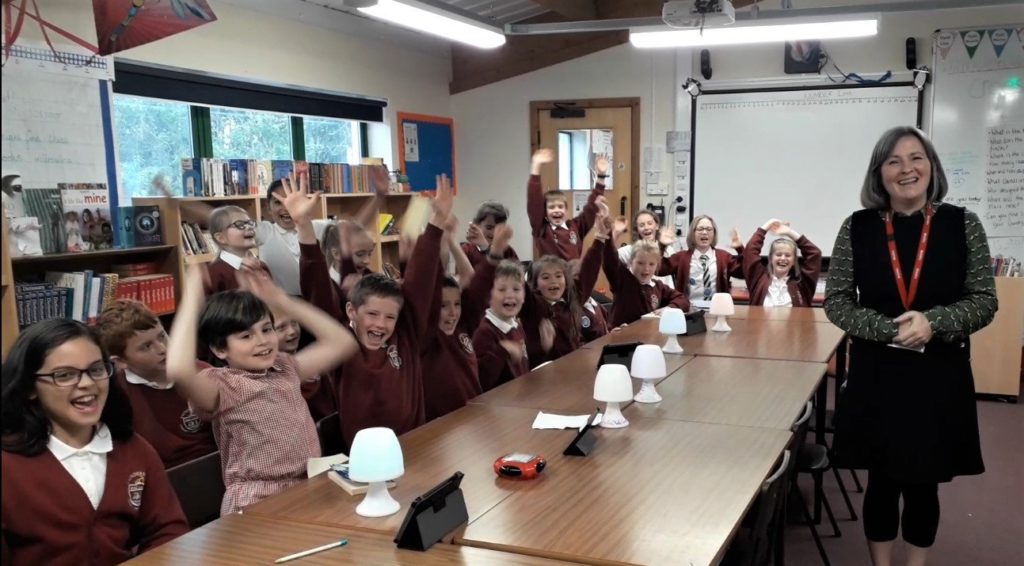 I've been into lots of schools and libraries, and randomly – one pier, to take sessions and they have been an education and an honour. I'm such a tiny cog in this great wheel of work that is going on to bring the best out of children in Wales and to give them the best chance. Teachers are doing amazing work every day. Librarians, where we are still blessed enough to have them, are doing amazing work every day. Other authors are going into schools, connecting with children, doing amazing work every day. All I can do is bring my own spin to proceedings. This is how I wrote a book and became an author – that doesn't mean it's the right way or the wrong way – it's an individual way. These are the stories I like, and this is why I like them, but I want to hear which stories you like and why you like them because then I will go away and read them, thanks for the recommendation.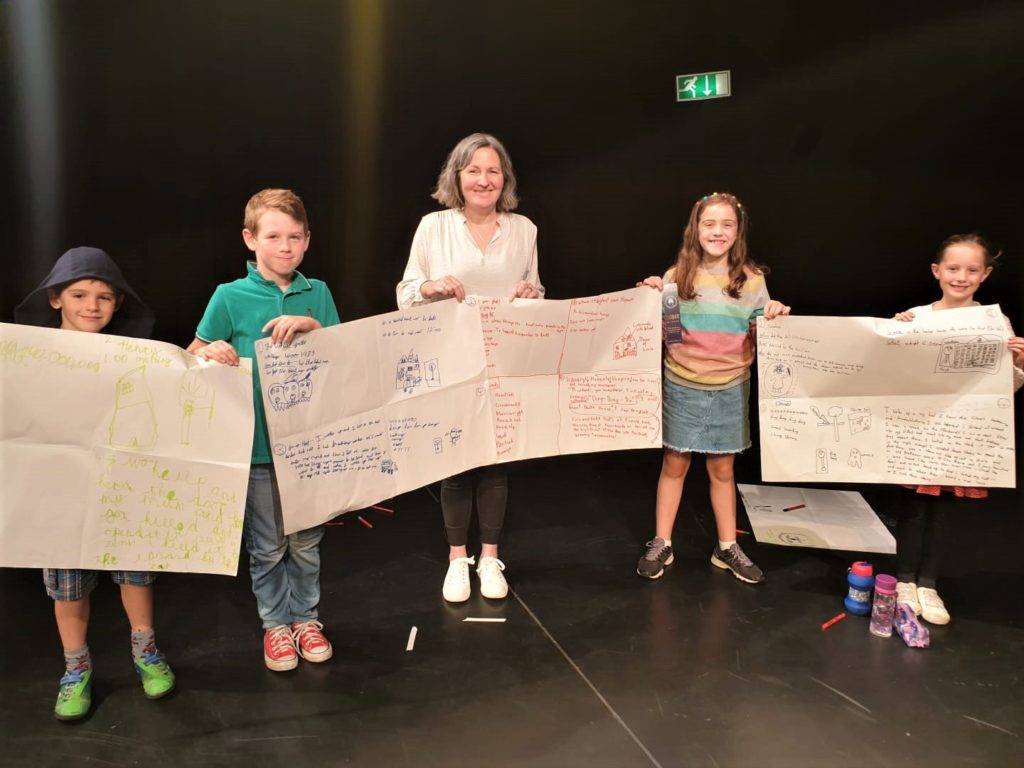 What you need to be Children's Laureate Wales? Passion for reading and writing and literature. A deep belief that books can change lives. Optional extra, but one that has really helped me, is that stories can actually save lives. What you need is honesty and humility and a good sense of humour. You need respect and interest in other people – especially children. What you need is to be able to celebrate words in spite of yourself and your insecurities. Words bring us together. Without getting too preachy, despite all our differences, we can connect through them and agree on the brilliance of a story well told. That's pretty special isn't it?  What you need is to not worry too much about being a bit silly or about how you look in photographs.
What do I tell children when they ask me why they should read and write? We are all stories. We are all interesting in our own way. In fact, one of the most beautiful things about stories is that when we read, or when we write, we are all seeing those stories differently. You are a part of the magic when you are reading. The story doesn't exist without you. It's a collaboration my friend and if you don't read then the story stops.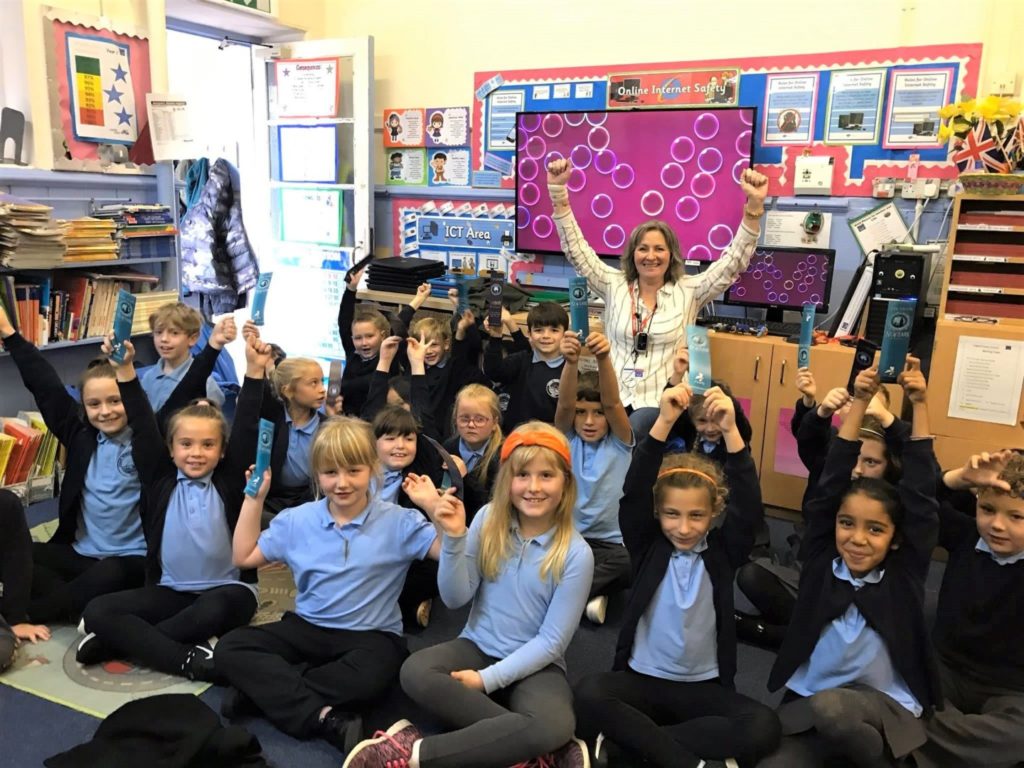 The fight against technology? One adults often ask. I don't think it has to be an either/or situation. I tell children I loved playing Space Invaders. Of course, they look at me as if I have two heads because they have absolutely no idea what I'm talking about. Their expressions grow worse if I draw a simple diagram of the game. I don't take them back as far as the 1970s square-balled tennis game. I think that would be a step too far. Technology is great. Electronic games (is that what they are called nowadays?) are great. But there are other things in life too, I tell children. To read a book you might have to challenge yourself. Think how much you are making your brain grow. Think how you are stretching your imagination. Even if you do it in small steps. Read a page a day. Soon you'll have read an entire book. Once you've read it pat yourself on the back and know that you are a smarter person because of it. You have achieved something because you became a part of the story as you turned the pages. Apologies, I think I crossed the preachy line there.
On the whole though children want to read. They want to be told good stories. Keeping that passion alive is a must. Where reading isn't encouraged at home it's so important that it is encouraged in schools. I salute all the teachers and librarians who are building readers from the ground up. They are doing an outstanding job with, all too often, very little financial support. Let's celebrate them and help them if we can.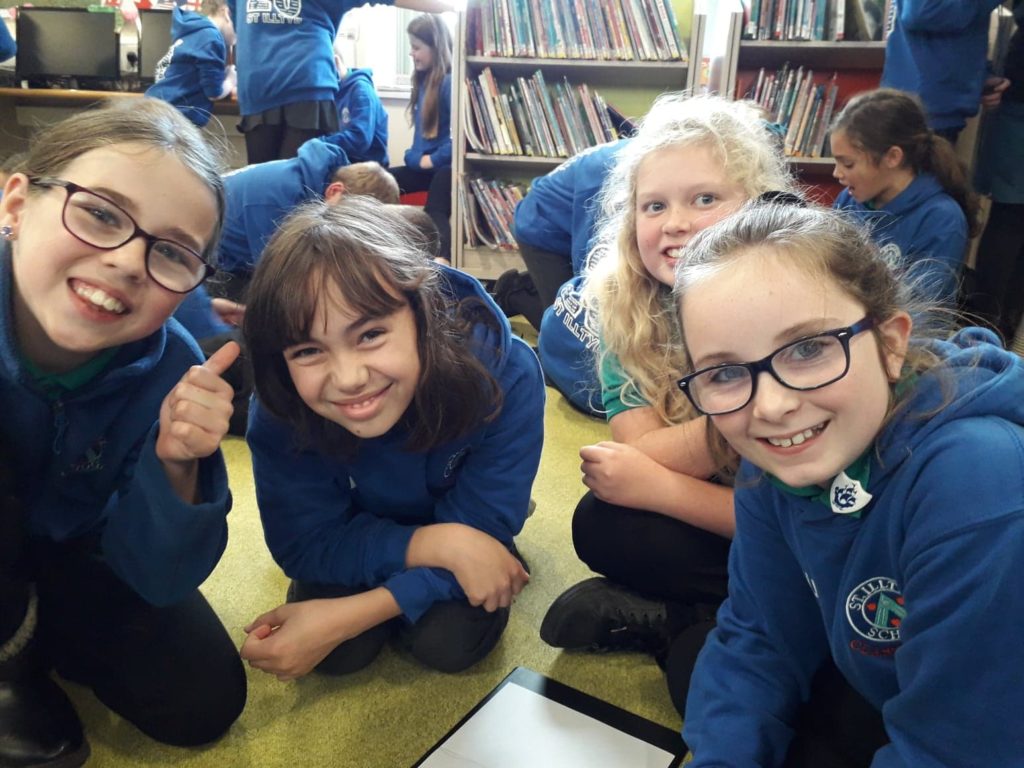 Talking of celebrating people please do celebrate your local authors. Children's authors aren't doing it for the money – believe me when I say this – they are doing it for the love. Get them into your school, make connections, it will have an impact on your children that might well make them a reader for life.
Lastly, a huge thank you to everyone I have met so far on my travels and I look forward to meeting lots more of you in the future. Happy reading all!
Eloise x