2020 Mentoring Recipients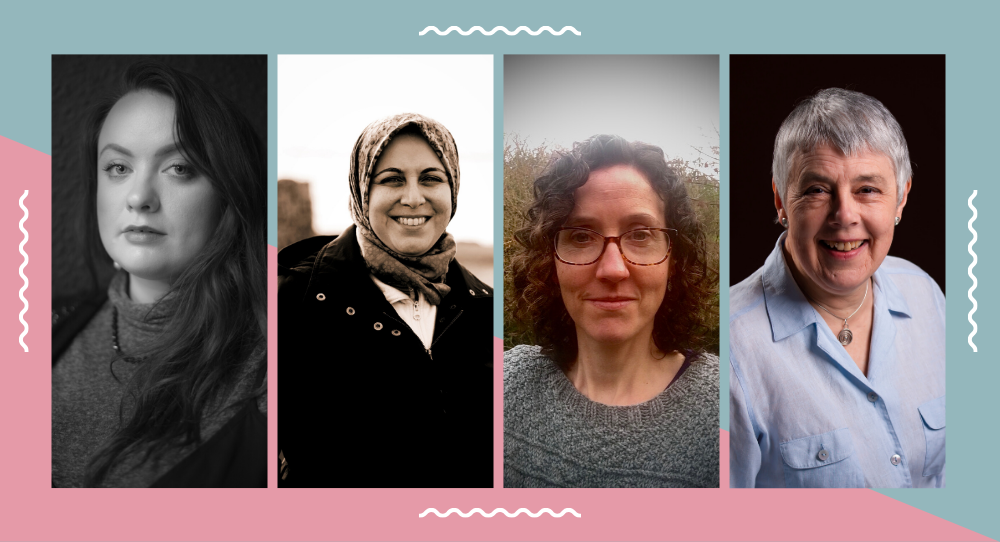 Mentoring Scheme Recipients
Abeer Ameer
Abeer Ameer's poems have been published in online and print journals including Acumen, Planet, The Interpreter's House, Tears in the Fence, Envoi, Magma, Long Poem Magazine, New Welsh Reader and Under the Radar. She is currently working on a collection of poems based on stories from Iraq and her debut poetry collection is due to be published by Seren in 2021.
Beth Celyn
Beth Celyn is a singer-songwriter and poet from Denbigh. She studied for a degree in English Literature at King's College London and an MA in Welsh Language Creative Writing at Bangor University. She has travelled widely sharing her music and performing with the poetic collective Cywion Cranogwen. She released her EP Troi in 2017 on the Sbrigyn Ymborth label and she has published music with Vrï and Shamoniks. Beth was BBC Radio Cymru's Poet of the Month, November 2018, and she was the poet commissioned to celebrate the National Eisteddfod's Gold Medal for Architecture in 2019. She has published work in Dear Damsels, Y Stamp, and Barddas, written an original musical for Theatr Sbarc-Galeri, and is working on her first novel.
Twitter: @BethCelyn
Instagram: @BethCelyn
Seran Dolma
Seran has worked in conservation, sustainability, and as a gardener, and worked for a while on a gardening project for people with mental health problems. Now that she has two young children she writes and draws in order to stay sane. She has an interest in themes relating to nature and society, the climate change crisis, and literature for children and young people. She enjoys experimenting with magic realism and incorporating supernatural or mythological elements into her work. She intends to use this opportunity to write a novel set in the future, in a city that has disappeared under the water, somewhere in Asia.
Instagram: @serandolma
Susan Walton
Susan Walton started her career as a map-maker, then later she took a degree in Rural Resource Management. Until 2007 she worked in the public and voluntary sectors. She now works as a self-employed proofreader and copy-editor, trading as Sue Proof. In 2009 she was commissioned to adapt Welsh poetry into English for a bilingual book of photographs. She found she enjoyed the experience. She has since adapted more poetry and has translated four novels for children and four non-fiction books. Being a recipient of Literature Wales' Mentoring award will help Susan to expand into translating literary fiction for adults
They will be joined on the Mentoring Scheme by the following Writers' Bursaries Recipients:
Rachel Dawson
Rachel Dawson is from Swansea. After studying English Literature at Cardiff University, her first paid job was in a women's refuge. She currently works for a mental health charity, living in Cardiff with her wife. When she is not writing, she is usually cooking. Rachel is working on a novel set during the politically and culturally turbulent 1980s. She is inspired by the resilience of our queer ancestors, and the joy of loving other women.  She will use her bursary to create space to write, to conduct additional interviews with contemporaries of the time, and to visit further relevant archives.
Instagram: @RachelDawsonWrites.
Sadia Pineda Hameed
Sadia Pineda Hameed is an artist and writer living in Cardiff. Her practice revolves around irrational forms of communication; within dreams, across ancestry and through intuitive processes; as a means of enshrining our histories. Her Writer's Bursary will be supporting the development of an experimental and auto-fictive work, To Make Philippines. Sadia co-runs LUMIN, Wales' only experimental independent press for predominantly marginalised writers and artists in Wales and wider. She has been published by Porridge Magazine, Amberflora, and Zarf amongst others; and has an early iteration of To Make Philippines forthcoming in an anthology with Parthian (2020).
Twitter: @piffspice
Instagram: @piffspice
Megan Angharad Hunter
Megan Angharad Hunter is from Penygroes, Nantlle Valley, but she is now in her first year studying Welsh and Philosophy at Cardiff University. Prior to that, she studied at Dyffryn Nantlle Secondary School and she would like to thank her teachers in the Welsh department there for encouraging her to compete in local eisteddfods, where she developed her confidence as a potential author. When she has time after her university studies, she enjoys creative writing and has completed a draft of a novel for young adults. As well as writing, she enjoys composing and performing music and she plays the flute in the Cardiff University Jazz Orchestra.
Trydar: @megan_angharad
Instagram: @meganangharad
Faye Latham
Faye's poetry explores the relationships between people, place and language. Her work is inspired by Welsh landscapes and in her free time she enjoys climbing and fell running near her home in Snowdonia. Faye has performed her poetry at the Kendal Mountain Literature Festival and works as a writer and blog editor for Intrepid, a female-first outdoors magazine. Faye graduated from the University of Bristol with a degree in English, before completing an MA in History of Art in 2019. A Writer's Bursary will enable her to develop her first poetry collection.
Twitter: @LathamFaye
Efa Lois
Efa Lois is an artist and author from Wales. She won the National Eisteddfod's Architecture Scholarship in 2016, the Urdd Eisteddfod's Art Scholarship in 2018, and the Urdd Eisteddfod's Geraint George Scholarship in 2019. In 2017, she established the Prosiect Drudwen blog, which documents the forgotten women of Welsh history. Since the start of the blog, more than 60 women have been featured on the website. Efa is keen to develop a graphic novel to celebrate the life of one of the forgotten women of Welsh history. She now lives in Cardiff.
Website: efalois.cymru
Twitter: @efalois
Instagram: @efalois

Morgan Owen
Morgan Owen is a poet and writer from Merthyr Tydfil. In 2019, he won the Michael Marks Poetry in a Celtic Language Award. He is a regular contributor to Welsh language publications such as O'r Pedwar Gwynt and Y Stamp, and he is part of the Hay Festival Writers at Work scheme. Last year, he published two collections of poetry, moroedd/dŵr and Bedwen ar y lloer, with Cyhoeddiadau'r Stamp. In 2019, he won the Wales Literature Exchange Translation Challenge. He has taken part in Literature Wales' Her 100 Cerdd and has been a Poet of the Month on BBC Radio Cymru. He lives in Cardiff and works as a freelancer.
Twitter @morgowen
Back to Mentoring